China Paper Packaging Industry Production & Marketing Demand and Investment Forecast Report, 2013-2017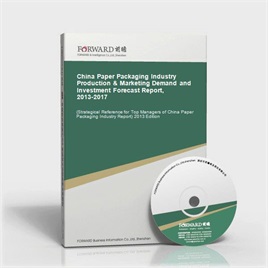 Last Update:2014-05-07
Form of services:Book + (pdf or doc file) + CD
Send method:EMS 2-3 days for delivery
English Service:+86 0755 33220413
Chinese Service:+86 800-8306390 800-8306395
E-mail:service.en@qianzhan.com
Report price:$7900 Print: $7800 CD: $7800
Special statement:
Recently we find there are some sites steal report contents from Qianzhan.com who put those contents on their sites for sale by making a little changes about the contents or remaining the same which deceives buyers(e.g. unable to get full or correct reports, or main body differs from contents that announced on sites).Therefore, we recommend paying a visit to Qianzhan personally or by your friends, and make payment after confirmation. Special statement: Qianzhan is the only and right holder of all the research reports, and has never used a third party to sell any reports, please be aware of the trademark " " when purchasing. Qianzhan is the largest and strongest consultancy, who owns the greatest number of researchers. Here followed "
Nine standards of companies' identificatios
"。
This table of content is original, without written permission of Qianzhan, any unit or individual shall not use, copy, or transfer the reports.
Preface
Table of Content
After nearly 30 years of development, China paper packaging industry has been in a mid-term stage of industrialization. The development of scale-production and intensification has been formed. In recent years, with the gradually fading of financial crisis, foreign paper packaging market has been recovery; meanwhile, due to the transformation of paper packaging exporting enterprises shifting from exporting to domestic marketing, and with the help of supporting policies, China paper packaging industry shows a thriving development trend. In 2011, the production and sales volume of China paper packaging industry keeps expanding, with an increase of more than 25%. The industry realized the sales revenue of 327.248 billion Yuan, and the total industrial output value was 334.413 billion Yuan.
There are many kinds of products in paper packaging industry, mainly corrugated paper, honeycomb paper, and smoothness paper. And there are various kinds of paper packaging derive from them, such as carton, paper box, paper bag, paper container, moulded pulp, etc, among which the carton, paper box and paper cup are the best sellers, with relatively large sales volume. In 2011, China's accumulated cardboard boxes (corrugated paper boxes) volume was 28.5610 million tons, with a year-on-year increase of 15.56%; the market growth rate of paper market reached 17%; and the paper cup consumption volume was 25.417 billion cups, with a year-on-year increase of 12.84%.
There are more than 4,000 manufacturing enterprises above the designated size in China paper packaging industry, most of which are SMEs; although after more than 20 years of development, there are a group of enterprises, with large scales and advanced technologies in the industry. As a whole, the industry concentration of China paper packaging industry is really low, belonging to atomic market structure. And the competition is really fierce. Meanwhile, due to the huge market demand for Chin paper packaging industry and fast growth rate of the industry, the major global paper packaging manufacturing enterprises have entered China's market, and the industry market competition becomes increasingly fierce.
The application scope of paper products is very extensive, all kinds of paper packaging products relate to every field of people's living. With the paper packaging deepening into the consumption area, the consumers' behaviors provide new requirements for the sales objectives of downstream industries in the paper packaging industry which haven't focused on product markets in the past. The performance design and packaging design have become a direction for the industry products development. Many equipment, new processing and new technology have been researched and developed to meet the needs of consumers.
China paper packaging manufacturing enterprises have been in a scale-production development stage, the scales production of enterprises will further be upgraded. However, there is no denying the environmental problems of paper making industry become a important aspect that China pays great attention to, and the cost of pollution reduction for paper packaging enterprises will increase. Moreover, since the international paper packaging enterprises keep increasing efforts to invest, and adopt alliance, merger and other strategies, the domestic paper packaging enterprises will face further development pressures. All in all, there are both development opportunities and challenges in the paper packaging industry. The domestic paper packaging enterprises should pay more attention to construct brand advantages and to update the technologies and equipment, to acquire the capabilities and advantages to participate the international competition.
Qianzhan Business Information Co., Ltd. Industry Research Center
Research Team of Paper Packaging Industry
China Paper Packaging Industry Report" related reports »