China Metallurgical Equipment Manufacturing Industry Production & Marketing Demand and Investment Forecast Report, 2013-2017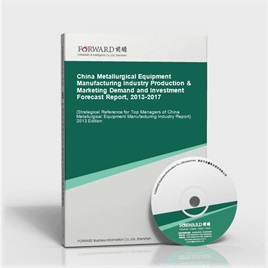 Last Update:2014-05-12
Form of services:Book + (pdf or doc file) + CD
Send method:EMS 2-3 days for delivery
English Service:+86 0755 33220413
Chinese Service:+86 800-8306390 800-8306395
E-mail:service.en@qianzhan.com
Report price:$7900 Print: $7800 CD: $7800
Special statement:
Recently we find there are some sites steal report contents from Qianzhan.com who put those contents on their sites for sale by making a little changes about the contents or remaining the same which deceives buyers(e.g. unable to get full or correct reports, or main body differs from contents that announced on sites).Therefore, we recommend paying a visit to Qianzhan personally or by your friends, and make payment after confirmation. Special statement: Qianzhan is the only and right holder of all the research reports, and has never used a third party to sell any reports, please be aware of the trademark " " when purchasing. Qianzhan is the largest and strongest consultancy, who owns the greatest number of researchers. Here followed "
Nine standards of companies' identificatios
"。
This table of content is original, without written permission of Qianzhan, any unit or individual shall not use, copy, or transfer the reports.
Preface
Table of Content
Heavy machinery manufacturing industry is an important industry to the national economy and national security. Under the guidance of strategic decision to promote the development of equipment manufacturing industry, as well as three-year long promotion plan, during "twelfth Five-year" Plan, China adheres to the new road to industrialization, using information technology to promote industrialization, and using high technology and advanced applicable technologies to transform traditional industries . According to the needs of national economic development, scientific and technological innovation capabilities should be strengthened; the industrial upgrading should be improved, structure should be adjust rapidly; the comprehensive competitive capability should be enhanced, the heavy machinery manufacturing industry should be greatly revived, in order to meet the needs of national economy development and national security. With the gradual improvement of the global economy, China heavy machinery industry is expected to achieve a faster growth in the next few years, and its technical capability will achieve a breakthrough, and gain international competitiveness in high-end fields. Generally speaking, the development of China heavy machinery manufacturing industry is still optimistic in a long run.
Metallurgical equipment manufacturing industry belongs to a capital, technical and labor-intensive industry. Most products are manufactured in single piece and small batch, with a long length of manufacturing cycle and a huge volume of capital, thus forming a heavy machinery industry pattern dominated by large-scale enterprises. At the beginning formation of China heavy machinery industry, the government guided the development of the industry under the planned economy, so the competitive landscape of dominated by state-owned enterprises came into being. Several large-scale enterprises, such as DHI·DCW Group Co., Ltd., China First Heavy Industries, and China National Erzhong Group Co. take up one third of market shares in China.
In recent years, the leapfrog development of China's national economy fields, like automobile, shipbuilding, construction, petrochemical, nuclear power, as well as oil and gas transmission promotes the development of China ferrous metallurgy industry, then further impels the rapid development of metallurgical equipment manufacturing industry. In 2011, China metallurgical equipment manufacturing industry has shown a good momentum in development trend, with the expanding of capital and income size. According to statistics released by NBS, as of the end of 2011, China has 409 metallurgical equipment manufacturing enterprises above designated-size. In 2011, China metallurgical equipment manufacturing industry achieved 103.846 billion Yuan of total industrial output value, with an increase of 14.94% over the previous year and achieved 5.264 billion Yuan of total profits. During the "Twelfth Five-year" Plan, structure adjustment and transformation upgrading of steel industry will provide strong demand for large-scale, intensive and high efficient metallurgical equipment sets, which will bring market opportunities to metallurgical equipment manufacturing enterprises, especially to metallurgical equipment manufacturing enterprises with high technical content. Thus metallurgical equipment manufacturing enterprises has a bright development prospect.
The most distinctive characteristics of this report is forward-looking and timeliness. Through analyzing forward-looking characteristic of abundant first-hand market data, we deeply and objectively dissect China current metallurgical equipment manufacturing industry's market capacity, market size, competitive landscape and characteristics of market demand. Furthermore, based on future development tracks and years' practice experience of metallurgical equipment manufacturing industry, we conduct prudent analysis and forecast for metallurgical equipment manufacturing industry's future development trend. This report helps metallurgical equipment manufacturing enterprises, R&D institutions, marketing enterprises and investment enterprises to precisely grasp current latest developments of the industry. Afterwards, they can make wise operating decisions and define enterprises' development directions. Moreover, this report is the first and weighty report on analyzing the development scale of metallurgical equipment manufacturing industry and analyzing its leading corporations in an all-round and systematical way.
Here, we would like to express our sincere gratitude to State Information Center, Bureau of Statistics of China, China Customs, International Information Research Institute, Chinese Academy of International Trade and Economic Cooperation, Tsinghua University Library, Development Research Center of the State Council and Beijing Essence Forward Research Center, for their great support when we conduct this report!
Notice: All the market data, especially corporations' ranking data in the report, only for business reference. Please do not take the data for enterprise publicity. Thank you! Or Forward shall not take any responsibility for any consequences!
Qianzhan Business Information Co., Ltd. Industry Research Center
Research Team of Metallurgical Equipment Manufacturing Industry
China Metallurgical Equipment Manufacturing Industry Report" related reports »