China Hot-dip Galvanizing Industry Development Prospects and Investment Forecast Report, 2013-2017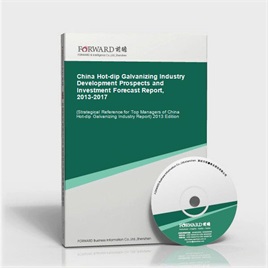 Last Update:2014-05-09
Form of services:Book + (pdf or doc file) + CD
Send method:EMS 2-3 days for delivery
English Service:+86 0755 33220413
Chinese Service:+86 800-8306390 800-8306395
E-mail:service.en@qianzhan.com
Report price:$7900 Print: $7800 CD: $7800
Special statement:
Recently we find there are some sites steal report contents from Qianzhan.com who put those contents on their sites for sale by making a little changes about the contents or remaining the same which deceives buyers(e.g. unable to get full or correct reports, or main body differs from contents that announced on sites).Therefore, we recommend paying a visit to Qianzhan personally or by your friends, and make payment after confirmation. Special statement: Qianzhan is the only and right holder of all the research reports, and has never used a third party to sell any reports, please be aware of the trademark " " when purchasing. Qianzhan is the largest and strongest consultancy, who owns the greatest number of researchers. Here followed "
Nine standards of companies' identificatios
"。
This table of content is original, without written permission of Qianzhan, any unit or individual shall not use, copy, or transfer the reports.
Preface
Table of Content
Since the standard electrode potentials of zinc is more negative than iron, thus the glavanizing layer ia able to prevent steel from corrosion by sacrificial anode in the humid atmosphere, in oder to expand the life span of steel materials. There are many forms of galvanization, such as hot-dip galvanizing, electrogalvanizing, mechanical galvanization and thermal spraying of zinc, among which hot-dip galvanizing accouts for 95% of total galvanization amount; moreove, the amount of zinc for hot-dip galvanizing takes up 40% of the total zinc amount across the world, and accounts for around 30% of the total zinc amount in China.
Hot-dip galvanizing is a form of galvanization technology, by passing the steel, stainless steel, cast iron and other metals through a molten bath of liquid metal and alloy to form a layer. The most common and best steel surface treatment method with best price in current use is hot-dip galvanization. The hot-dip galvanizing product plays an immesurable and irreplacable role in proetcting steel from corrosion and explanding life cyle, as well as saving energy and materials. Meanwhile, the galvanized steel material is a high value-added product of gaining national support and being first development in short supply. With the implementation of large-scale development strategy for the western region, as well as the implementation of projetcts of West-East Electricity Transmission Project; West-East Natural Gas Transmission Project; South-to-North water diversion; Three Gorges Project; Rural and Urban Power Grids Reconstruction, China hot-dip galvanizing industry enters into a new round of high development stage.
With Forward's long-term tracking and collecting market data of hot-dip galvanizing industry, we roundly and accurately analyze the industry structure system for you from the view of mastering the whole industry. This report mainly focuses on analyzing the development overview, economic environment and policy envrionement of hot-dip galvanizing industry; the development status and prospects of hot-dip galvanizing industry; and the product and application analysis of hot-dip galvanizing industry. Meanwhile, with comprehensive and specific first-hand market data over the past 5 years, Forward helps you to grasp the market and development trends of hot-dip galvanizing industry, so as to win advantages from competition!
The most distinctive characteristics of this report is forward-looking and timeliness. Through analyzing forward-looking characteristic of abundant first-hand market data, we deeply and objectively dissect China current hot-dip galvanizing industry's overall market capacity, competitive landscape and characteristics of market demand. Furthermore, based on future development tracks and years' practice experience of hot-dip galvanizing industry, we conduct prudent analysis and forecast for hot-dip galvanizing industry's future development trend. This report helps hot-dip galvanizing enterprises and investment enterprises to precisely grasp current latest developments of the industry. Afterwards, they can make wise operating decisions and define enterprises' development directions.
Here, we would like to express our sincere gratitude to State Information Center, Bureau of Statistics of China, International Information Research Institute, Chinese Academy of International Trade and Economic Cooperation, Tsinghua University Library, Development Research Center of the State Council and Beijing Essence Forward Research Center, for their great support when we conduct this report!
Notice: All the market data, especially corporations' ranking data in the report, only for business reference. Please do not take the data for enterprise publicity. Thank you! Or Forward shall not take any responsibility for any consequences!
Qianzhan Business Information Co., Ltd. Industry Research Center
Research Team of Hot-dip Galvanizing Industry
China Hot-dip Galvanizing Industry Report" related reports »