China Fastener Industry Production & Marketing Forecast and Transformation & Upgrading Analysis Report, 2013-2017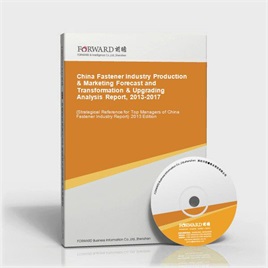 Last Update:2014-05-09
Form of services:Book + (pdf or doc file) + CD
Send method:EMS 2-3 days for delivery
English Service:+86 0755 33220413
Chinese Service:+86 800-8306390 800-8306395
E-mail:service.en@qianzhan.com
Report price:$7900 Print: $7800 CD: $7800
Special statement:
Recently we find there are some sites steal report contents from Qianzhan.com who put those contents on their sites for sale by making a little changes about the contents or remaining the same which deceives buyers(e.g. unable to get full or correct reports, or main body differs from contents that announced on sites).Therefore, we recommend paying a visit to Qianzhan personally or by your friends, and make payment after confirmation. Special statement: Qianzhan is the only and right holder of all the research reports, and has never used a third party to sell any reports, please be aware of the trademark " " when purchasing. Qianzhan is the largest and strongest consultancy, who owns the greatest number of researchers. Here followed "
Nine standards of companies' identificatios
"。
This table of content is original, without written permission of Qianzhan, any unit or individual shall not use, copy, or transfer the reports.
Preface
Table of Content
With the background of industry upgrading, production and industrial structure optimizing, China's general machine components industry keeps a fast growth in current years that the effectiveness and quality keep increasing. It makes a significant contribution to the overall development of the machine industry. Current these years, most of the industry corporations have a technology reform to increase the equipment level and manufacturing capability. Therefore, the product quality has been greatly improved. Moreover, key corporations all certificated by the ISO9001.
Fastener is a machine component which with a widest application. With China's entry to WTO in 2001 and becoming one of the major international trading countries, there is an inter-import and export of fastener products which made in China and other countries in the world. After the development since the reform and opening-up, China has formed a professional fastener producing system of the biggest scale, full range of varieties and specifications, and best quality in the world. And China has become the biggest fastener producing and exporting base in the world. Data released by State Statistics Bureau shows: in 2010, there are 2,280 corporations of scale (annual income of major business reaches 5 million Yuan or above) in China's fastener manufacturing industry; number of employees exceeds 200,000; total sales revenue is 108.449 billion Yuan with a year-on-year growth of 42.57%; gross benefit is 5.746 billion Yuan with a year-on-year growth rate of 64.32%.
Three major demanding market of fastener in the world are: North America, West Europe and Asia. Annual demanding amount of each market is above 10 billion USD. Among which the United States is the biggest distributed center and application place of fasteners; the production of standardized and low-end fastener mainly concentrates in the developing countries of Asia and exports to North American and West European markets in abundance; and the production of high-end fastener which is applied in aviation and auto industry mainly concentrates in the developed countries and regions of North America and Europe. However, for the gradual improvement of manufacturing technology and relatively low labor cost in Asia, the production of high-end fasteners begins to transfer to Asia.
According to relevant analysis, demand of the global industrial fastener in 2012 may reach 66 billion USD with an annual growth of 4.8%. The increase of global economic output, fixed investment activities, manufacturing and output of aviation equipment and auto will stimulate the demand of fasteners. The increasing demand in new market will exceed the mature markets. In other words, the industrial fastener demand in Asia, Africa, Middle East, East Europe, and Latin America will exceed that in America, West Europe and Japan. The growth of China's market will be fastest as China is in the economic development stage while the manufacturing and fixed investments keep increasing. With the fast growth of China's manufacturing, especially the industrial machine and auto, the demanding amount of industrial fastener will with an annual growth rate of 10% and exceeds 74.2 billion Yuan in 2013. Moreover, the growing output of electrical and electronic appliances will promote the increase of industrial fastener' demand as well. According to relevant analysis, the market scale of China's fastener industry will reach 200 billion Yuan by 2015 benefiting from the fast development of China auto, wind power, building and manufacturing industry.
As the competition of fastener industry is fiercer, the domestic outstanding fastener corporations pay more and more attention to the industry market research, especially the in-depth research of product consumers. Because of this, a large number of excellent domestic fastener brands rise up rapidly, and gradually become a leader in fastener industry!
With Forward's the long-term tracking and collecting market data of fastener industry, we roundly and accurately analyze the structure system for you from the view of mastering the whole industry. This report will base on the macro condition of current fastener industry, production and marketing condition, industry demand trend of auto industry, then detailed analyzes the current market capability, market scale, development speed and competitive landscape of China fastener industry.
This report mainly analyzes the following aspects: production and development of China fastener industry; current market environment and corporations' competitiveness of fastener industry; market demand features of fastener industry; major markets of fastener industry; competitive landscape and trend of fastener industry; development status of major fastener market segmentation; leading corporations' operational condition in fastener market; development trend and prospects forecast of fastener industry. Meanwhile, together with the comprehensive and detailed market data which is accumulated for 5 years, Forward helps you to grasp the market and development trends of fastener industry, so as to win advantages from competition!
Major characteristics of this report are forward-looking and timeliness. Base on the forward-looking analysis of massive research data, we further analyze the development scale and competitive landscape of fastener industry. Along with the industry development route and our practical experience, we analyze and predict the future development prospect of fastener industry. This report is of a high value for enterprises like fastener producing corporations, R&D institutions, sales corporations and investment corporations to accurately know the latest industry development trend, and obtain market opportunities and determine an insightful operation strategy and development direction. In the meantime, it is the first heavy weight report to analyze the up/down-stream industry chain and industry leading corporations of fastener industry in an overall and systemic way.
Here, we'd like to express our sincere gratitude to Fastener Professional Union of China General Machine Components Industry Association, National Statistics Bureau of China, International Information Institute, General Administration of Customs, National Institute of the Ministry of Commerce, National Tsing Hua University Library, Institute of Market Economy of the State Council Development Research Center, and Beijing Qinghua Forward Market Research Center, etc. Thank you so much!
Notice: all the market data, especially the corporation list data in this report is only for business reference. Please don't take the data for enterprise publicity. Thank you! Or Forward shall not take any responsibility for any consequences!
Qianzhan Business Information Co., Ltd. Industry Research College
Research Team of Fastener Industry
China Fastener Industry Report" related reports »