China Plastic Pipe Industry Indepth Research and Investment Strategy Planning Report, 2013-2017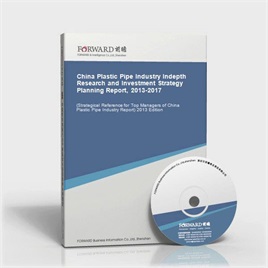 Last Update:2014-05-27
Form of services:Book + (pdf or doc file) + CD
Send method:EMS 2-3 days for delivery
English Service:+86 0755 33220413
Chinese Service:+86 800-8306390 800-8306395
E-mail:service.en@qianzhan.com
Report price:$7900 Print: $7800 CD: $7800
Special statement:
Recently we find there are some sites steal report contents from Qianzhan.com who put those contents on their sites for sale by making a little changes about the contents or remaining the same which deceives buyers(e.g. unable to get full or correct reports, or main body differs from contents that announced on sites).Therefore, we recommend paying a visit to Qianzhan personally or by your friends, and make payment after confirmation. Special statement: Qianzhan is the only and right holder of all the research reports, and has never used a third party to sell any reports, please be aware of the trademark " " when purchasing. Qianzhan is the largest and strongest consultancy, who owns the greatest number of researchers. Here followed "
Nine standards of companies' identificatios
"。
This table of content is original, without written permission of Qianzhan, any unit or individual shall not use, copy, or transfer the reports.
Preface
Table of Content
In 1936, Germany became the first country to use plastic pipe. In 1939, Britain laid the first plastic water pipe in the world. Since then, plastic pipe develops fast and continuously replaces metal pipe or other traditional pipe. At the end of 1980s and 1990s, with the development of plastic industry foreign big companies developed some new plastic pipes which are with a higher performance, wider application, more suitable for construction and perfecting living environment. In the aspect of different materials, the new plastic pipe can be divided into HDPE pipe, PEX pipe, PP pipe, RPM pipe and plastic/metal composite pipe. In the aspect of special pipe wall structure, the plastic pipe can be divided into double-wall corrugated pipe, spiral pipe, radial reinforced pipe and so on. Since the 90s, new technology and products enlarge the range of plastic pipe that can replace the traditional pipe, and promote the market demand of global plastic pipe develops in a fast speed.
At the beginning of 1980s, China started to apply the plastic pipe in the water supply and drainage system construction. There after, China National Light Industrial Products Department and Ministry of Construction together made national standard for PVC-U pipe fittings of water supply and drainage system construction. Besides, the Ministry of Construction also made related regulations for plastic pipe construction. All these greatly promote the development of China plastic pipe industry. In the 1990s, Chinese government issued other policies to eliminate traditional pipes of high energy-consumption and pollution, and to greatly promote the plastic pipe to be widely used in the fields of housing construction, urban municipal engineering, transportation construction and agricultural irrigation, etc. The policies drive China plastic pipe industry develops rapidly. Presently, China is able to produce better quality minor-caliber plastic pipe to replace traditional pipes like steel pipe and cast iron pipe and be used in the fields of construction drainage system, telecommunication cables and fiber optic cable sheath, etc. China also gains a good use result in the aspects of water-supply-pipe, gas pipe which require high technology, and pipes used in municipal engineering, traffic embedded, energy transmission and so on.
During the "eleventh five years", China macro-economy kept an accelerating development speed while market demands were enlarging for the industries like building industry, municipal engineering, water engineering, agriculture, industry and so on. It further promotes the fast development of China plastic pipe industry. According to statistics, China production of plastic pipe in 2010 is 8.4021 million tons with a year-on-year growth rate of 44.76%. China has become the biggest producer and applied country of plastic pipe. What's more, China gains an international advancing level in the aspects of UHMW polyethylene pipe, flexible interface polyethylene pipe, and large-diameter drainage steel-plastic composite wrapped pipe and so on.
Furthermore, government policies support the large-scale application of plastic pipes. The laying of rural water-supply-network in the future will provide a stronger support for pipe production. It is predicted that China plastic pipe industry will base on quality improvement and application enlargement and keep a relatively fast growth speed in the next 5 to 10 years. The conservative prediction shows that annual growth rate of China plastic pipe production will keep between 10% and 15% from 2012 to 2020. And the total production of China plastic pipe by 2015 will reach over 13 million tons.
Qianzhan Business Information Co., Ltd. Industry Research College
Research Team of Plastic Pipe Industry
China Plastic Pipe Industry Report" related reports »