China Human Resource Services Industry Indepth Research and Investment Strategy Report, 2013-2017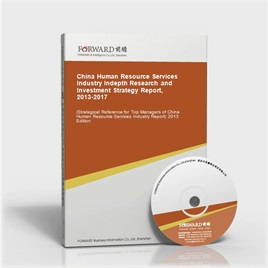 Last Update:2014-05-21
Form of services:Book + (pdf or doc file) + CD
Send method:EMS 2-3 days for delivery
English Service:+86 0755 33220413
Chinese Service:+86 800-8306390 800-8306395
E-mail:service.en@qianzhan.com
Report price:$7900 Print: $7800 CD: $7800
Special statement:
Recently we find there are some sites steal report contents from Qianzhan.com who put those contents on their sites for sale by making a little changes about the contents or remaining the same which deceives buyers(e.g. unable to get full or correct reports, or main body differs from contents that announced on sites).Therefore, we recommend paying a visit to Qianzhan personally or by your friends, and make payment after confirmation. Special statement: Qianzhan is the only and right holder of all the research reports, and has never used a third party to sell any reports, please be aware of the trademark " " when purchasing. Qianzhan is the largest and strongest consultancy, who owns the greatest number of researchers. Here followed "
Nine standards of companies' identificatios
"。
This table of content is original, without written permission of Qianzhan, any unit or individual shall not use, copy, or transfer the reports.
Preface
Table of Content
China is a country with abundant human resources. The population increases nearly 40% since the reform and opening-up for over 30 years. By the end of 2010, it has reached 1.341 billion, among which the employees are about 0.8 billion and accounts for about 60%. At present, the rich human resource in China still shows a population pressure. To settle down this problem, it is important to adopt measures like talent selection and training as well as improvement of innovation and pioneering environment. And such measures need the supports of human resource service industry.
The human resource service industry is promoting to develop in current years with the implementation of
Labor Contract Law, Employment Promotion Law and Social Security Act together with a series of encouraged policies for modern service industry. Presently, the industry scale is about hundred billion Yuan. And the industry has formed an overall competition market structure which includes state-owned corporations, foreign-owned corporations and private corporations, and a comprehensive outsourcing service system which covers recruitment, training, salary, welfare, employees' healthy management and others. Meanwhile, there are many scale-localization H.R. service corporations which with state-owned management ideologies, such as CIIC, Shanghai Foreign Service and Beijing Foreign Enterprise. Such corporations have become the landmarks in China human resource service industry.
During the "twelfth five years", China will base on the standardization of labor dispatch market and actively encourage the development of new H.R. outsourcing service to further promote the fast development of human resource service industry. View from the demanding market, during the "twelfth five years", the H.R. outsourcing service demand to state-owned corporations will keep growing while the requirement of standardization service will be greatly improved; the transnational corporations will further accelerate global strategic integration and the distribution in China that will have a higher requirement for H.R. service corporations' comprehensive service capability and national information service platform. What's more, the formation of trade unions and collective bargaining system which are accelerated by the industry corporations will promote the increasing demand of regulated H.R. consulting service.
In general, it is a good policy environment and market opportunity for the development of China human resource service industry. The H.R. service corporations should accelerate the self adjustment and actively promote the upgrading products and enterprise. Thus to grasp the market and development trends of human resource service industry, so as to win advantages from competition!
With Forward's the long-term tracking and collecting market data of human resource service industry, we roundly and accurately analyze the structure system for you from the view of mastering the whole industry. This report mainly analyzes the following aspects: development environment of human resource service industry; competitive landscape of human resource service industry; market segmentation condition of human resource service industry; demanding condition to human resource service from the aspect of advanced industries; development status of human resource service industry in key regions; major corporations' operational condition of human resource service industry; investment opportunities and risks of human resource service industry. Besides, it has a detailed analysis to the existing problems of human resource service industry then proposes strategic suggestions.
Major characteristics of this report are forward-looking and timeliness. Base on the forward-looking analysis of massive research data, we further analyze the development scale and competitive landscape of human resource service industry. Along with the industry development route and our practical experience, we analyze and predict the future development prospect of human resource service industry. This report is of a high value for human resource service corporations and investment corporations to accurately know the latest industry development trend, and obtain market opportunities and determine an insightful operation strategy and development direction.
Here, we'd like to express our sincere gratitude to National Statistics Bureau of China, International Information Institute, National Institute of the Ministry of Commerce, National Tsing Hua University Library, Institute of Market Economy of the State Council Development Research Center, and Beijing Qinghua Forward Market Research Center, etc. Thank you so much!
Qianzhan Business Information Co., Ltd. Industry Research Center
Research Team of Human Resource Service Industry
China Human Resource Services Industry Report" related reports »