China Industry Park Construction Industry Indepth Research and Investment Strategy Report, 2013-2017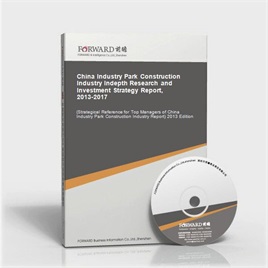 Last Update:2014-05-19
Form of services:Book + (pdf or doc file) + CD
Send method:EMS 2-3 days for delivery
English Service:+86 0755 33220413
Chinese Service:+86 800-8306390 800-8306395
E-mail:service.en@qianzhan.com
Report price:$7900 Print: $7800 CD: $7800
Special statement:
Recently we find there are some sites steal report contents from Qianzhan.com who put those contents on their sites for sale by making a little changes about the contents or remaining the same which deceives buyers(e.g. unable to get full or correct reports, or main body differs from contents that announced on sites).Therefore, we recommend paying a visit to Qianzhan personally or by your friends, and make payment after confirmation. Special statement: Qianzhan is the only and right holder of all the research reports, and has never used a third party to sell any reports, please be aware of the trademark " " when purchasing. Qianzhan is the largest and strongest consultancy, who owns the greatest number of researchers. Here followed "
Nine standards of companies' identificatios
"。
This table of content is original, without written permission of Qianzhan, any unit or individual shall not use, copy, or transfer the reports.
Preface
Table of Content
There is kind of substitutability for the industrial park construction and the development of traditional real estate. The constant control of traditional real estate by government currently creates a larger operation space for the industrial park construction in an objective way, reduces the investment risks of industrial real estate, improves the stability and controllability of industrial park operation, and attracts more attention from traditional housing developers. About 12% traditional real estate developers shift towards the investment of industrial park construction after the financial crisis. And since the first run of real estate control, 30% traditional real estate developers choose the industrial park construction (the ratio will be lower in the second-tier cities). The "bubble" of traditional real estate is transferring towards industrial real estate.
Despite LIANDO U Valley, many corporations are involving in the industrial park construction. For instance, Sino-Ocean has a high-profile industrial development in Dalian currently; some domestic well-known developers such as Zhujiang Real Estate and R&F Properties take a hack at industrial real estate not long ago; what's more, some domestic household appliance giants like Gree, Midea and Haier happen to coincide on the construction of their own industrial park with the purpose of "expansion"; moreover, the Zhejiang private capital also invest to industrial park.
As a matter of fact, the industrial park construction has entered the fast development stage as analysis. According to available data, by the end of 2010 there are 13 new national hi-tech zones and the total number is 70; there are 44 new national economic development zones and the total number exceeds 100. Quantity of industrial park shows a fast growing trend.
Judging from the current development trend of local economy, the industrial park gradually becomes the driving force to the development of regional economy for sure, it promotes the overall improvement of regional strength. However, we should notice that the development and operation of industrial real estate are in the initial stage that corporations and operators lack of experiences. Furthermore, government may interfere with the development that may causes over-attention on tax, shortage of systematic and professional planning for industrial park, attracting the entry of industries with low cost and low tax, etc. Taking all these factors into consideration, there are many problems for the industrial park construction as follows: weak regional concentration effect, low utilization rate of land, severe homogenization competition for corporations, ignorance of industrial environment construction, imbalance of supporting facilities, weak leading role of industry, etc.
Basing on the development and operation status, and existing problems of industrial park, this report proposes corresponding solutions which emphasize the development status of China's industrial park construction industry, development and business model, competitive landscape of traditional real estate developers in the field of industrial park construction and industrial park investment. As a regional body with unique attraction, the industrial park with complex dual-characteristics. On one hand it is a regional aggregation to relevant corporations thus shows a broad perspective; on the other hand, for most of the business model with government's investment or planning and developers' management, it shows a microscopic perspective. Forward will redefine the market segmentation of industrial park, clear the competitive landscape, and analyze the industrial park condition according to the key economic areas' characters.
Under the premise of controlling the whole industry, we focus on the developers and operators of industrial park as well as the management and competitiveness of industrial park. Moreover, we will have a comprehensive analysis of investment attraction, which is the focus point for industrial park investors, developers, and operators. Meanwhile, together with the comprehensive and detailed market data which is accumulated for 5 years, Forward helps you to grasp the market and development trends of industrial park construction industry, so as to win advantages from competition!
Major characteristics of this report are forward-looking and timeliness. Base on the forward-looking analysis of massive research data, we further analyze the development scale and competitive landscape of industrial park construction industry. Along with the industry development route and our practical experience, we analyze and predict the future development prospect of industrial park construction industry. This report is of a high value for both industry manufacturers and investment corporations to accurately know the latest industry development trend, and obtain market opportunities and determine an insightful operation strategy and development direction.
Here, we'd like to express our sincere gratitude to National Statistics Bureau of China, International Information Institute, National Institute of the Ministry of Commerce, National Tsing Hua University Library, Institute of Market Economy of the State Council Development Research Center, and Beijing Qinghua Forward Market Research Center, etc. Thank you so much!
Notice: all the market data, especially the corporation list data in this report is only for business reference. Please don't take the data for enterprise publicity. Thank you! Or Forward shall not take any responsibility for any consequences!
Qianzhan Business Information Co., Ltd. Industry Research College
Research Team of Industrial Park Construction Industry
China Industry Park Construction Industry Report" related reports »