China Coal Logistics Industry Market Prospect and Investment Strategy Planning Report, 2013-2017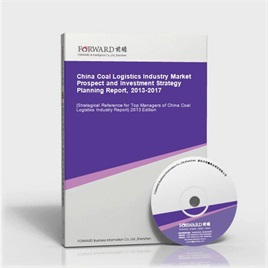 Last Update:2014-04-23
Form of services:Book + (pdf or doc file) + CD
Send method:EMS 2-3 days for delivery
English Service:+86 0755 33220413
Chinese Service:+86 800-8306390 800-8306395
E-mail:service.en@qianzhan.com
Report price:$7900 Print: $7800 CD: $7800
Special statement:
Recently we find there are some sites steal report contents from Qianzhan.com who put those contents on their sites for sale by making a little changes about the contents or remaining the same which deceives buyers(e.g. unable to get full or correct reports, or main body differs from contents that announced on sites).Therefore, we recommend paying a visit to Qianzhan personally or by your friends, and make payment after confirmation. Special statement: Qianzhan is the only and right holder of all the research reports, and has never used a third party to sell any reports, please be aware of the trademark " " when purchasing. Qianzhan is the largest and strongest consultancy, who owns the greatest number of researchers. Here followed "
Nine standards of companies' identificatios
"。
This table of content is original, without written permission of Qianzhan, any unit or individual shall not use, copy, or transfer the reports.
Preface
Table of Content
In 2011, China coal demand increased very fast, and the coal takes up nearly 80% proportion in primary energy production structure. In 2011, the output of crude coal reached 3.52 billion tons in China, with a year-on-year increase by 280 million tons, and the increase volume hit the highest peak of the history; the coal net import was 168 million tons, with a year-on-year increase of 15%, achieving the basic balance of coal supply and demand in the whole year.
In 2011, the national railway has forwarded and transported 2.269 billion tons of coal, with a year-on-year increase of 13.4%. The coal transportation volume accounted for 57.9% of the total volume of freight, up by 3.3% over the previous year. Among the major coal railway-lines, Datong-Qinghuangdao line completed 440 million tons of volume of rail freight, with an increase of 8.7%; Houma-Yueshan-Rizhao line completed 184 million tons of volume of rail freight, with an increase of 3%. There was 660 million tons of coal shipping in major ports, with an increase of 19%. In 2011, the coal outputs of Inner Mongolia, Shanxi and Shaanxi were 610 million tons, 580 million tons and 270 million tons. At the end of December 2011, China social coal inventory was 253 million tons, increased by 36.09 million tons, over the beginning of the year, with an increase of 16.6%.
At present, the balance between coal supply and demand in China is a bit weak. Influencing by external factors such as climate change, hydropower output and poor transportation that the imbalance between supply and demand in different regions and time is frequent. It is stressful to supply coal steadily. Current these years, coal demand in developed eastern region increases rapidly while some of the coal supply provinces (such as Henan, Anhui, Shandong) greatly reduce the coal output amount and increase coal input amount, and some of the provinces even without any output any more. The regional adjustment is more difficult now. As the biggest coal producer, China will be trapped in the imbalance between supply and demand every year. It mainly due to the backward coal logistics and loosening supply and demand chain in China.
The General Office of the State Council issued Several Proposals on Promoting the Merger and Reorganization to Coal Corporations (Proposals for short) on October 16th, 2010. The Proposals proposes the following targets of merger and reorganization: significantly reduce the amount of coal corporations especially the small size coal mines by merger and reorganization to form some large-scale coal group with annual output of over 50 million tons and annual increasing output capacity of over 0.8 million tons. Moreover, the output proportion of large-scale coal group to total output will be more than 50%.
On January 20th, 2012, the Ministry of Treasury and State Administration of Taxation released a Notice on Logistics Enterprise Commodity Storage Facilities Land for Urban Land Use Tax Policy notice. The Notice pointed out, from Jan 1st 2012 to December 31st 2014, as to logistics enterprises' commodity storage facility (personnel use or rental), to reduce 50% of land-use tax of cities and towns, according to what land degree it belongs to.
On March 2012, the National Development and Reform Committee released the "Twelfth Five-year" Development Plan for Industry. The Plan points out, by the end of 2015, the coal output will be controlled in about 3.9 billion tons. In the aspect of transported balance, it's predicted the transport volume of coal provinces will be 1.66 billion tons, among which the areas of Shanxi, Shaanxi, Inner Mongolia, and Gansu occupy 1.58 billion tons, and those coal will mainly be transported to eastern China, Beijing, Tianjin, Hebei, central and south areas, and northeastern areas, while small quantity of them will transport to Sichuan and Chongqing; the 30 million tons of coal in Xinjiang will mainly be provided to western of Gansu, Qinghai, Sichuan or Chongqing areas; the 50 million tons of coal will mainly be provided to Guangdong, Guangxi, Hunan, and other areas. The provinces that need to receive coal resources will receive net coal volume of 1.66 billion tons, among which eastern China, Beijing, Tianjin, Hebei, central China, and northeastern areas need 1.62 billion tons of coal, which are mainly supplied by Shanxi, Shaanxi, Inner Mongolia, Gansu, Yunnan and Guizhou areas; the Sichuan, Chongqing and Qinghai need 40 millions of coal, which are mainly supplied by Xinjiang, with 30 million tons of coal and complemented by Shanxi, Shaanxi, Inner Mongolia, Ningxia and Gansu.
The basic development routine for China logistics industry during the "twelfth five years" mainly bases on the Logistics Industry Restructuring and Revitalization Plan which is issued by the State Council. The logistic industry will try to implement the strategic planning in the "twelfth five years" plan and give active assistance to the 2011-2020 Long-term Plan for Logistics Industry Development which will be made by government. By the end of the "twelfth five years", a modern logistic service system which is of reasonable distribution, advancing technology, energy saving and environmental protection, convenience and high efficiency, safety and regulation and international competitiveness will be formed. The logistics industry will transfer from emphasizing infrastructure to comprehensively increasing service quality. In the first annual meeting of China logistics investment and financing, the Comprehensive Transportation Institute of National Development and Reform Commission reveals that as one of the detailed regulations of the Logistics Adjustment and Revival Plan, the cola logistics special planning will be issued currently. It will efficiently promote the organic integration of domestic coal production and coal logistics. Moreover, it is be of great use to settle the imbalance between coal supply and demand.
As the competition of coal logistics industry is fiercer, the domestic outstanding coal logistics corporations pay more and more attention to the industry market research, especially the in-depth research of product consumers. Because of this, a large number of excellent domestic coal logistics brands rise up rapidly, and gradually become a leader in coal logistics industry!
This report mainly analyzes the following aspects: development environment of China coal logistics; supply and demand condition of coal industry; development condition of coal logistics; integration condition of coal logistics industry; market segmentation of coal logistics industry; major regions of coal logistics industry; risks analysis of coal logistics transportation network; leading corporations' operational condition of coal logistics; integration analysis and prospects forecast of coal logistics industry. Meanwhile, together with the comprehensive and detailed market data which is accumulated for 5 years, Forward helps you to grasp the market and development trends of coal logistics industry, so as to win advantages from competition!
The most distinctive characteristics of this report is forward-looking and timeliness. Base on the forward-looking analysis of massive research data, we further analyze the development scale and competitive landscape of coal logistics industry. Along with the industry development route and our practical experience, we analyze and predict the future development prospect of coal logistics industry. This report contains a high value for coal corporations, coal logistics corporations, coal logistics park management institutes and investment corporations to accurately know the latest industry development trend, obtain market opportunities and determine an insightful operation strategy and development direction.
Here, we'd like to express our sincere gratitude to National Statistics Bureau of China, International Information Institute, National Institute of the Ministry of Commerce, National Tsing Hua University Library, Institute of Market Economy of the State Council Development Research Center, and Beijing Qinghua Forward Market Research Center, etc. Thank you so much!
Notice: all the market data, especially the corporation list data in this report is only for business reference. Please don't take the data for enterprise publicity. Thank you! Or Forward shall not take any responsibility for any consequences!
Qianzhan Business Information Co., Ltd. Industry Research Center
Research Team of Coal Logistics Industry
China Coal Logistics Industry Report" related reports »