China Industrial Computer Industry Business Model Research and Investment Forecast Analysis Report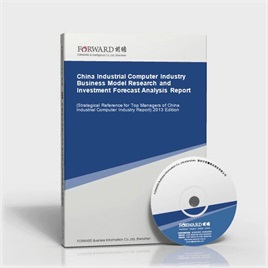 Last Update:2014-05-09
Form of services:Book + (pdf or doc file) + CD
Send method:EMS 2-3 days for delivery
English Service:+86 0755 33220413
Chinese Service:+86 800-8306390 800-8306395
E-mail:service.en@qianzhan.com
Report price:$7900 Print: $7800 CD: $7800
Special statement:
Recently we find there are some sites steal report contents from Qianzhan.com who put those contents on their sites for sale by making a little changes about the contents or remaining the same which deceives buyers(e.g. unable to get full or correct reports, or main body differs from contents that announced on sites).Therefore, we recommend paying a visit to Qianzhan personally or by your friends, and make payment after confirmation. Special statement: Qianzhan is the only and right holder of all the research reports, and has never used a third party to sell any reports, please be aware of the trademark " " when purchasing. Qianzhan is the largest and strongest consultancy, who owns the greatest number of researchers. Here followed "
Nine standards of companies' identificatios
"。
This table of content is original, without written permission of Qianzhan, any unit or individual shall not use, copy, or transfer the reports.
Preface
Table of Content
Industrial computer is the core of automation equipment to industry and infrastructure to information industry. Traditionally, it is mainly used in the survey, control and management during industrial processes. However, it means more nowadays and with a wider application range which covers the national economic development and national defense construction in all fields.
With the flourishing of internet technology, information appliance, auto and medical industry in current years, the industrial computer has widely involved in our daily life. The application range has developed from industrial fields like intelligent building, intellectual transportation, car-mounted computer and medical instrument to network service and digital media relevant fields like wireless infrastructure, network application facility, network security, multimedia application and financial service. At present, along with the accelerating 3C integration, three-network integration and informationization to corporations, the industrial computer has become the core of infrastructure to information industry which includes mobile computer platform, communication computer platform, industrial control, commercial control, E-commerce platform and information appliance. Moreover, the industrial computer can also be applied as accession equipment to connect with Internet.
The industrial computer industry starts in the 1980s with the STD bus industrial computer as the symbolic product. The STD bus was first developed as the industrial standard by Pro-Log company and Mostek Company and worked as 8 industrial I/O buses, but later it was absorbed as IEEE961 standard by the International Organization for Standardization. The China Computer Industry Association STDMG / P.R.C Branch establishing by six institutions of Ministry of Information Industry in 1991 is in charge of the STD bus popularization. With the development of technology, China industrial computer manufacturers enter the IPC market since 1997. And the application of IPC expands from traditional industrial control to digital communication and telecom which require higher reliability. At present, there are about 15 IPC brands in China that mainly includes Advantech, ADLINK, EVOC, and NORCO. IPC pioneers a new PC-based era, and begins an open platform for industrial automation and informationization technology.
The fast growth of China economy brings the informationization demand in all ranges of industries. China industrial computer industry maintains a fast development even in the period of global financial crisis. According to statistics from China Computer Industry Association Industrial Computer Branch: the market scale of China industrial computer industry (not including application system) reaches 5.5 billion Yuan in 2008 and over 9 billion Yuan in 2010. It is predicted that the annual growth rate of the industry will maintain above 15% in the next 5 years.
The competition of China industrial computer market is fierce but the structure is generally stable. Many corporations and brands from mainland China as well as Taiwan China lead the markets no matter for the traditional IPC market which faces for industrial control or the new embedded computer which faces for public service and electronic finance. And for the anti-harsh-environment industrial computer which faces for railway transportation, aerospace and military, and data collecting board and functional board to form the industrial computer system, the domestic corporations with the same competitiveness strength as foreign brands. For the ATCA/MTCA industrial computer which face for telecom application the foreign-owned brands are advancing.
Basing on the keen grasp of market segmentation and better service responds the domestic corporations gain a considerable achievement in current years. As the top two industrial computer corporations of scale, the EVOC and NORCO establish an extensive network of direct sales and service and achieve a faster growth. As the cradle of China industrial computer technology, the traditional IPC market which faces for industrial control is the major part of industrial computer. China's brands lead the market in this field while the foreign products have generally withdrawn from the market due to the high cost, expensive price and difficult to service. This kind of products with a large production and widest application range. And it is the major driving force to the update of traditional industry and modern service industry.
The embedded computer is the new growth of current application market in the aspect of public service and electronic finance. It with various demands and is applied in a wider range which covers from industrial equipment, lottery, finance, retailing, municipal issue, and transportation to military industry. This reality determines that the embedded computer can not form a traditional IPC standardization and scale model. Many China's brands in this field with different advantages to product, channel, technology and service and represent an important direction of industrial computer products.
With the wider application of industrial computer, it is a common strategy for many manufacturers to focus on different market segmentation. It also promotes a further divided technology. Among the abundant popular open specifications, the major ones are as follows: PCI-ISA, SHB, CPCI/PXI, ATCA/MTCA, VME/VPX, PC104/Plus, PMC, AMC, COME, ETX; while the major mother sets include ATX, MicroATX, BTX, DTX, MiniITX, EPIC, 3-inch board and 5-inch board. Along with the fast development of computer industry in the future, the systemic structure will have a stronger interaction and interoperability. The industry will be the integrated platform for a variety of information systems. And it will develop toward an open, standardized platform direction.
With Forward's the long-term tracking and collecting market data of industrial computer industry, we roundly and accurately analyze the structure system for you from the view of mastering the whole industry. This report will base on the macro condition of current industrial computer industry, production and marketing condition, industry demand trend of auto industry, then detailed analyzes the current market capability, market scale, development speed and competitive landscape of China industrial computer industry. Meanwhile, together with the comprehensive and detailed market data which is accumulated for years, Forward helps you to grasp the market and development trends of industrial computer industry, so as to win advantages from competition!
Major characteristics of this report are forward-looking and timeliness. Base on the forward-looking analysis of massive research data, we further analyze the development scale and competitive landscape of industrial computer industry. Along with the industry development route and our practical experience, we analyze and predict the future development prospect of industrial computer industry. This report is of a high value for industrial computer manufacturers and investment corporations to accurately know the latest industry development trend, and obtain market opportunities and determine an insightful operation strategy and development direction. In the meantime, it is the first heavy weight report to analyze the up/down-stream industry chain and industry leading corporations of industrial computer industry in an overall and systemic way.
Here, we'd like to express our sincere gratitude to National Statistics Bureau of China, International Information Institute, General Administration of Customs, National Institute of the Ministry of Commerce, National Tsing Hua University Library, Institute of Market Economy of the State Council Development Research Center, and Beijing Qinghua Forward Market Research Center, etc. Thank you so much!
Notice: all the market data, especially the corporation list data in this report is only for business reference. Please don't take the data for enterprise publicity. Thank you! Or Forward shall not take any responsibility for any consequences!
Qianzhan Business Information Co., Ltd. Industry Research Center
Research Team of Industrial Computer Industry
China Industrial Computer Industry Report" related reports »