China Dental Medical Industry Market Forward and Investment Strategy Report, 2013-2017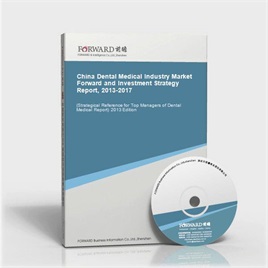 Last Update:2014-05-24
Form of services:Book + (pdf or doc file) + CD
Send method:EMS 2-3 days for delivery
English Service:+86 0755 33220413
Chinese Service:+86 800-8306390 800-8306395
E-mail:service.en@qianzhan.com
Report price:$7900 Print: $7800 CD: $7800
Special statement:
Recently we find there are some sites steal report contents from Qianzhan.com who put those contents on their sites for sale by making a little changes about the contents or remaining the same which deceives buyers(e.g. unable to get full or correct reports, or main body differs from contents that announced on sites).Therefore, we recommend paying a visit to Qianzhan personally or by your friends, and make payment after confirmation. Special statement: Qianzhan is the only and right holder of all the research reports, and has never used a third party to sell any reports, please be aware of the trademark " " when purchasing. Qianzhan is the largest and strongest consultancy, who owns the greatest number of researchers. Here followed "
Nine standards of companies' identificatios
"。
This table of content is original, without written permission of Qianzhan, any unit or individual shall not use, copy, or transfer the reports.
Preface
Table of Content
Dental medical is a concept including health and beauty. And dental medical industry obtains a market of fast development and enormous potentials in China for the following considerations: the population size, the popularity of oral disease, the market demand of dentist, the relationship between dental industry and other industries, developing understanding of oral health along with the growth of economic and consumption level and so on.
The number of dentists per capita implied that the dental medical in China was backward. China government allowed dental Institutions to introduce diversified operation In current years. It made some changes to dental Institutions that such Institutions may develop from the only public ownership towards the coexisting of public ownership and private ownership. In other words, dental Institutions in the future may include non-profit stomatological hospital, oral specialty of comprehensive hospital and other dental hospitals. The dental Institutions in the 21st century would be more and more popular and play a more significant role in oral health.
Basing on the market data of industrial textile market, which tracked and collected by Forward in long-term, and applying the international scientific analysis model, this report provides you an overall analysis system in the height of the whole industry comprehensively and accurately. Major contents of this report include the following aspects about dental medical industry: development of segment markets like dental medical devices, dental medical services and so on; detailed development experiences of the leading dental corporations at home and abroad. Meanwhile, the comprehensive and detailed data about nonwoven industry in current 5 years is contained. In this way, it will help you to maintain the market trend and industry development comprehensively and accurately.
The most significant features of this report are perceptiveness and timeliness. It is with a forward-looking analysis of massive first-hand research data; it conducts an in-depth and objective analysis about the overall market capability, market size, competition structure and market demand characteristics; it gives a prudent analysis and forecast of dental medical industry according to the industry development track and Forward's years of practical experience. In conclusion, it is a significant report to learn about the latest development trend, grab market opportunities, and make correct marketing decision and explicit corporations' development trend for all dental medical services corporations, dental medical devices manufacturers, R&D Institutions, marketing corporations and Investment corporations. Besides, it is the first heavyweight report to give a comprehensive and systematic analysis about the upstream and downstream industrial chain, as well as key corporations in dental medical industry.
This report is useful for dental medical corporations, R&D Institutions, marketing corporations and Investment corporations for the following reasons: it will help them to accurately know the latest development trend and timely discover the market gaps, opportunities, growth points and profit points of industrial textile industry; it will assist them to grasp the unmet market demand and development trend prospectively, form the sustainable advantages, avoid the investment risks effectively, consolidate or expand relevant strategic target markets more efficiently, and firmly grasp the competition initiative.
Here, we would like to express our sincere gratitude to State Information Center, Bureau of Statistics of China, International Information Research Institution, Chinese Academy of International Trade and Economic Cooperation, Tsinghua University Library, Development Research Center of the State Council and Beijing Essence Forward Research Center, for their great support when we conduct this report!
Notice: All the market data, especially corporations' ranking data in the report, only for business reference. Please do not take the data for enterprise publicity. Thank you! Or Forward shall not take any responsibility for any consequences!
Special Notes: Neglecting the subtle signals of dramatically changing external environment, and untimely update strategies along with the changing environment will lead to the loss of competition advantages. The successful corporations will keep a scientific analysis upon the external environment before making their significant operational strategies!
Qianzhan Business Information sincerely wishes every ambitious corporation can make a significant operational strategy, effectively avoid the industry risks and gain the continuous success!
Qianzhan Business Information Co., Ltd. Industry Research Center
Research Team of Dental Medical Industry
Dental Medical Report" related reports »