China Contaminated Soil Remediation Industry Market Forecast and Investment Strategy Report, 2013-2017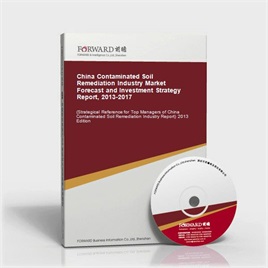 Last Update:2014-05-09
Form of services:Book + (pdf or doc file) + CD
Send method:EMS 2-3 days for delivery
English Service:+86 0755 33220413
Chinese Service:+86 800-8306390 800-8306395
E-mail:service.en@qianzhan.com
Report price:$7900 Print: $7800 CD: $7800
Special statement:
Recently we find there are some sites steal report contents from Qianzhan.com who put those contents on their sites for sale by making a little changes about the contents or remaining the same which deceives buyers(e.g. unable to get full or correct reports, or main body differs from contents that announced on sites).Therefore, we recommend paying a visit to Qianzhan personally or by your friends, and make payment after confirmation. Special statement: Qianzhan is the only and right holder of all the research reports, and has never used a third party to sell any reports, please be aware of the trademark " " when purchasing. Qianzhan is the largest and strongest consultancy, who owns the greatest number of researchers. Here followed "
Nine standards of companies' identificatios
"。
This table of content is original, without written permission of Qianzhan, any unit or individual shall not use, copy, or transfer the reports.
Preface
Table of Content
With the current accelerated industrialization, the soil is serious polluted by unreasonable exploitation and refining release of mineral resources, long-term sewage irrigation and sludge application for soil, atmospheric sedimentation caused by human activity and application of fertilizer and pesticides. Administrator Zhou Shengxian from State Environmental Protection Administration said in the video conference which topic is national pollution situation and pollution prevention, that general condition of nationwide soil pollution is quite grim. According to available statistics, nationwide polluted farmland is about 0.15 billion mou (1 mou=666.67 square meter) and destroyed farmland which is occupied with solid waste is 2 million mou. The polluted farmland and destroyed farmland take up over 1/10 of total farmland area, and most of them are in the economic relatively developed regions. The serious polluted soil bring great hazard. The annual heavy-metal-polluted food in China reaches 12 million ton which leads to the direct economic loss of over 20 billion Yuan.
There is no clear official data about details of current domestic soil pollution. According to analysis we can see a further polluted trend for China soil pollution especially heavy metal pollution either of contamination degree or pollution scope. It is predicted that 1/6 of the farmland in China has been polluted by heavy metal. Density of population in China is extremely high, and the soil pollution has a great impact on people's health. Therefore soil pollution attracts more and more attention.
From the aspect of industry development, growth rate of environmental protection industry obviously speed up since 2009. Because of this, the domestic contaminated soil remediation industrial chain gradually steps into the stage of ordering and segmentation. It has formed an up/middle/down-stream industrial value chain of soil pollution project testing to risk evaluation, then further to implementation of remediation project and manufactures of related remediation equipment.
According to the
Plans on State Environmental Protection of "Twelfth Five Years" Science and Technology Development, government will invest 2 billion Yuan for the contaminated soil controlling field during the "twelfth five years" period. In other words, contaminated soil remediation industry is facing optimistic development opportunity during the "twelfth five years" period. Nevertheless, it is necessary to remind that investment operation institutes should take a careful optimistic attitude towards contaminated soil remediation industry in short term. Reasons as follows: firstly, social core issue in current China is still economic growth issue. Investment for environmental pollution treatment and protection depends on balance between long-term benefit from pollution treatment and environmental protection and short-term benefit from economic growth. Secondly, comparing with other major fields of environmental protection industry, even though contaminated soil remediation with a relatively high economic feasibility, current domestic contaminated soil remediation technology is under-developed and related laws and regulations still need to perfect. There are still many barriers for the development of contaminated soil remediation industry in the future.
Based on the development status and existing problems of contaminated soil remediation industry, this report propose related perfecting proposals. It mainly contains the following aspects: operation environment and overall development status of contaminated soil remediation industry; market segmentation of contaminated soil remediation industry; foreign contaminated soil remediation corporations and related corporations in other fields; optional strategies in investment fields, investment prospect and risks early warming; investment suggestions for investment/financing strategy, risk management and business model. Meanwhile, together with the comprehensive and detailed market data which is accumulated for years, Forward helps you to grasp the market and development trends of contaminated soil remediation industry, so as to win advantages from competition!
Major characteristics of this report are forward-looking and timeliness. Base on the forward-looking analysis of massive research data, we further analyze the development scale and competitive landscape of contaminated soil remediation industry. Along with the industry development route and our practical experience, we analyze and predict the future development prospect of contaminated soil remediation industry. This report contains a high value for both industry manufacturers and investment corporations to accurately know the latest industry development trend, obtain market opportunities and determine an insightful operation strategy and development direction.
Here, we'd like to express our sincere gratitude to National Bureau of Statistics of China, International Information Institute, National Institute of the Ministry of Commerce, National Tsing Hua University Library, Institute of Market Economy of the State Council Development Research Center, and Beijing Qinghua Forward Market Research Center, etc. Thank you so much!
Notice: all the market data, especially the corporation list data in this report is only for business reference. Please don't take the data for enterprise publicity. Thank you! Or Forward shall not take any responsibility for any consequences!
Qianzhan Business Information Co., Ltd. Industry Research Center
Research Team of Contaminated Soil Remediation Industry
China Contaminated Soil Remediation Industry Report" related reports »