China Air Transport Industry Market Research and Investment Forecast Report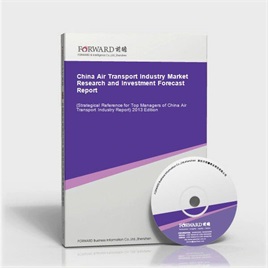 Last Update:2014-04-22
Form of services:Book + (pdf or doc file) + CD
Send method:EMS 2-3 days for delivery
English Service:+86 0755 33220413
Chinese Service:+86 800-8306390 800-8306395
E-mail:service.en@qianzhan.com
Report price:$7900 Print: $7800 CD: $7800
Special statement:
Recently we find there are some sites steal report contents from Qianzhan.com who put those contents on their sites for sale by making a little changes about the contents or remaining the same which deceives buyers(e.g. unable to get full or correct reports, or main body differs from contents that announced on sites).Therefore, we recommend paying a visit to Qianzhan personally or by your friends, and make payment after confirmation. Special statement: Qianzhan is the only and right holder of all the research reports, and has never used a third party to sell any reports, please be aware of the trademark " " when purchasing. Qianzhan is the largest and strongest consultancy, who owns the greatest number of researchers. Here followed "
Nine standards of companies' identificatios
"。
This table of content is original, without written permission of Qianzhan, any unit or individual shall not use, copy, or transfer the reports.
Preface
Table of Content
In 2011, China civil aviation completed 57.32 billion ton-kilometer of total turnover volume, up by 6.5% over the previous year, among which there is 451.671 billion passenger-kilometer of passenger traffic turnover, with a year-on-year increase of 11.8%; and there is 17.166 billion ton-kilometer, with a year-on-year decrease of 4.0%.
In 2011, China civil aviation completed 292 million of passenger traffic volume, with a increase of 9.2% over the previous year, among which there are 271 million passengers for domestic routes, up by 9.2% over the previous year; there are 21.007 million passengers for international routes, up by 8.8%; China completed 5,522,750 tons of goods mail traffic, down by 1.8% over the previous year. In a word, the growth rates of domestic and international routes are positive 1.6% and negative 8.4% respectively.
On April 7, 2011, "The Twelfth Five-year Plan" of China Civil Aviation was issued. It includes:
Enhance the airport security capability: there will be 55 newly built airport in the next 5 years. By 2015, the total number of transport airport should reach more than 230, covering 94% of the total economic output, 83% of the population and 81% of the county-level administrative units. A airport system should be initially established which is with the characteristics of rational layout, perfect functions, well-arranged structure, safety and high efficiency.
Promote the service capability of air transport: by 2015, the total turnover volume should reach 99 billion ton-kilometer; the passenger traffic volume should reach 450 million passengers; the goods mail traffic volume should reach 9 million tons. And their growth rates should be 13%, 11% and 10% respectively. The flight schedule rate is controlled more than 80%, and the public are basically satisfied with civil aviation services. The flight size generally reach 2,750, and the annual capacity of flights is 11%。
Accelerate the development of aviation business: comprehensively layout and construct general air transport airport and landing points; encourage general aviation enterprises and social forces to participate in constructing security facilities for general airports and operating airports, lowering down the market access to general aviation market. Enlarge the size of general flights, and it plans to increase more than 1,000 general aviation aircrafts.
Construct modern ATC system: build a large-capacity air channel. Increase main routes or parallel airlines among the following cities, Beijing, Guangzhou, Shanghai, Dalian, Kunming, Chengdu, Xi'an. Add busy approach and departure routes, and implement the division of approach and departure routes.
With the growing competition in air transport industry, acquisition and capital operation among large enterprises become more and more frequent. The air transport enterprises pay more attention to the industry market research, especially the indepth researches on the industry development environment. Because of this, a large number of excellent air transport enterprises rise up rapidly, and gradually become leading corporations in air transport industry!
With Forward's long-term tracking and collecting market data of air transport industry we roundly and accurately analyze the industry structure system for you from the view of mastering the whole industry. This report mainly focuses on analyzing China air transport industry's market size, development speed and competition situation, depending on macro-prosperity of current air transport industry and relying on its operation condition as well as the demand trend.
The report pay more attention to analyze the development environment of China air transport industry; the development situation of the global air transport industry; the development situation of China air transport industry; the market segmentation of air transport industry; the development situation of industries related to air transport industry; the study of influence on air transport passenger traffic caused by high-speed rail; the competitive landscape of air transport market; the analysis of competitors in air transport industry; as well as the risk analysis and prospects forecast of air transport industry. Meanwhile, with comprehensive and specific first-hand market data over the past 5 years, Forward helps you to grasp the market and development trends of air transport industry, so as to win advantages from competition!
The most distinctive characteristics of this report is forward-looking and timeliness. Through analyzing forward-looking characteristic of abundant first-hand market data, we deeply and objectively dissect China air transport industry's market capacity, market size, competitive landscape and characteristics of market demand. Furthermore, based on future development tracks and years' practice experience of air transport industry, we conduct prudent analysis and forecast for air transport industry's future development trend. This report helps aviation manufacturing enterprises, air transport manufacturing enterprises, airport operational enterprises, R&D institutions and investment enterprises to precisely grasp current latest developments of the industry. Afterwards, they can make wise operating decisions and define enterprises' development directions.
Here, we would like to express our sincere gratitude to Civil Aviation Administration of China, State Information Center, Bureau of Statistics of China, China Customs, International Information Research Institute, Chinese Academy of International Trade and Economic Cooperation, Tsinghua University Library, Development Research Center of the State Council and Beijing Essence Forward Research Center, for their great support when we conduct this report!
Notice: All the market data, especially corporations' ranking data in the report, only for business reference. Please do not take the data for enterprise publicity. Thank you! Or Forward shall not take any responsibility for any consequences!
Qianzhan Business Information Co., Ltd. Industry Research Center
Research Team of Air transport Industry
China Air Transport Industry Report" related reports »