China Women Shoes Industry Production & Marketing Demand and Investment Forecast Report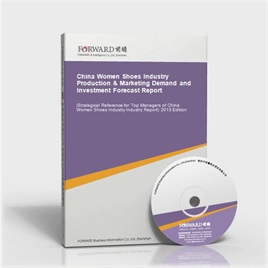 Last Update:2014-05-26
Form of services:Book + (pdf or doc file) + CD
Send method:EMS 2-3 days for delivery
English Service:+86 0755 33220413
Chinese Service:+86 800-8306390 800-8306395
E-mail:service.en@qianzhan.com
Report price:$7900 Print: $7800 CD: $7800
Special statement:
Recently we find there are some sites steal report contents from Qianzhan.com who put those contents on their sites for sale by making a little changes about the contents or remaining the same which deceives buyers(e.g. unable to get full or correct reports, or main body differs from contents that announced on sites).Therefore, we recommend paying a visit to Qianzhan personally or by your friends, and make payment after confirmation. Special statement: Qianzhan is the only and right holder of all the research reports, and has never used a third party to sell any reports, please be aware of the trademark " " when purchasing. Qianzhan is the largest and strongest consultancy, who owns the greatest number of researchers. Here followed "
Nine standards of companies' identificatios
"。
This table of content is original, without written permission of Qianzhan, any unit or individual shall not use, copy, or transfer the reports.
Preface
Table of Content
With the development of China's economy and the improvement of per capital income, the demand for daily essentials, such as clothing, shoes and hats continues to grow, so the women shoes industry meet new development opportunities. It's estimated that the industry asset and income kept a year-on-year growth of more than 10% from 2005 to 2010. Specifically, the industry possessed 141.248 billion Yuan of total asset in 2009, with a year-on-year increase of 22.67% and the industry possessed 166.822 billion Yuan of total asset in 2010, with a year-on-year increase of 18.11%; the industry reached 246.196 billion Yuan of market sales revenue,with a growth of 16.19%, and it reached 303.613 billion Yuan of sales revenue in 2010, with a year-on-year growth of 23.32%. In 2011, promoted by the good development of national economy, the expense for clothing is expected to further increase, and the market scale of China women shoes industry will continue to grow.
From the development of brands, the gap between China women shoes industry and the international advanced level is gradually narrowed. The women shoes industry is on the road to achieve industry upgrading, and women shoes operational enterprises tend to be more and more mature, which shows: women shoes management brands ideas become stronger and stronger; the enterprises' comprehensive level of manufacturing and management continues to be improved; and plenty of excellent enterprises and entrepreneurs spring up. In recent years, there are some well-known brands in China, which are in a large scale and with certain competitiveness, such as Belle, Daphne, Saturday and so on. They occupy a leading position in China women shoes market.
With the development of economy, the women shoes consumption focuses more on the aspect of fashion, style and brands. According to research, about 75% of consumers tend to choose foreign brands, which mainly results in foreign brands entering China's market. Meanwhile, no matter self-owned brands or OEM products, China women shoes products possess obvious advantages, which have aroused EU and other countries anti-dumping investigations and import sanctions to shoes products. Domestic women shoes enterprises should take appropriate operational measures and marketing strategies to avoid risks, then to get rid of the current dilemma.
The report will firstly dissect the current market environment of women shoes industry step by step, and analyze the development status of women shoes industry; then focus on analyzing the consumption characteristics of female consumers, for the purpose of positioning a appropriate goal. Furthermore, from the perspective of industrial chain, the report focuses on pointing out the relation between up and down stream industries, in order to help enterprises to find a profit growth point. At last, the report predicts the future development trend of women shoes industry and proposes related investment suggestions for the industry.
Here, we would like to express our sincere gratitude to State Information Center, Bureau of Statistics of China, China Customs, International Information Research Institute, Chinese Academy of International Trade and Economic Cooperation, Tsinghua University Library, Development Research Center of the State Council and Beijing Essence Forward Research Center, for their great support when we conduct this report!
Notice: All the market data, especially corporations' ranking data in the report, only for business reference. Please do not take the data for enterprise publicity. Thank you! Or Forward shall not take any responsibility for any consequences!
Qianzhan Business Information Co., Ltd. Industry Research Center
Research Team of Women Shoes Industry
China Women Shoes Industry Industry Report" related reports »