China Logistics Park Layout Planning and Operational Model Report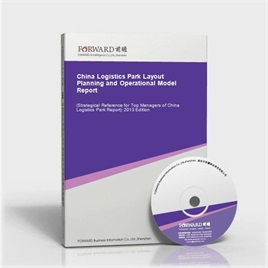 Last Update:2014-04-20
Form of services:Book + (pdf or doc file) + CD
Send method:EMS 2-3 days for delivery
English Service:+86 0755 33220413
Chinese Service:+86 800-8306390 800-8306395
E-mail:service.en@qianzhan.com
Report price:$7900 Print: $7800 CD: $7800
Special statement:
Recently we find there are some sites steal report contents from Qianzhan.com who put those contents on their sites for sale by making a little changes about the contents or remaining the same which deceives buyers(e.g. unable to get full or correct reports, or main body differs from contents that announced on sites).Therefore, we recommend paying a visit to Qianzhan personally or by your friends, and make payment after confirmation. Special statement: Qianzhan is the only and right holder of all the research reports, and has never used a third party to sell any reports, please be aware of the trademark " " when purchasing. Qianzhan is the largest and strongest consultancy, who owns the greatest number of researchers. Here followed "
Nine standards of companies' identificatios
"。
This table of content is original, without written permission of Qianzhan, any unit or individual shall not use, copy, or transfer the reports.
Preface
Table of Content
In 2011, China's logistics operation condition is generally good. Although the growing rate of logistics demand has gone down recently, logistics industry still maintains a rapid growth. Besides, value-added of the industry increases rapidly. Furthermore, it plays an important supporting role in ensuring a steady and fast development of national economy. In 2011, the total cost of social logistics reached 8.4 trillion Yuan, up by 18.5% year-on-year, which grew by 1.8% over the previous year; the total amount of social logistics was 158.4 trillion Yuan, according to comparable price, up by 12.3 year-on-year, which fell by 0.8% over the previous year.
In July, 2010, NDCR (National Development and Reform Commission) issued "Cold Chain Logistics of Agricultural products Development Planning". According the "Planning", it requires to further enhance the level of cold chain of meat and sea food, as well as strengthen food security capability. By 2015, China's vegetable and fruit, meet, sea food's cold chain logistic circulation will increase by more than 20%, 30% and 36% respectively. Transport rate of cold storage will grow by around 30%, 50% and 65% respectively. And the corruption loss rate will fall down by below 15%, 8% and 10% respectively.
On March 30, 2011, "Business Logistics Development Special Planning" was released. According to "Planning", chain supermarket above scale-designated should reach 70% of unity commodity delivery rate; countryside stores which is with "to thousands of villages and towns", should reach 70% of unity commodity delivery rate; Agricultural product chain operational corporations should reach more than 70% of unity commodity delivery rate; Transport rate of cold storage for vegetable and fruit, meat and sea food should grow by 20%, 30% and 36% respectively. Total areas of stereoscopic warehouse should take up 40% amount of total warehouse areas.
In June, 2011, Prime Minister Wen Jiabao presided the executive meeting of the State Council, to promote the healthy development of logistics industry. It's pointed out, supporting policy measures should be set up and improved, to enhance the healthy development of logistics industry. Meanwhile, it proposed eight "DOs", which is also called "State Eight"
On August 19, 2011, "the State Council Opinions on Promoting the Healthy Development policies and Measures of Logistics Industry" was released. There are 9 rules in "Opinions". They are: effectively lighten the tax burden of the logistics enterprises; to increase support to the land policy of the logistics industry; to promote the convenience of the logistics vehicle traffic; to speed up the logistics management system; to encourage the integration of logistics facilities resources; to promote the innovation in logistics technology and applications; to increase investment in the logistics industry; to give priority to the development of logistics industry of agricultural products, and to strengthen organizational coordination.
On January 20, 2012, the Ministry of Finance, State Administration of Taxation issued a "Notice On Commodity Storage Facilities, Land and Urban Land Use Tax Policy of Logistics Enterprises". The "Notice" raised, since January 1, 2012 until December 31, 2014, the land of commodity storage facilities owned by logistics companies (including personal use and rental) should land at the reduced 50% of urban land use rate according to different grades of land. During the "Twelfth Five-year" Plan period, the basic idea of the development of logistics is based on closely following the plan of "Logistics Industry Adjustment and Revitalization", to strive for highlighting the development idea of developing logistics industry in the "Twelfth Five-year" Plan, as well as to positively assist related governmental departments to plan and prepare a long-term planning for logistics industry. At the end of "Twelfth Five-year" Plan period, modern logistics service system initially takes shape, with international competitiveness. It has rational layout, advanced technologies, and it's environmental and efficient. The logistics industry will shift from concentration on infrastructure to providing all services. In addition, the NDRC will soon complete 4 special project planning, which are the standardization of logistics, logistics parks, coal logistics, emergency logistics. Furthermore, these 4 special planning, combing with cold chain logistics planning and commercial logistics planning, will become 6 special planningto promote the development of logistics industry.
The logistics park is not only a new thing in the development of modern logistics, but also a top priority in China's regional logistics system planning. Its core is a cargo hub, and there are a variety of logistics facilities in the layout. Moreover, it has integrated logistics services function in logistics areas. Many different types of logistics companies can share infrastructure and supporting services. They organize professional logistics activities, in order to release complementary advantages, and then to generate economies of scales by using overall advantages. Thus, the logistics park is an important part of the logistics system, as well as a place to organize all kinds of logistics activities, ti provide logistics services and to complete logistics functions. With the market's rapid economic development and the acceleration of urbanization process, on the one hand, a variety of new industry have sprung up, and their rise often relying on a strong logistics support systems, which need to establish an integrated supply chain. On the other hand, There are many worsening traffic jam problems emerging in large and medium-sized cities, especially in large cities, traffic problem in big cities. Moreover, and the original stations, warehouses, and delivery centers which distributed in the urban area gradually extended to the city center area, affecting both the city layout, as well as causing environmental pollutions to the city center area.
In recent years, It's realized that the logistic park can promote upgrading technology level and improving the services to China's economic center. And it also plays an important role in promoting the development of third-party logistics, integrating and utilizing existing urban and regional logistics resources, speeding up the development of logistics corporations, easing traffic pressure and improving the ecological environment. Many regional governments attach great importance to plan and construct logistics parks. What's more, they have made plans in the development of regional logistics planning. The logistics park has become an investment hot spot in logistics field, and there are various types of investment in the logistics park projects. Since the construction of logistics parks requires a lot of land and capital, the investment risks are very huge without scientific planning and reasonable operation for logistics parks.
This report mainly focuses on the development environment of China's logistics park, the development condition and experiential learning of foreign logistics parks; development opportunity forecast of China logistics industry; development condition in China's logistics areas; layout and planning of logistics parks; operational model and business attracting strategies of logistics parks; area segmentation and operational condition of logistics parks; corporations' operation condition related to logistics parks; and investment and financing analysis and prospect forecast of the logistic park. Meanwhile, with comprehensive and specific first-hand market data in 5 years. Forward helps you to grasp the market and development trends of the overall logistic park market, so as to win advantages from competition!
The most distinctive characteristics of this report is forward-looking and timeliness. Through analyzing forward-looking characteristic of abundant first-hand market data, we deeply and objectively dissect the status of China present logistics park's overall market capacity. Furthermore, we conduct prudent analysis and forecast for logistics park's future development trend. This report helps logistic park's construction enterprises, operational corporation of logistic parks and management institution of logistics parks to precisely grasp current latest developments of the industry. Afterwards, they can make wise operating decisions and define enterprises' development directions.
Here, we would like to express our sincere gratitude to State Information Center, Bureau of Statistics of China, International Information Research Institute, Chinese Academy of International Trade and Economic Cooperation, Tsinghua University Library, Development Research Center of the State Council and Beijing Essence Forward Research Center, for their great support when we conduct this report!
Notice: All the market data, especially corporations' ranking data in the report, only for business reference. Please do not take the data for enterprise publicity. Thank you! Or Forward shall not take any responsibility for any consequences!
Qianzhan Business Information Co., Ltd. Industry Research Center
Research Team of the logistic Park
China Logistics Park Report" related reports »