China Hotel Industry Market Monitoring Monthly Report, February, 2012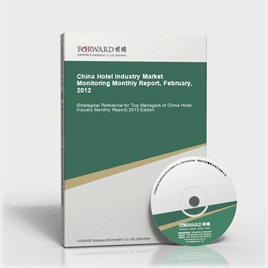 Last Update:2014-04-28
Form of services:Book + (pdf or doc file) + CD
Send method:EMS 2-3 days for delivery
English Service:+86 0755 33220413
Chinese Service:+86 800-8306390 800-8306395
E-mail:service.en@qianzhan.com
Report price:$26000 Print: $25800 CD: $25900
Special statement:
Recently we find there are some sites steal report contents from Qianzhan.com who put those contents on their sites for sale by making a little changes about the contents or remaining the same which deceives buyers(e.g. unable to get full or correct reports, or main body differs from contents that announced on sites).Therefore, we recommend paying a visit to Qianzhan personally or by your friends, and make payment after confirmation. Special statement: Qianzhan is the only and right holder of all the research reports, and has never used a third party to sell any reports, please be aware of the trademark " " when purchasing. Qianzhan is the largest and strongest consultancy, who owns the greatest number of researchers. Here followed "
Nine standards of companies' identificatios
"。
This table of content is original, without written permission of Qianzhan, any unit or individual shall not use, copy, or transfer the reports.
Preface
Table of Content
Index of hotel price in February, 2012 shows that there is a slow decline for the domestic hotel price and the overall price is just a bit higher than that in off-season. However, promoted by favorable factors like "peak shifting travel" the high-star-grade hotel price in popular tourist cities still increases comparing with that of January.
Among the tourist cities whose growth rate ranks top ten, there is a slightly decrease of the high-star-grade hotel price in Hangzhou, Huangshan, Xiamen and Xi'an. Forward predicts that hotel price in every cities will be relatively low.
Presently, domestic hotel industry is transforming from peak season to off-season. But the transformation won't be long as the spring outing is coming. The spring outing will bring another growth of hotel price in popular spring outing places. According to the regular in previous years the domestic hotel price will reach the first peak in May after Spring Festival.
Newly open star-grade hotels in January, 2012 are 12 with 3,073 guest rooms. For the newly open star-grade hotels in January there is 11 less which with a decline rate of 48% comparing to that of last month; and the guest rooms are about 3,859 less which with a decline rate of 56%. It may because of the spring festival in January and only few high-star-grade hotels start new business.
The average occupancy rate of China hotel in January, 2012 is 51.54% among which the occupancy rate of individual traveler is 38.04%. It decreases comparing with 56.39% in January, 2011 and 61.79% in December, 2011.
For the policy consideration, according to the Plan on Beijing General Lighting Filament Lamp Elimination, 2011-2015 Beijing will stop import and sell general lighting filament lamp of 100 watt, 60 watt, 15 watt and above by five stages. For the "production business units—such as public institutions, hotels, restaurants, shopping malls, commercial office buildings and industrial enterprises" should totally stop use filament lamp by the end of 2015. Therefore, hotel corporations in Beijing can prepare in advance.
From the market segmentation we can find Macao tourist is extremely popular in Spring Festival that it receives 860,000 travelers. Even though the price is 5 times more the hotel guest rooms are full and can hardly find an available empty one.
According to the data from State Statistics Bureau, the inland traveler is the mainstream of Macao tourist, and among which the individual traveler takes up the biggest proportion. Most of the individual traveler belongs to general consumer group who will choose economy hotel in the Macao tourist. However there are not many economy hotels in Macao and it is difficult to meet the demand. Thus part of the Macao travelers will choose to travel in Macao and live in Zhuhai.
It is predicted that Macao traveler in 2012 will be 10% more than that in 2011. Macao hotel price jumps in vacation will last for a period as it is hard to get a room in tourist peak. Therefore, it will be an opportunity to have a subbranch in Macao for economy hotels.
In the aspect of hotel online booking, the hotel booking business provided by 360buy Jingdong Mall Group will be available in the near future. Then users can book a hotel by visiting hotel.360buy.com. Presently, hotels which cooperated with 360buy Jingdong Mall Group cover the whole China with a number of more than 20,000 (including HK and Macao). Such number ranks first in China. And it is another breakthrough in online tourist market for 360buy Jingdong Mall Group. Strategy of full line mall for 360buy Jingdong Mall Group will be further developed.
  Qianzhan Business Information Co., Ltd. Industry Research Center
  Research and Monitoring Team of Hotel Industry
China Hotel Industry Monthly Report" related reports »