China Underground Pipeline Laying Industry Market Research and Investment Forecast Report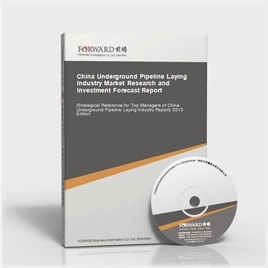 Last Update:2014-05-22
Form of services:Book + (pdf or doc file) + CD
Send method:EMS 2-3 days for delivery
English Service:+86 0755 33220413
Chinese Service:+86 800-8306390 800-8306395
E-mail:service.en@qianzhan.com
Report price:$7900 Print: $7800 CD: $7800
Special statement:
Recently we find there are some sites steal report contents from Qianzhan.com who put those contents on their sites for sale by making a little changes about the contents or remaining the same which deceives buyers(e.g. unable to get full or correct reports, or main body differs from contents that announced on sites).Therefore, we recommend paying a visit to Qianzhan personally or by your friends, and make payment after confirmation. Special statement: Qianzhan is the only and right holder of all the research reports, and has never used a third party to sell any reports, please be aware of the trademark " " when purchasing. Qianzhan is the largest and strongest consultancy, who owns the greatest number of researchers. Here followed "
Nine standards of companies' identificatios
"。
This table of content is original, without written permission of Qianzhan, any unit or individual shall not use, copy, or transfer the reports.
Preface
Table of Content
The municipal pipeline projects in cities such as water-supply, water-emission, power, telecommunications, fuel gas and heat are named as lifeline engineering. They are significant to maintain the urban functions running in a normal way. With the increasing urbanization, the demand municipal pipeline is bigger and bigger for modern cities. For example, the new underground pipeline in Beijing is about ten times more that is over 36 thousand km in current 20 years.
The accelerating industrialization, urbanization and modernization in China promote the demand of large-scale infrastructure construction. Current these years, the market demand of underground pipeline laying is huge due to the following aspects: to expand the domestic demand; to adjust and revitalize key industries; to balance the development of the central, east and west regions; to speed up "new countryside construction"; "comfortable housing project"; "shantytowns reconstruction"; implementation of major infrastructure construction projects like water conservancy, electronic power, and telecommunication; the affordable housing construction in full swing. And these factors also challenge the underground pipeline network in China.
Various municipal pipelines generally use the directly buried or overhead laying, but these methods can hardly meet the needs of urban development. During the municipal construction the road excavation is common. It not only causes a traffic jam and damages the road, but also disturbs residents due to the project in gigantic scale. Therefore, non-excavation technology will be the trend to replace the traditional way. However, most of the non-excavation equipment manufactures are private corporations of small scale and limited production. With the entry of Xugong, ZOOMLION and other corporations, the industry gradually expands the range while the product concentration is increasing as well.
Presently, the advanced strategy for municipal pipeline laying is the model of underground pipeline corridor. The underground pipeline corridor (or the utility tunnel) refers to concentrate more than two kinds of urban pipeline in one man-make space and form a kind of urban infrastructure with modernization and intensification. The utility tunnel is a significant direction for the sustainable development of cities.
In the aspect of management for underground pipeline laying, the management system is not sound that the engineering accidents are frequent. It is not fresh news about the interruption of water and power supply and telecommunication and the gas-leak explosion which are caused by excavation of gas pipeline, running water pipe and electric wire. It brings many troublesome to people's living and great loss to cities. Therefore, it is an urgent task for underground pipeline laying industry to establish a system for underground pipeline information comprehensive utilization and a cooperation mechanism among different departments.
Generally speaking, the development potential of China underground pipeline laying industry is enormous. Yet, there are many uncertainties for the industry as the industry fails to develop in a scientific and healthy way due to the uncompleted industrial policy, law and regulation. In the meantime, as the competition of underground pipeline laying industry is fiercer, the domestic outstanding underground pipeline laying equipment manufactures and construction enterprises pay more and more attention to the industry market research, especially the in-depth research of product consumers. With Forward's the long-term tracking and collecting market data of underground pipeline laying industry, we roundly and accurately analyze the structure system for you from the view of mastering the whole industry.
This report mainly analyzes the following aspects: development environment of China underground pipeline laying industry; business model and informationization status of the domestic industry; construction scale of domestic underground pipeline laying projects; technological standard creating and technology development condition of underground pipeline laying industry; production and marketing condition of domestic underground pipeline laying equipment; major corporations' operational condition in underground pipeline laying market; project demand and forecast of underground pipeline laying industry. Meanwhile, together with the comprehensive and detailed market data which is accumulated for years, Forward helps you to grasp the market and development trends of underground pipeline laying industry, so as to win advantages from competition!
Major characteristics of this report are forward-looking and timeliness. Base on the forward-looking analysis of massive research data, we further analyze the development scale and competitive landscape of underground pipeline laying industry. Along with the industry development route and our practical experience, we analyze and predict the future development prospect of underground pipeline laying industry. This report is of a high value for underground pipeline laying equipment manufacturers, construction enterprises, software developers and investment corporations to accurately know the latest industry development trend, and obtain market opportunities and determine an insightful operation strategy and development direction. In the meantime, it is the first heavy weight report to analyze the up/down-stream industry chain and industry leading corporations of underground pipeline laying industry in an overall and systemic way.
Here, we'd like to express our sincere gratitude to National Statistics Bureau of China, International Information Institute, National Institute of the Ministry of Commerce, National Tsing Hua University Library, Institute of Market Economy of the State Council Development Research Center, and Beijing Qinghua Forward Market Research Center, etc. Thank you so much!
Notice: all the market data, especially the corporation list data in this report is only for business reference. Please don't take the data for enterprise publicity. Thank you! Or Forward shall not take any responsibility for any consequences!
Qianzhan Business Information Co., Ltd. Industry Research Center
Research Team of Underground Pipeline Laying Industry
China Underground Pipeline Laying Industry Report" related reports »