China Sanitary Napkin Manufacturing Industry Report 2014-2018, Investment Forecast and Demand of Production and Sales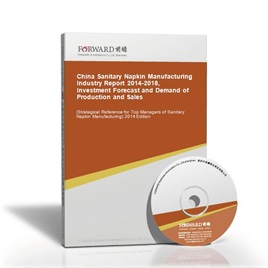 Last Update:2015-10-08
Form of services:Book + (pdf or doc file) + CD
Send method:EMS 2-3 days for delivery
English Service:+86 0755 33220413
Chinese Service:+86 800-8306390 800-8306395
E-mail:service.en@qianzhan.com
Report price:$7900 Print: $7800 CD: $7800
Special statement:
Recently we find there are some sites steal report contents from Qianzhan.com who put those contents on their sites for sale by making a little changes about the contents or remaining the same which deceives buyers(e.g. unable to get full or correct reports, or main body differs from contents that announced on sites).Therefore, we recommend paying a visit to Qianzhan personally or by your friends, and make payment after confirmation. Special statement: Qianzhan is the only and right holder of all the research reports, and has never used a third party to sell any reports, please be aware of the trademark " " when purchasing. Qianzhan is the largest and strongest consultancy, who owns the greatest number of researchers. Here followed "
Nine standards of companies' identificatios
"。
This table of content is original, without written permission of Qianzhan, any unit or individual shall not use, copy, or transfer the reports.
Preface
Table of Content
In an oversupply and demand-driven economy, the key to success is that the enterprise can firmly lock and capture it when the demand has not yet been formed. Successful companies will often devote a lifetime of effort and resources to search for the current industry demands, potential demands and new demands!
There are many sanitary napkin brands. However, high-end brands are relatively few and develop stably. National sanitary napkin brands are ANERLE, Whisper, Sophie, Kotex, Carefree, Laurier, ABC and so on. Types and functions of sanitary napkin products develop and continue to undergo innovation and updating along with the development of national consumption and the development of market and industry. "Slim", "soft cotton" "antibacterial" and "comfort" have become synonymous with the development of sanitary napkins. "Chinese Medicine Nursing", "incense odor" and "green biodegradable" have become a new profit point for sanitary napkin products. Because of innovation of types and features of sanitary products, products get high value-added. Sales growth of sanitary napkin industry in recent years is higher than sales growth.
Sanitary napkin manufacturing industry is a sub-industry with large profit margins of tissue paper industry. The market demand is stable. High-end market is rapidly expanding and the public favors the development of the industry. Thus, there are always new companies added to the industry. A number of multinational and domestic manufacturing enterprises with large-scale and more adequate funding have also increased investment to expand production. Competition in the industry is increasingly fierce. Multinational and domestic enterprises compete for the high-end market share while national sales companies and local companies scramble for second and third tier markets.
Sanitary napkin manufacturing industry is booming. But it can not be ignored that environmental protection has become a problem of particular concern to the government and the public. Cost in terms of emission reduction for sanitary napkin manufacturing enterprises will increase. International raw material prices continue to rise. With increase in production costs, companies also face more intense price competition. Development opportunities and challenges coexist in sanitary napkin manufacturing industry.
Sanitary Napkin Manufacturing" related reports »