China Cold-Chain Logistics Industry Market Research and Investment Forecast Report, 2013-2017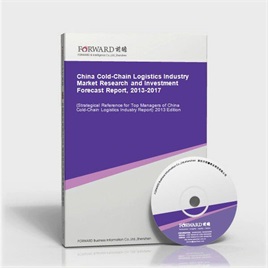 Last Update:2014-05-29
Form of services:Book + (pdf or doc file) + CD
Send method:EMS 2-3 days for delivery
English Service:+86 0755 33220413
Chinese Service:+86 800-8306390 800-8306395
E-mail:service.en@qianzhan.com
Report price:$7900 Print: $7800 CD: $7800
Special statement:
Recently we find there are some sites steal report contents from Qianzhan.com who put those contents on their sites for sale by making a little changes about the contents or remaining the same which deceives buyers(e.g. unable to get full or correct reports, or main body differs from contents that announced on sites).Therefore, we recommend paying a visit to Qianzhan personally or by your friends, and make payment after confirmation. Special statement: Qianzhan is the only and right holder of all the research reports, and has never used a third party to sell any reports, please be aware of the trademark " " when purchasing. Qianzhan is the largest and strongest consultancy, who owns the greatest number of researchers. Here followed "
Nine standards of companies' identificatios
"。
This table of content is original, without written permission of Qianzhan, any unit or individual shall not use, copy, or transfer the reports.
Preface
Table of Content
Cold chain logistics refer to the refrigerated and frozen foods will be kept in low temperature environment from production to store and transport, sales and before sales. It is a systematic project to ensure the food quality and reduce food loss. And it is built up along with the development of science and technology as well as refrigeration technology. The cold chain logistic is the low temperature logistic process which bases on freezing technology and takes the refrigeration technology as a mean.
At present, there are about 400 million tons of fresh farm products involving in the circulation in China annually. The ratio of cold chain logistic gradually increases that it is 5%, 15% and 23% for garden stuff, meat and aquatic product while the ratio of refrigerated transport for them is 15%, 30% and 40%. There is a serious post-harvest loss for China's farm products for a long time, that the loss rate of garden stuff, meat and aquatic product is 20-30%, 12% and 15% with an annual loss of 48.07 million tons, 5.55 million tons and 7.3 million tons. The economic loss for garden stuff only is over 100 billion Yuan annually. However, over 95% of farm products will in the cold chain systematic circulation in developed countries such as European countries, America and Japan. The loss of farm products in China has an adverse effect in agricultural production, increasing farmers' income, residents' consumption quality and food security.
The
Development Plan on Agricultural Products Cold Chain Logistics(short forPlan) which was issued by Development and Reform Commission in July, 2010. The Plan proposed the following targets by the year of 2015: to establish a butch of inter-regional cold chain logistics delivery centers which are of high efficiency, scale and modernization; to cultivate a butch of core enterprises which with strong resources reorganizing capability and international competitiveness; to widespread the core technologies of cold chain logistics; to initially construct an agricultural products cold chain logistics service system which are with a reasonable distribution, advancing equipment, a complete set of up/downstream, complete functions, regulated management and a sound technical standard system. It is planed that by 2015 the total refrigeration storage will increase from 8.8 million tons to 10 million tons and a butch of inter-regional cold chain delivery centers of high-efficient, large scale and new technology will be form. By 2015 China's cold chain flow rates of fruit and vegetable, meet, and aquatic product are over 20%, 30% and 36%; while the refrigerated delivery rates of them are about 30%, 50% and 65%, and the product loss rates in the circulation link will decrease to 15%, 8% and 10%.
According to international experience, there is a strong positive correlation between refrigeration storage and the growth of per-capita disposable income. When the per-capita disposable income exceeds 8,000 USD, the construction of cold-chain equipment and growth of cold-chain logistics will develops in a high speed. And it is so for China too according to Rolland Berg's PPP method.
This report mainly analyzes the following aspects: development environment of China cold-chain logistics industry; major product market of cold-chain logistics; construction condition of cold-chain logistics system; cold-chain logistics market; key regional cold-chain logistics market; technological equipment market of cold-chain logistics; competitors' operational condition of cold-chain logistics industry; investment analysis and market prospects. Meanwhile, together with the comprehensive and detailed market data which is accumulated for 5 years Forward helps you to grasp the market and development trends of cold-chain logistics industry, so as to win advantages from competition!
Major characteristics of this report are forward-looking and timeliness. Base on the forward-looking analysis of massive research data, we further analyze the development scale and competitive landscape of cold-chain logistics industry. Along with the industry development route and our practical experience, we analyze and predict the future development prospect of cold-chain logistics industry. This report is of a high value for cold-chain logistics operators, cold-chain logistics technological equipment corporations, and investment enterprises to accurately know the latest industry development trend, and obtain market opportunities and determine an insightful operation strategy and development direction.
Here, we'd like to express our sincere gratitude to National Statistics Bureau of China, International Information Institute, National Institute of the Ministry of Commerce, National Tsinghua University Library, Institute of Market Economy of the State Council Development Research Center, and Beijing Tsinghua Forward Market Research Center, etc. Thank you so much!
Notice: all the market data, especially the corporation list data in this report is only for business reference. Please don't take the data for enterprise publicity. Thank you! Or Forward shall not take any responsibility for any consequences!
Qianzhan Business Information Co., Ltd. Industry Research Center
Research Team of Cold-Chain Logistics Industry
China Cold-Chain Logistics Industry Report" related reports »