China Periodicals Industry Commercial Mode and Investment Strategic Planning Report, 2013-2017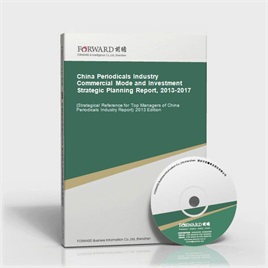 Last Update:2014-05-03
Form of services:Book + (pdf or doc file) + CD
Send method:EMS 2-3 days for delivery
English Service:+86 0755 33220413
Chinese Service:+86 800-8306390 800-8306395
E-mail:service.en@qianzhan.com
Report price:$7900 Print: $7800 CD: $7800
Special statement:
Recently we find there are some sites steal report contents from Qianzhan.com who put those contents on their sites for sale by making a little changes about the contents or remaining the same which deceives buyers(e.g. unable to get full or correct reports, or main body differs from contents that announced on sites).Therefore, we recommend paying a visit to Qianzhan personally or by your friends, and make payment after confirmation. Special statement: Qianzhan is the only and right holder of all the research reports, and has never used a third party to sell any reports, please be aware of the trademark " " when purchasing. Qianzhan is the largest and strongest consultancy, who owns the greatest number of researchers. Here followed "
Nine standards of companies' identificatios
"。
This table of content is original, without written permission of Qianzhan, any unit or individual shall not use, copy, or transfer the reports.
Preface
Table of Content
A great progress has been made in China periodicals industry in recent years. Since its market scale has been kept expanding and economic benefits has been sharply improved, it has become an inevitable strength in the economic growth of China media. In 2011, China periodicals industry reaches 22.17 billion Yuan of total output value, which is far higher that the 2% in the year before, with a 10.6% growth rate, among which the ad turnover is about 3.51 billion Yuan in the whole year, up by 14% over a year ago, and the circulation income is 18.66 billion Yuan, up by 10%. All in all, the periodical retail market shows a development momentum that all superior media gather together, in particular for brand periodicals.
In "Twelfth Five-year" Development Plan for News Publishing Industry, constructing a publishing power has become an important strategic goal for China's whole news publishing industry. The Plan clearly points out that the total printing will reach 4.22 billion copies, and achieve the 3.1 copies of annual per capital volume during the "Twelfth Five-year" period; vigorously promote the content innovation, focus on grasp national major publishing programs and key academic periodical programs, etc. The periodicals industry, as an import part of news publishing industry, ushers into a promising stage during the "Twelfth Five-year" period.
With the rapid development of Internet, telecommunication, and cable TV, 3G and 4G Technologies, etc., new emerging media is occupying the fixed traditional media market. Digitalization has become an inevitable trend for the development of periodical industry. Compared to traditional publication, digital publication is rather weak nowadays, but it develops very fast, and has become a direction for traditional publication's upgrading. Today, some traditional publishing industries cooperate with technical providers, or develop it by themselves, or cooperate with some organizations to crack the digital publication market. For more publishers, how to do digitalization transformation for periodicals industry, or how to operate all media, have become the most important issues.
The report mainly analyzes the current development trend for periodicals industry, and what kinds of development opportunities that all media age brings to periodicals industry. Besides, under the background of industry transformation, the report points out the future business model trends and strategies for periodical enterprises. More detailed are listed below: the development environment for periodicals industry; the innovation cases and experiential learning of foreign periodicals industry; the operation status and business model of China periodicals industry; the digital background and transformation strategies for China periodicals industry; the development of market segments in China periodicals industry; the regional market opportunities for China periodicals industry; the development trend and prospects forecast for China periodicals industry; the investment and financing opportunities for China periodicals industry; and the operation of China's leading periodical enterprises.
This report will help periodical publishing institutions, periodical technical platform providers, terminal equipment manufacturers, and investment enterprises precisely grasp the latest development trend, and find the blank, opportunity, growth, profit spots and others in the market of industry in advance, and grasp the market demand and trends that has not been found in the perspective of forward-looking. It also helps form a sustainable development advantage, effectively avoid investment risks in the industry, effectively consolidate or extend according strategic target markets, and firmly hold the initiative right to compete.
Here, we would like to express our sincere gratitude to General Administration of Press and Publication of the People's Republic of China, China Periodical Association, Ministry of State Information Center, Bureau of Statistics of China, International Information Research Institute, Chinese Academy of International Trade and Economic Cooperation, Tsinghua University Library, Development Research Center of the State Council and Beijing Essence Forward Research Center, for their great support when we conduct this report!
Notice: All the market data, especially corporations' ranking data in the report, only for business reference. Please do not take the data for enterprise publicity. Thank you! Or Forward shall not take any responsibility for any consequences!
Special tips: Ignoring some subtle hints in the violent change of external environment, and failure of updating strategic decisions timely will finally lead to the loss of competitive advantage. A true successful company will make scientific researches on external environment consciously or unconsciously, so as to formulate a key scientific operating strategy!
Best wishes for every enterprise with a big dream that can draw up a high-quality operating decision, to effectively avoid the risks and continuously gain the success.
Qianzhan Business Information Co., Ltd. Industry Research Center
Research Team of Periodicals Industry
China Periodicals Industry Report" related reports »