China Auto Rental Industry Market Forecast and Investment Strategy Report, 2013-2017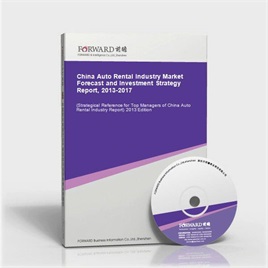 Last Update:2014-04-28
Form of services:Book + (pdf or doc file) + CD
Send method:EMS 2-3 days for delivery
English Service:+86 0755 33220413
Chinese Service:+86 800-8306390 800-8306395
E-mail:service.en@qianzhan.com
Report price:$7900 Print: $7800 CD: $7800
Special statement:
Recently we find there are some sites steal report contents from Qianzhan.com who put those contents on their sites for sale by making a little changes about the contents or remaining the same which deceives buyers(e.g. unable to get full or correct reports, or main body differs from contents that announced on sites).Therefore, we recommend paying a visit to Qianzhan personally or by your friends, and make payment after confirmation. Special statement: Qianzhan is the only and right holder of all the research reports, and has never used a third party to sell any reports, please be aware of the trademark " " when purchasing. Qianzhan is the largest and strongest consultancy, who owns the greatest number of researchers. Here followed "
Nine standards of companies' identificatios
"。
This table of content is original, without written permission of Qianzhan, any unit or individual shall not use, copy, or transfer the reports.
Preface
Table of Content
As a new transportation service industry in China, auto rental industry becomes an important transportation model--which greatly satisfied individual travel, commercial and major social activity--and a significant part of integrated transport system. Promoting the well development of auto rental industry has practical significances for the following aspects: transformation of transportation development model, advance of modern transportation industry development, perfection of integrated transportation system, improvement of utilization efficiency for social resources like auto, road and parking lot, advance of the development of tourism, automotive industry and financial and insurance industry and improvement of life quality.
Start from the end of 1980s, China auto rental industry has a fast development recent these years: by the end of 2010 nationwide rental cars is more than 100,000 with an output value of more than 14 million Yuan; auto rental industry extends from the mid-east to the west and from big cities to small and middle sized cities. Development potential for auto rental industry will be huger in the future period for the following factors: fast development of economic and society, accelerated urbanization, advancing urban & rural and regional integration, widespread popularity of driving skills, and car system reformation of enterprises and so on. However, as China auto rental industry is still on the initial stage there are many existing problems: policies and regulations are incomplete; the credit system is not perfect; corporations are of small scale; operation model and management level is backward; operation is not regulated; brand development, networking and technology are weak. All these limit the advantages of auto rental, improvement of service quality and health development of auto rental industry.
The auto rental industry is regarded as huge potential industry which cannot reach its "ceiling". In August, 2010 eHi Car Service signed a contract with investors which the Goldman Sachs as representative and finished the third financing which total amount is 70 million USD; in September Legend Holodings announced to invest 1.2 billion Yuan to China Auto Rental Co., Ltd. by the way of shareholding and bonds; in November, Cheeyo Auto Rental Co., Ltd. got 20 million USD investment from Mitsubishi Corporation. On 14 March, 2011, China Grand Auto Rental Corporation was established by the investment of 3 billion Yuan from China Grand Auto Co., Ltd. Ten days after its establishment, it signed a big order of 1,500 Audi brand cars with FAW-VOLKSWAGEN. On 26th August, 2011, Hertz International Car Rental Co., Ltd., the biggest global car rental brand established its partnership with BYD to promote electric vehicle rental and sales business together. On 29th August, REOCAR got the biggest financing which is more than one hundred million Yuan from Fidelity Investment Group and Sequoia Capital. Large sum of investment flowing into auto rental industry reflects great prospect of China auto rental market.
With the fast development of China auto industry, the auto rental industry is more and more popular current these years. However, the unperfected regulations and management become the bottleneck to limit the development of auto rental industry. In the 2009 government report Premier Wen Jiabao proposed to promote the development of auto rental market. It reflects that government think highly of auto rental industry. Meanwhile, office car reform also brings opportunities to auto rental. In April, 2011 Ministry of Transport issued Notice on Promoting the Healthy Development of Auto Rental Industry which proposed the following goals: cultivate an auto rental service system which contains leading corporations, diversified operations, nationwide coverage, regulated operation, good market regulation and international level service standard; it can basically meet the needs of economic and social development and people's demand for auto rental industry. It is predicted that by 2015 overall scale of China auto rental market will reach 300,000 rental cars and more than 35 billion Yuan.
This report mainly analyzes the following aspects: development environment of China auto rental industry; development status of international auto rental industry; development status of China auto rental industry; market competitive landscape of auto rental industry; major regions of auto rental industry; market segmentations of auto rental industry; operation condition of major auto rental corporations; investment prospect and forecast of auto rental industry. Meanwhile, together with the comprehensive and detailed market data which is accumulated for years, Forward helps you to grasp the market and development trends of auto rental industry, so as to win advantages from competition!
Major characteristics of this report are forward-looking and timeliness. Base on the forward-looking analysis of massive research data, we further analyze the development scale and competitive landscape of auto rental industry. Along with the industry development route and our practical experience, we analyze and predict the future development prospect of auto rental industry. This report contains a high value for both industry manufacturers and investment corporations to accurately know the latest industry development trend, obtain market opportunities and determine an insightful operation strategy and development direction.
Here, we'd like to express our sincere gratitude to National Bureau of Statistics of China, International Information Institute, National Institute of the Ministry of Commerce, National Tsing Hua University Library, Institute of Market Economy of the State Council Development Research Center, and Beijing Qinghua Forward Market Research Center, etc. Thank you so much!
Notice: all the market data, especially the corporation list data in this report is only for business reference. Please don't take the data for enterprise publicity. Thank you! Or Forward shall not take any responsibility for any consequences!
Qianzhan Business Information Co., Ltd. Industry Research Center
Research Team of Auto Rental Industry
China Auto Rental Industry Report" related reports »