Small and Medium Sized Commercial Banking Industry Market Monitoring Monthly Report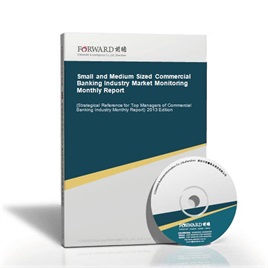 Last Update:2014-05-12
Form of services:Book + (pdf or doc file) + CD
Send method:EMS 2-3 days for delivery
English Service:+86 0755 33220413
Chinese Service:+86 800-8306390 800-8306395
E-mail:service.en@qianzhan.com
Report price:$8900 Print: $8500 CD: $8500
Special statement:
Recently we find there are some sites steal report contents from Qianzhan.com who put those contents on their sites for sale by making a little changes about the contents or remaining the same which deceives buyers(e.g. unable to get full or correct reports, or main body differs from contents that announced on sites).Therefore, we recommend paying a visit to Qianzhan personally or by your friends, and make payment after confirmation. Special statement: Qianzhan is the only and right holder of all the research reports, and has never used a third party to sell any reports, please be aware of the trademark " " when purchasing. Qianzhan is the largest and strongest consultancy, who owns the greatest number of researchers. Here followed "
Nine standards of companies' identificatios
"。
This table of content is original, without written permission of Qianzhan, any unit or individual shall not use, copy, or transfer the reports.
Preface
Table of Content
It's said that bank is the "blood vessel" of national economy, which is still the main channel for social financing, and provides a large sum of capital resources for the development of whole economy. The operational situation of banks is also related to the stability of whole financial system. The encountering of the slow-down of world's economy, real estate industry regulation and local governmental bond risks will be the most risks for China's economy in 2012, and asset quality of commercial banks will face all kinds of challenges.
Under the circumstance of maintaining economy steady development and risk prevention system. As an economic growth engine and major capital resources for affordable houses, water conservancy, railway and other infrastructure, it's more important and urgent to maintain the stability of banking system, prevent regional debt risks from affecting financial system, avoid addictive effects if different risks than the period of economy prosperity. Therefore, maintaining the stability of banking industry will be a policy direction in 2012.
The banking industry of 2012 shows multiple characteristics: firstly, the changes of credit structure: although traditional industries still occupy the absolute advantages, the proportion of emerging industries prominently increases. Many fields gain great credit support from the banks, such as medical heath care industry, strategic emerging industries, as well as consumption electronics and components related to communication and entertainment; secondly, the inflation results in the changes of deposit structure. All kinds of investment and management activities for residents and enterprises will be more frequent. The conversion between current and regular deposit will be more frequent. The point inflation will be more obvious; thirdly, the comprehensive operation and business innovation will keep promoting. In terms of business innovation, it will be conducted around enterprise demand and total regulation. The increasing efforts will be made on the application of emerging financial tools. The innovation in investment banks, asset management, precious metal and electronic banks will begin to spring up; fourthly, increasing supports on small and medium-sized enterprises has become a breakthrough for banking business. The new model of supply chain finance has begun to arouse the attention from market. There are increasing financing ways for small and medium-sized enterprises, such as urban commercial banks IPO listing and rural credit cooperative restructuring; fifthly, the supervision of CBRC on wealth management, bank insurance, housing loan and other business will directly affect the market operational situation, which promotes the banking business to transform into a depth structure.
Small and Medium Sized Commercial Banking Industry Market Monitoring Monthly Report, 2012 will react, prevent and take measures in time to current market situation that banks face. Meanwhile, it concerns on the capital resources and flow of all big emerging industries, small and medium-sized enterprises and rural credit cooperatives, as well as the hot business models of banking (including industry financing, wealth management business, etc.). The most distinctive characteristics of this report are instant, precise, new and worthy. Each current issue of report will emphasize its key points and analyze them in a comprehensive and systematic way.
Researches from international authoritative management institutes show that the traditional "annual" strategy and strategy adjustment can hardly meet the current development. Consequently, many large-scale new energy managers, especially foreign managers pay more and more attention to the timely strategy and strategy adjustment which base on latest industry development.
The 5 core tasks for Forward's small and medium sized commercial banking industry market monitoring monthly report are: firstly, dynamically monitor the production and development environment of monthly small and medium-sized banks; secondly, mainly analyze monthly macro-prosperity of small and medium-sized banks, economic operation, quarterly operation performance of listing banks, bank card business of commercial banks, debt custody business, new wealth management products and business development; thirdly, analyze monthly competitive situation of small and medium-sized banks, the competitive layout of foreign banks in China, the internationalization development of small and medium-sized banks, the cross-regional business, the renaming situation, and financing model; fourthly, specifically analyze the monthly development situation of 10 joint-stock commercial banks, regional urban commercial banks, rural financial institutions, domestic rural banks' investment and other business; fifthly, fully monitor monthly massive data of small and medium-sized commercial banks, then provide some forward-looking practical management strategies and suggestions for all big banks, as well as analyze the typical cases of banking business development, as so to provide experiential learning.
This report aims to constantly provide corporations with strategic references objectively by monitoring and analyzing a large sum of firsthand market data. It will enable corporations to fully handle the latest industry information, judge the market competitive environment, and adjust management and strategies in time according to monthly latest trend.
Here, we would like to express our sincere gratitude to China Banking Association, China Banking Regulatory Commission, People's Bank of China, State Information Center, Bureau of Statistics of China, and Beijing Essence Forward Research Center, for their great support when we conduct this report!
Qianzhan Business Information Co., Ltd. Industry Research Center
Monitoring Analysis Team of Small and Medium Sized Commercial Banking Industry
Commercial Banking Industry Monthly Report" related reports »