China Magnetic Applications Equipment Industry Development Prospects Forecast and Transformation & Upgrading Report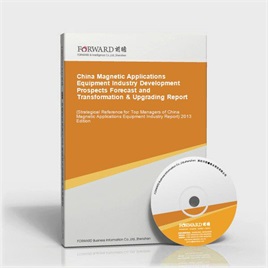 Last Update:2014-04-25
Form of services:Book + (pdf or doc file) + CD
Send method:EMS 2-3 days for delivery
English Service:+86 0755 33220413
Chinese Service:+86 800-8306390 800-8306395
E-mail:service.en@qianzhan.com
Report price:$7900 Print: $7800 CD: $7800
Special statement:
Recently we find there are some sites steal report contents from Qianzhan.com who put those contents on their sites for sale by making a little changes about the contents or remaining the same which deceives buyers(e.g. unable to get full or correct reports, or main body differs from contents that announced on sites).Therefore, we recommend paying a visit to Qianzhan personally or by your friends, and make payment after confirmation. Special statement: Qianzhan is the only and right holder of all the research reports, and has never used a third party to sell any reports, please be aware of the trademark " " when purchasing. Qianzhan is the largest and strongest consultancy, who owns the greatest number of researchers. Here followed "
Nine standards of companies' identificatios
"。
This table of content is original, without written permission of Qianzhan, any unit or individual shall not use, copy, or transfer the reports.
Preface
Table of Content
Magnetic applications refer to conducting reasonable design for magnetic source, magnetic circuit and magnetic structure, in accordance with a basic principle, relying on the adsorptive power of specific substances and magnetic effect of current. Magnetic force has a wide rage of usage, which has widely applied in coal industry, electricity industry, building materials industry, metallurgy industry, non-ferrous metal industry, non-metal industry, transportation industry, environmental protection industry, food industry, ceramics industry, automobile industry, chemical industry and mechanical industry, etc. Moreover, it will be gradually used in many industries related to people's livelihood, such as energy saving industry, medical treatment industry and environmental protection industry. In China, magnetic applications belong to special equipment sector. It can be divided into four parts, magnetic separation equipment, magnetic metallurgy equipment, magnetic decontamination equipment and magnetic medical treatment equipment, according to their different application fields.
In recent years, driven by the development and technology advancement, China magnetic applications equipment industry develops rapidly, from none to existence. The technology progress achieved the remarkable results, the product varieties have been richened, and the manufacturing level of large and medium-sized backbone enterprises has been near to or reached the international advanced level. At present, despite that few hi-tech and high value added industrial magnetic applications equipment for steel and coal industries need to export from overseas, a majority of equipment can satisfied the needs of domestic market. The national equipment has basically finished the task of "import substitution". Meanwhile, depending on high cost performance, China magnetic applications equipment has gradually been winning the praises from the international market. And it has exported to some developed countries and areas, such as southeastern countries, Japan, Europe and USA, etc.
China magnetic applications equipment industry mainly concentrates in some provinces, such as Hunan, Shandong, Liaoning, and Jiangsu, among which Yueyang in Hunan is the largest domestic magnetic applications equipment manufacturing base, possessing the advantageous products including casting EMS equipment and lifting magnetic equipment; Weifang in Shandong is the second largest domestic magnetic applications equipment manufacturing base, possessing advantageous products of magnetic iron removal equipment and magnetic separation equipment; a magnetic applications equipment industry cluster has formed in Liaoning, Fushun, Anshan, Dalian, Zhenjiang in Jiangsu, and other areas, possessing the advantageous products of magnetic lifting equipment, magnetic iron removal equipment, and magnetic separation equipment. The output, sales revenue and profit level of industrial magnetic applications equipment in the provinces and cities listed above occupy more than 90% of the national total amount, presenting a kind of obvious regional characteristics.
All in all, magnetic applications equipment has widely used in many industries, such as coal industry, electricity industry, building materials industry, iron ore industry, non-ferrous metal industry, and non-metal industry, with major products of iron removal equipment, magnetic blender equipment. With the development and mature of domestic magnetic technology, the magnetic applications equipment will be used in more industries, such as environmental protection industry and medical treatment industry, etc. Thus, the industry has the vast prospects for development.
In addition, there is more and more tiny difference between the performance of domestic magnetic applications equipment and foreign products. The advantage of cost performance guarantees the competitiveness of domestic products in foreign markets, and the future export market will be an important component of magnetic applications equipment industry. Therefore, it's predicted the market demand of magnetic applications equipment industry will generally continue to grow steadily and rapidly.
The enormous market space of magnetic applications equipment creates opportunities for the development of enterprises, and the industry faces fierce competition as well, which requires the enterprises pay more attention to the industry market research, especially to the in-depth researches on the industry development environment and product buyers. With Forward's long-term tracking and collecting market data of magnetic applications equipment industry, we roundly and accurately analyze the industry structure system for you from the view of mastering the whole industry. This report mainly focuses on analyzing China magnetic applications equipment industry's market size, development speed and competitive situation, depending on macro-prosperity of current magnetic applications equipment industry and relying on its production and marketing conditions as well as the demand trend.
Meanwhile, with comprehensive and specific first-hand market data over the past several years Forward helps you to grasp the market and development trends of magnetic applications equipment industry, so as to win advantages from competition!
The most distinctive characteristics of this report is forward-looking and timeliness. Through analyzing forward-looking characteristic of abundant first-hand market data, we deeply and objectively dissect China magnetic applications equipment industry's development size and competitive landscape. Furthermore, based on future development tracks and years' practice experience of magnetic applications equipment industry, we conduct prudent analysis and forecast for magnetic applications equipment industry's future development trend. This report helps magnetic applications equipment manufacturing enterprises and investment enterprises to precisely grasp current latest developments of the industry. Afterwards, they can make wise operating decisions and define enterprises' development directions.
Here, we would like to express our sincere gratitude to State Information Center, Bureau of Statistics of China, China Customs, International Information Research Institute, Chinese Academy of International Trade and Economic Cooperation, Tsinghua University Library, Development Research Center of the State Council and Beijing Essence Forward Research Center, for their great support when we conduct this report!
Notice: All the market data, especially corporations' ranking data in the report, only for business reference. Please do not take the data for enterprise publicity. Thank you! Or Forward shall not take any responsibility for any consequences!
Qianzhan Business Information Co., Ltd. Industry Research Center
Research Team of Magnetic Applications Equipment Industry
China Magnetic Applications Equipment Industry Report" related reports »