China Re-manufacturing Industry Development Prospect and Investment Forecast Report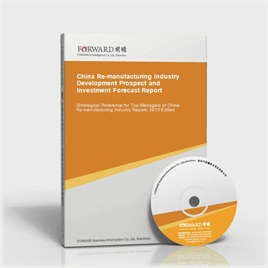 Last Update:2014-05-27
Form of services:Book + (pdf or doc file) + CD
Send method:EMS 2-3 days for delivery
English Service:+86 0755 33220413
Chinese Service:+86 800-8306390 800-8306395
E-mail:service.en@qianzhan.com
Report price:$7900 Print: $7800 CD: $7800
Special statement:
Recently we find there are some sites steal report contents from Qianzhan.com who put those contents on their sites for sale by making a little changes about the contents or remaining the same which deceives buyers(e.g. unable to get full or correct reports, or main body differs from contents that announced on sites).Therefore, we recommend paying a visit to Qianzhan personally or by your friends, and make payment after confirmation. Special statement: Qianzhan is the only and right holder of all the research reports, and has never used a third party to sell any reports, please be aware of the trademark " " when purchasing. Qianzhan is the largest and strongest consultancy, who owns the greatest number of researchers. Here followed "
Nine standards of companies' identificatios
"。
This table of content is original, without written permission of Qianzhan, any unit or individual shall not use, copy, or transfer the reports.
Preface
Table of Content
Re-manufacturing industry refers to a series of measures and engineering activities by conducting re-manufacturing design on the basis of analyzing performance failure and life cycle assessment, with the help of advancement technologies and industrialization production. What's more, all the activities regard life cycle theory as a guide, with the goal of promoting waste products' performance and with principles of achieving high quality, high efficiency, energy conservation and environmental protection.
Facing limited resources and the capability of dealing with waste products, re-manufacturing is an advanced product recovery processing method, which can achieve a comprehensive goal of optimizing and utilizing resources; protecting environment; and promoting sustainable economic development. Developed countries have attached great importance to this method, and it's the most effective way to realize sustainable development. Due to China's poor natural resources, little per capital resource, the increase of consumption and waste products causing by rapid economy development, and great pressure on environment, it's very necessary and vital to advocate to develop re-manufacturing industry.
Based on above reasons, China's government attaches great importance to develop re-manufacturing industry. Prime Ministry Wen said "re-manufacturing is very important", and re-manufacturing industry has become one of important state policies. In March, 2008, NDRC determined to build re-manufacturing pliot protects in the first 14 automobile enterprises. On June, 2009, MIIT further approved 35 enterprises to build pilot project in 8 industries. Meanwhile, MIIT issued tmany regulations and law to promote the development of re-manufacturing industry, such as "Management Regulations for Automobile Parts in Re-manufacturing Pilot", "PRC Circular Economy Law", "Opinions on Promoting the Development of Re-manufacturing Industry", "Product Recognition Policies of Re-manufacturing Industry", "Tentative Method of Product Recognition Policies of Re-manufacturing Industry", and so on.
Currently, China automobile parts re-manufacturing industry has gained preliminary effects. According to the statistics from CAAM, re-manufacturing capacity of China's automobile parts: re-manufacturing engine is around 110,000; re-manufacturing power generator and starter are about 1 million. Both output value are 2.5 billion Yuan. Moreover, positive progress have been made in exploring recovery old products, re-manufacturing production, circulation system and supervison of re-manufacturing industry.
It's estimated that the annual output of re-manufacturing industry took up its GDP 0.4% in 2002. China's GDP reached 39.8 trillion Yuan. According to prediction, it would reach 43.5 trillion Yuan, and it's expected to surpass 60 trillion Yuan by 2015. If the re-manufacturing level reach 0.2% and 0.4% respectively, its output value will reach 87 billion Yuan and 240 billion Yuan. Clearly, China re-manufacturing industry has a huge potential to develop. Nevertheless, some problems can not be ignored, such as lack of enough recognition to re-manufacturing industry, no reverse logistics system, and backward management factor, etc.
With Forward's long-term tracking and collecting market data of re-manufacturing industry, we roundly and accurately analyze the industry structure system for you from the view of mastering the whole industry. This report mainly focuses on analyzing the current development stage of re-manufacturing industry; the capability of re-manufacturing industry; existing problems, and industry development potential, etc., depending on the basis of macro prosperity of re-manufacturing industry and relying on its marekt demand. Meanwhile, with comprehensive and specific first-hand market data. Forward helps you to grasp the market and development trends of re-manufacturing industry, so as to win advantages from competition!
Here, we would like to express our sincere gratitude to State Information Center, Bureau of Statistics of China, International Information Research Institute, Chinese Academy of International Trade and Economic Cooperation, Tsinghua University Library, Development Research Center of the State Council and Beijing Essence Forward Research Center, for their great support when we conduct this report!
Notice: All the market data, especially corporations' ranking data in the report, only for business reference. Please do not take the data for enterprise publicity. Thank you! Or Forward shall not take any responsibility for any consequences!
Qianzhan Business Information Co., Ltd. Industry Research Center
Research Team of Manufacturing Industry
China Re-manufacturing Industry Report" related reports »