China Natural Gas Industry Supply & Demand Forecast and Investment Strategy Report, 2013-2017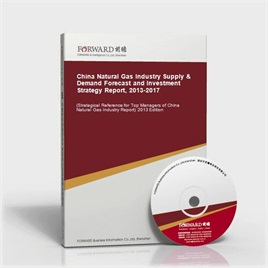 Last Update:2014-05-01
Form of services:Book + (pdf or doc file) + CD
Send method:EMS 2-3 days for delivery
English Service:+86 0755 33220413
Chinese Service:+86 800-8306390 800-8306395
E-mail:service.en@qianzhan.com
Report price:$7900 Print: $7800 CD: $7800
Special statement:
Recently we find there are some sites steal report contents from Qianzhan.com who put those contents on their sites for sale by making a little changes about the contents or remaining the same which deceives buyers(e.g. unable to get full or correct reports, or main body differs from contents that announced on sites).Therefore, we recommend paying a visit to Qianzhan personally or by your friends, and make payment after confirmation. Special statement: Qianzhan is the only and right holder of all the research reports, and has never used a third party to sell any reports, please be aware of the trademark " " when purchasing. Qianzhan is the largest and strongest consultancy, who owns the greatest number of researchers. Here followed "
Nine standards of companies' identificatios
"。
This table of content is original, without written permission of Qianzhan, any unit or individual shall not use, copy, or transfer the reports.
Preface
Table of Content
According to China Mineral Resources Report: China's natural gas remaining technically recoverable reserves increase from 3.0 trillion cubic meters to 3.8 trillion cubic meters, up 25.9%; natural gas output increases from 58.6 billion cubic meters to 96.8 billion cubic meters, up 65%. And according to State Development and Reform Commission, the output of China's natural gas in the first 10 months of 2011 reached 82.6 billion cubic meters, with a year-on-year growth of 6.60%. Even though there is a great growth for reserves and output, it still cannot meet the consumption demand of domestic natural gas market.
The average growth of China's natural gas consumption from 1985 to 2000 is 4.9% which accounts for about 2% of the total energy. And the industry is in the initial stage at that time. And from 2000 to 2008, the average growth is as high as 16%, which accounts for 3.9% of primary energy. Despite that of the nuclear energy, it also exceeds the growth of petroleum and coal, which are 6.8% and 9.0% at the same period. And the consumption volume of China's natural gas in 2010 was 107.2 billion cubic meters, with a year-on-year growth of 20.86%, and the total consumption ranks 4th in the world. The natural gas consumption in the first 10 months of 2011 was 104.1 billion cubic meters, with a year-on-year growth of 20.40%.
The growth of natural gas can hardly match that of consumption. The imbalance of domestic natural gas supply and demand leads to a constant growth of natural gas import volume. China imported about 25 billion cubic meters of natural gas in the first 10 months of 2011, with a year-on-year growth of 2 times.
The natural gas supply lags behind demand. If follows market regulations the natural gas corporations will have sound opportunities. However, the natural gas pricing system in current China not yet reforms. And the price level cannot adjust to the change of market supply and demand, and relevant alternative energy price. It results in a contorted economic relation to natural gas industrial chain. The reform of natural gas pricing system is inevitable. This report will have an indepth analysis for this topic.
This report constructs an index system of natural gas forecast and warning. According to the warning index of natural gas, we need to pay attention to the warning grade of China's natural gas. The main reason is that conventional natural gas storage is limited while the non-conventional natural gas with a big storage but technology bottleneck as well. So the non-conventional natural gas cannot be produced in large scale. The development routine of China's natural gas is: conventional natural gas-coal bed gas-shale gas. The current explored technology for coal bed gas has trended to be matured; the shale gas exploration is under R&D. After the success of shale gas technology, it is believed that the warning of natural gas will be better and may ease the supply and demand contradiction of China's natural gas.
With Forward's the long-term tracking and collecting market data of natural gas industry, we roundly and accurately analyze the structure system for you from the view of mastering the whole industry. This report mainly analyzes the following aspects: development environment of China's natural gas industry; supply-and-demand trend and trading structure of global natural gas; development and investment condition, and supply-and-demand structure of China's natural gas; forecast on supply-and-demand trend of natural gas industry from 2011 to 2015; warning index system to natural gas; warning condition of natural gas; indepth analysis on pricing system, alternative products, natural gas pipe grid construction, and regional markets; emphasis of utilization field status and investment suggestions; deepening analysis of leading and typical industry corporations' operational condition. Meanwhile, together with the comprehensive and detailed market data which is accumulated for 5 years, Forward helps you to grasp the market and development trends of natural gas industry, so as to win advantages from competition!
This report is of a high value for enterprises like natural gas producing corporations, R&D institutions, sales corporations and investment corporations to accurately know the latest industry development trend, and obtain market opportunities and determine an insightful operation strategy and development direction.
Here, we'd like to express our sincere gratitude to State Development and Reform Commission, State Economic Information Center, National Statistics Bureau of China, General Administration of Customs, International Information Institute, National Institute of the Ministry of Commerce, National Tsing Hua University Library, Institute of Market Economy of the State Council Development Research Center, and Beijing Qinghua Forward Market Research Center, etc. Thank you so much!
Notice: all the market data, especially the corporation list data in this report is only for business reference. Please don't take the data for enterprise publicity. Thank you! Or Forward shall not take any responsibility for any consequences!
Qianzhan Business Information Co., Ltd. Industry Research College
Research Team of Natural Gas Industry
China Natural Gas Industry Report" related reports »