China Optical Fibre and Cable Industry Production & Marketing Demand and Investment Forecast Report, 2013-2017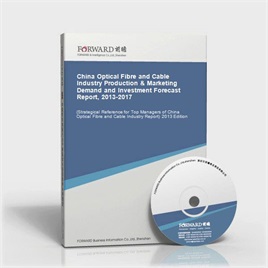 Last Update:2014-04-25
Form of services:Book + (pdf or doc file) + CD
Send method:EMS 2-3 days for delivery
English Service:+86 0755 33220413
Chinese Service:+86 800-8306390 800-8306395
E-mail:service.en@qianzhan.com
Report price:$7900 Print: $7800 CD: $7800
Special statement:
Recently we find there are some sites steal report contents from Qianzhan.com who put those contents on their sites for sale by making a little changes about the contents or remaining the same which deceives buyers(e.g. unable to get full or correct reports, or main body differs from contents that announced on sites).Therefore, we recommend paying a visit to Qianzhan personally or by your friends, and make payment after confirmation. Special statement: Qianzhan is the only and right holder of all the research reports, and has never used a third party to sell any reports, please be aware of the trademark " " when purchasing. Qianzhan is the largest and strongest consultancy, who owns the greatest number of researchers. Here followed "
Nine standards of companies' identificatios
"。
This table of content is original, without written permission of Qianzhan, any unit or individual shall not use, copy, or transfer the reports.
Preface
Table of Content
China optical fibre and cable industry develops well under multi-driving-forces like 3G construction, FIIH implementation, experimental integration of three networks, western village-to-village project and "optical fibre replace copper fibre", ect. Nowadays China becomes the world's leading optical fiber and cable market and the world's largest optical fiber and cable manufacturing country. It gains impressive achievements. In 2011 there are 149 corporations of scale in China optical fibre and cable industry which is 21 less comparing with that of last year; total industry output value is 68.802 billion Yuan; sales revenue is 64.31 billion Yuan which with a year-on-year growth rate of 24.68%; profit is 6.554 billion Yuan which with a year-on-year growth rate of 47.39%.
The optical fibre and cable industrial chain mainly contains three links: preforms, fibre drawing and optical cable. Before 2010 the domestic industry mainly distributes in the fields of fibre drawing and optical cable. For the preforms, except Yangtze Optical Fibre and Cable Company Ltd., other domestic corporations need to import preforms from Japan and Euro-America. And the industrial chain is tending towards perfection since the preforms project started in 2010 by FiberHome, Hengtong Optic-electric Co., Ltd., Jiangsu Zhongtian Technology Co.,Ltd. and Futong Group.
Data shows that demand of domestic optical fibre in 2011 is about 9.8 million core km which is roughly same as that of 2010; production and sales volume excees one hundred million core km which grows tens of times comparing with that of decade ago. What's more, it takes up more than 50% of the global optical fibre market share. In the meantime, China already has the world's largest fixed-line telecommunications network, the largest mobile subscriber network and the largest population of Internet users. The optical fibre and cable is widely used in the fields of military, Internet, finance, transportation, environmental protection , medical care, culture and aerospace.
Presently, there are five giants in domestic optical fibre and cable market--Yangtze Optical Fibre and Cable Company Ltd., FiberHome, Hengtong Optic-electric Co., Ltd., Jiangsu Zhongtian Technology Co.,Ltd. and Futong Group--which accumulated optical fibre productivity takes up the major part of the market. The five corporations listed above are the leaders of preforms project. It is hopeful to further consolidate the pattern of five oligarchs in the future.
According to the
Twelfth Five Years Development Plan for Electric Wire and Cable Industry, there are suggestions as follows: focus on supporting 2-3 corporations which can mass produce conventional optical fiber preforms by national project and centralized funds; develop and promote the localization of the equipment and rapidly increase the production capacity of China 's optical fiber preforms; cultivate 6-12 professional corporations which sales volume reach 10 billion Yuan and with a relatively strong international competitiveness in the field of professional products; cultivate some regional cable industry clusters which with different characteristics, strong professional manufacturing capability, complete complements and differentiated development; cultivate some small and medium size corporations which are with professional producing characteristics and regional competitive advantages. Meanwhile, along with the implementation of China FTTH and FTTC system, integration of three networks and large-scale 3G construction, market demand of optical fibre and cable is still large. It works as strong driving force to promote the development of China optical fibre and cable industry. Therefore we come to the conclusion by analysis, that prospect for China optical fibre and cable industry is excellent.
Qianzhan Business Information Co., Ltd. Industry Research Center
Research Team of Optical Fibre and Cable Industry
China Optical Fibre and Cable Industry Report" related reports »