China Infectious Diseases Hospital Report 2014-2018, Development Prospect and Investment Forecast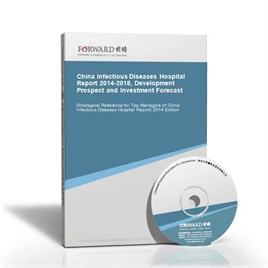 Last Update:2015-10-21
Form of services:Book + (pdf or doc file) + CD
Send method:EMS 2-3 days for delivery
English Service:+86 0755 33220413
Chinese Service:+86 800-8306390 800-8306395
E-mail:service.en@qianzhan.com
Report price:$7900 Print: $7800 CD: $7800
Special statement:
Recently we find there are some sites steal report contents from Qianzhan.com who put those contents on their sites for sale by making a little changes about the contents or remaining the same which deceives buyers(e.g. unable to get full or correct reports, or main body differs from contents that announced on sites).Therefore, we recommend paying a visit to Qianzhan personally or by your friends, and make payment after confirmation. Special statement: Qianzhan is the only and right holder of all the research reports, and has never used a third party to sell any reports, please be aware of the trademark " " when purchasing. Qianzhan is the largest and strongest consultancy, who owns the greatest number of researchers. Here followed "
Nine standards of companies' identificatios
"。
This table of content is original, without written permission of Qianzhan, any unit or individual shall not use, copy, or transfer the reports.
Preface
Table of Content
Infectious disease is a serious harm to human health. Its incidence ranks first in a variety of human diseases. In 2012, the incidence rate of infectious diseases is 238.76/10 million, compared with last year, which has eased.
Hospital for infectious diseases is a major institution for housing and treating patients with infectious diseases, is a comprehensive diagnosis and treatment medical institution for patients with all kinds of infectious diseases and plays an important role in China's treatment system for infectious diseases. China's hospitals for infectious diseases undergo ups and downs in the history. Around the turn of the century, investment into hospitals for infectious diseases reduced and their development was in stagnation. Social attention reduced and even two infectious disease hospitals in the capital were almost on the brink of merging.
In 2003, sudden SARS aroused concern in society, causing the attention of leaders. Construction of infectious diseases hospitals was again put on the agenda, especially after the outbreak of H1N1 in 2009, which set off a building boom for infectious diseases hospitals. In 2009, the "CPC Central Committee and State Council on Deepening the Health Reform" was introduced and clearly requires: "Give investment policy to Chinese medicine hospital (national hospital), hospital for infectious diseases, psychiatric hospitals, occupational disease prevention hospital, maternity hospital and children's hospital". The development prospects of China's infectious diseases hospital industry can be expected.
This report mainly analyzes market environment of China's infectious disease hospital industry; development of China's medical and health undertakings; supply situation and operation of infectious disease hospital industry ; demand situation of infectious disease hospital industry and development prospects; impact of new health care reform on infectious diseases hospital; operation of leading hospitals for infectious diseases; investment and financing of infectious diseases hospital industry and management proposals. Meanwhile, based on first-hand market data of the whole industry in the past five years, it can allow you to fully and accurately grasp market trends and development trends of the whole industry.
The greatest feature of this report is forward-looking and timeliness. It does thorough and objective analysis of development scale, operation efficiency and competitive landscape of China's current hospitals for infectious diseases. Based on the development path and years of practical experience, it makes careful analysis and prediction of the future development trends of hospital for infectious diseases. It is a rare quality for hospitals for infectious diseases and investment companies to accurately understand the latest developments of the industry grasp market opportunities make the right business decisions and clear corporate directions.
This report will help hospitals for infectious diseases and investment companies accurately understand the latest developments of the industry and early detect blank points of industry market, opportunities, growth and profitability points ...... it will help prospectively grasp unmet market needs and trends of the industry and become a good advantage for sustainable development, effectively avoid the investment risks from the industry, more efficiently consolidate or expand appropriate strategic target markets, and firmly grasp the initiative authority in market competition.
China Infectious Diseases Hospital Report" related reports »