China Furniture Industrial Cluster Innovation and Upgrading Strategy Planning Report, 2013-2017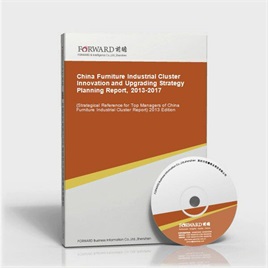 Last Update:2014-05-24
Form of services:Book + (pdf or doc file) + CD
Send method:EMS 2-3 days for delivery
English Service:+86 0755 33220413
Chinese Service:+86 800-8306390 800-8306395
E-mail:service.en@qianzhan.com
Report price:$7900 Print: $7800 CD: $7800
Special statement:
Recently we find there are some sites steal report contents from Qianzhan.com who put those contents on their sites for sale by making a little changes about the contents or remaining the same which deceives buyers(e.g. unable to get full or correct reports, or main body differs from contents that announced on sites).Therefore, we recommend paying a visit to Qianzhan personally or by your friends, and make payment after confirmation. Special statement: Qianzhan is the only and right holder of all the research reports, and has never used a third party to sell any reports, please be aware of the trademark " " when purchasing. Qianzhan is the largest and strongest consultancy, who owns the greatest number of researchers. Here followed "
Nine standards of companies' identificatios
"。
This table of content is original, without written permission of Qianzhan, any unit or individual shall not use, copy, or transfer the reports.
Preface
Table of Content
Industrial cluster refers to the phenomenon that numerous enterprises and relevant supporting institutions which closely relate to each other concentrate together, and form the strong and constant competitive advantages. Nowadays, industrial cluster has turned to be a significant economic carrier to promote the development of China's export-oriented economy and improve regional industrial competitiveness. After more than 20 years of fast development, China's furniture industry gradually formed 17 furniture industrial clusters. In the post-crisis era, China's furniture industrial clusters should conform to the trend of the times and further promote the economic structure upgrading of furniture industry.
Furniture industrial cluster upgrading is the necessity to avoid "path lock-in" and deal with cluster risks as well as external pressure, the demand for industrial cluster to realize the high value of global value chain, and the inevitable direction to structure adjustment of China's furniture industry. Yet, most of China's furniture industrial clusters are in the low-end manufacturing stage of global value chain that they lack of the R&D and design capability to global upstream value chain, the marketing and brand expansion to downstream value chain. The clusters face great pressure to upgrade.
The furniture industrial cluster upgrading is a dynamic development progress. It should depend on the mass produce of industrial clusters and the perfection of supporting system, including varied advanced production equipment, technology progress, technology application, strict quality management, and environment management, especially the improvement of service industries like modern marketing and logistics, innovation design and business channel. The upgrading will finally result in constant marketing with new R&D products and pricing right. In other words, that is corresponding market power.
Furniture industry should pay special attention to low carbon and environmental protection during the "twelfth five years". Meanwhile, brand construction is also a key to promote a faster development for furniture industry. As innovation and finer management are keys to form a brand, we should strengthen technology innovation to support regional brands with advanced technology innovation capacity. Cluster provides common technology innovation with conditions. It is the general trend for regional furniture industrial clusters to introduce national and provincial level research institutes into internal industry in order to have the common R&D of new technology products, especially new furniture features as low carbon and environmental protection. The internal industrial clusters will further strengthen industrial labor division, exploit internal economic benefits, form the cohesion and competitiveness, and fully play the cluster effectiveness. What's more, the social service system will be further developed while the supports of corresponding intermediary service platform will be put into full play. In the aspect of development trend, some clusters and industrial bases may be eliminated without constant innovation and upgrading.
The innovation and upgrading of furniture industrial clusters not only reflect the local government's foresight to industrial planning, but also effectively improve the development level of regional economy, the economic benefit of corporations and strategic investors who relate to furniture industrial chain, and deal with the competition of global value chain integration. By innovation, upgrading and further divided industrial value chain, the potential market demand will be further excavated.
It is an inevitable trend for furniture industry to develop as follows: constantly promote the innovation and upgrading of furniture industrial clusters and regions which with local characteristics; give play to benchmark of industry giants; improve cooperation degree of industrial chain; strengthen supports of public service platform; enlarge market network system of sharing resources; trend for energy saving and emission reduction; enhance the comprehensive strength and international competitiveness of furniture industrial clusters; form the comprehensive advantages of system innovation and mechanism innovation, and synergies among industrial clusters.
Qianzhan Business Information Co., Ltd. Industry Research College
Research Team of Furniture Industrial Cluster
China Furniture Industrial Cluster Report" related reports »