China Engineering Survey and Design Industry Indepth Research and Investment Strategy Planning Report, 2013-2017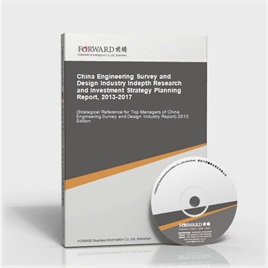 Last Update:2014-05-04
Form of services:Book + (pdf or doc file) + CD
Send method:EMS 2-3 days for delivery
English Service:+86 0755 33220413
Chinese Service:+86 800-8306390 800-8306395
E-mail:service.en@qianzhan.com
Report price:$7900 Print: $7800 CD: $7800
Special statement:
Recently we find there are some sites steal report contents from Qianzhan.com who put those contents on their sites for sale by making a little changes about the contents or remaining the same which deceives buyers(e.g. unable to get full or correct reports, or main body differs from contents that announced on sites).Therefore, we recommend paying a visit to Qianzhan personally or by your friends, and make payment after confirmation. Special statement: Qianzhan is the only and right holder of all the research reports, and has never used a third party to sell any reports, please be aware of the trademark " " when purchasing. Qianzhan is the largest and strongest consultancy, who owns the greatest number of researchers. Here followed "
Nine standards of companies' identificatios
"。
This table of content is original, without written permission of Qianzhan, any unit or individual shall not use, copy, or transfer the reports.
Preface
Table of Content
Engineering survey and design activities is one of important China basic construction program, and the pioneering work for fixed assets transforming to rel productive forces. All construction projects must first go through a feasibility study and engineering design, then being drawn into blueprints, and finally being implemented. China spends trillions of RMB on fixed asset investment. If there is only one percent of it having quality problem, the economic loss is very enormous. Therefore, the level of engineering survey and design directly affects the quality of engineering construction projects, so the engineering survey and design has a forerunner and decisive impact on fixed asset investment.
In recent years, the enterprises in engineering survey and design industry continue to optimize and integrate, so the enterprise strengths have been further improved and the science and technology strengths continue to be stronger and stronger. China engineering survey and design industry gradually shifts from the rapid growth stage to the preliminary mature stage. The development industry mode gradually becomes a connotative development way by relying on enterprise capability promotion and resource integration.
In 2010, the business formats and customer demand of engineering survey and design industry develop in a diversification trend. On one hand, the engineering survey and design units meet the market demand; on the other hand, they open up new business modes and fields, realizing the sustainable development of engineering survey and design industry. The turnover of engineering survey and design industry increased from 71.9 billion Yuan in 2001 to 954.7 billion Yuan in 2010, with a growth rate of 12.3 times and with an annual growth rate of 33.3%. The production efficiency of engineering survey and design industry grows abruptly, with the per capital output of 100,000 Yuan increasing in 2001 to 680,000 in 2010, with an increase of nearly 6 times, and with an annual growth of 23.7%.
The industry structure of China engineering survey and design industry has a characteristic of big complex and small complex. Compared with foreign countries, there is a huge difference. However, with the industry development in the future, the industry landscape will finally connect to that of international. The domestic survey and design enterprises had better to choose transformation trends and transformation modes in accordance with their own situation, as so to tackle the fierce competition in the future. Generally speaking, from the development pattern of current engineering survey and design industry, it basically shows the development situation of most industry segmentation is closely related to national invested-stimulating policies. With the national economic transformation and industry structure adjustment, the fixed asset adjustment will accordingly affect the market space of engineering survey and design industry, and the competition in the engineering survey and design industry becomes more and more competitive and complex. With the intensive announcement of regional development planning, the engineering survey and design industry market shows the different regional demand characteristics.
Meanwhile, the investment demand of many industry segments have already reached or will reach their stage peak in 2-3 years. After reaching the peak, how to achieve the sustainable development is undoubtedly becoming a very realistic problem. When innovates the development idea, its core reflects in the shifting of units operational thoughts, really building the wish of sustainable development and value system, adapting to the operation of marketization, realizing the resources integration and continuously promoting the value pursuit.
During the "Twelfth Five-year" Plan period, the survey and design market will inevitably achieve marketization both in demand end and supply end; the uprising of concepts, like low carbon dioxide, green, energy saving, environmental protection and others will be a hot focus for engineering survey and design units, and will bring different opportunities and challenges for industry segments in engineering survey and design industry.
As to design units, they should be established in current business transformation and upgrading, the concerns of emerging markets and positive exploration of the market, resources allocation adjustment and improvement of mechanical system, if they want to conduct positively creative thinking and exploration. Specifically, if they want to be a main contractor, they need to improve some key capabilities, like project management capability, resources allocation capability and financing capability. If they want to be professional corporations, they need to improve technical level very hard, and regard key technology as the fundamental of development.
Under such fierce circumstances, it seems that knowing current market environment and emphasizing industry research and prospect forecast is really important. The report mainly analyzes the development status of China engineering survey and design industry; the competitive status of every regional market; the investment opportunity of industry market segmentation; the leading corporations' operational conditions in the industry; the industry strategy management modes; the changes of the industry accessing to WTO for 10 years; the "Going Out" strategy in the industry; as well as the investment prospects and trend of the industry. Meanwhile, with comprehensive and specific first-hand market data over the past 5 years, Forward helps you to grasp the market and development trends of engineering survey and design industry, so as to win advantages from competition!
The most distinctive characteristics of this report is forward-looking and timeliness. Through analyzing forward-looking characteristic of abundant first-hand market data, we deeply and objectively dissect China current engineering survey and design industry's overall market capacity, market size and competitive landscape. Under the background of national industry transformation and upgrading, the transformation direction and transformation mode of engineering survey and design industry helps engineering survey and design and consultancy institutes to precisely grasp current latest developments of the industry. Afterwards, they can make wise operating decisions and define enterprises' development directions.
Here, we would like to express our sincere gratitude to State Information Center, Bureau of Statistics of China, International Information Research Institute, Chinese Academy of International Trade and Economic Cooperation, Tsinghua University Library, Development Research Center of the State Council and Beijing Essence Forward Research Center, for their great support when we conduct this report!
Notice: All the market data, especially corporations' ranking data in the report, only for business reference. Please do not take the data for enterprise publicity. Thank you! Or Forward shall not take any responsibility for any consequences!
Qianzhan Business Information Co., Ltd. Industry Research Center
Research Team of Engineering Survey and Design Industry
China Engineering Survey and Design Industry Report" related reports »