China Clothing Industry Monthly Market Monitoring Report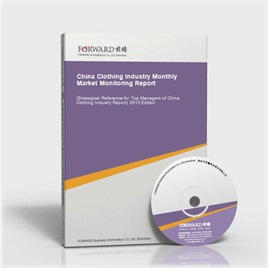 Last Update:2014-04-23
Form of services:Book + (pdf or doc file) + CD
Send method:EMS 2-3 days for delivery
English Service:+86 0755 33220413
Chinese Service:+86 800-8306390 800-8306395
E-mail:service.en@qianzhan.com
Report price:$26000 Print: $25800 CD: $25900
Special statement:
Recently we find there are some sites steal report contents from Qianzhan.com who put those contents on their sites for sale by making a little changes about the contents or remaining the same which deceives buyers(e.g. unable to get full or correct reports, or main body differs from contents that announced on sites).Therefore, we recommend paying a visit to Qianzhan personally or by your friends, and make payment after confirmation. Special statement: Qianzhan is the only and right holder of all the research reports, and has never used a third party to sell any reports, please be aware of the trademark " " when purchasing. Qianzhan is the largest and strongest consultancy, who owns the greatest number of researchers. Here followed "
Nine standards of companies' identificatios
"。
This table of content is original, without written permission of Qianzhan, any unit or individual shall not use, copy, or transfer the reports.
Preface
Table of Content
In 2011, China Clothing Industry was blocked in the foreign trade, so traditional clothing exporting enterprises are eagerly turning the exporting demand to the demand of sales in domestic market. Coupled with the continuing downturn of US and European markets, big brands from US and Europe have to desperately enter emerging markers led by China. In 2011, international brands frequently entered China's second and third-tiers markets. It can be predicted that international brands and domestic brands will be fight with each other in the following 3 to 5 years, which will be unprecedented fierce. Of course, it will greatly shock the original marker structure.
Meanwhile, along with tightening monetary policies' implementation to brake inflation, China's clothing enterprises' financing prospect will unlikely be improved materially in the future. A large number of clothing enterprises strive for listing outside China, but it seems the situation is not quite optimistic. What's more, the cost pressure is not small, which will seriously affect the profitability capability of clothing enterprises.
In conclusion, as to China clothing industry, risks will be gradually revealed in 2012. How to get out safely from so many objective difficulties and how to stand out from the complex and competitive environment are the questions clothing enterprises are facing.
As to the enterprises, it's very necessary to master strategies to promote steady growth when facing complex difficulties in the year of 2012.
In financial aspect, opening up the source is as important as regulating the flow. Costs should be fairly restricted to improve the efficiency of each penny, no matter in production cost, marketing cost or labor cost. In addition, due to inflation pressure, people's spending power has been restricted. Coupled with worry about market prospect in a short-term. In 2012, for China's clothing enterprises, the right ways to do are strictly control inventory level and strengthen loan recovery efficiency. Now matter you are a boss of an enterprise, a distributor or commercial agent, you'd better attach great importance to the turnover of cash flow, because it's a matter of life and death. Moreover, it's a good way to digest the inventory by indepth expansion ways, such as selling via factory outlets and so on.
The root of clothing enterprises, or core competitiveness is to products sincerely and to accumulate fame gradually. Under the risks, concentration is a factor to succeed or fail. If an enterprise want to survive and gain development from the fierce eternal external environment condition, it should be pay attention to concentration. Now matter what he does, the battle line should not be stretched for too long, or he will fail.
From the view of China current clothing industry's overall condition, many enterprises are at the stages of producing low grade products and price competition. However, with the intensity of competition and deepening of competitive level, as well as re-shuffle effect caused by economic crisis, it's believed that enterprises with great concentration on shaping brands and devotion to researching and developing products will stand out from the fierce competition.
In the development history of shaping brands and developing products, how to persist in innovation is a very important and strategical thing. Innovative fashion design, innovative technological shell fabric and innovative craftsmanship will make the products develop well, with more and more competitiveness.
Otherwise, you may find if those clothing giants with strong financial strengths will have excellent opportunities. For instance, they can integrated business related to its up/down stream industries, via the ways of acquisition, buying shares, strategical cooperation and so on. Then they can gain more value-added opportunities and earn more profits.
No wonder China clothing industry, like many other industries will meet many difficulties in getting through 2010 safely. But, comprehensively comparing with the development experience of US and European markets, as well as combining with domestic practical development condition, it's predicted that China clothing industry will enter a rapid development stage in 5 to 10 years.
Qianzhan Business Information Co., Ltd. Industry Research Center
Monitoring and Research Team of Clothing Industry
China Clothing Industry Report" related reports »