China Underwear Industry Production and Marketing and Investment Strategic Forecast Report, 2013-2017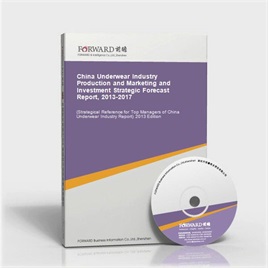 Last Update:2014-06-07
Form of services:Book + (pdf or doc file) + CD
Send method:EMS 2-3 days for delivery
English Service:+86 0755 33220413
Chinese Service:+86 800-8306390 800-8306395
E-mail:service.en@qianzhan.com
Report price:$7900 Print: $7800 CD: $7800
Special statement:
Recently we find there are some sites steal report contents from Qianzhan.com who put those contents on their sites for sale by making a little changes about the contents or remaining the same which deceives buyers(e.g. unable to get full or correct reports, or main body differs from contents that announced on sites).Therefore, we recommend paying a visit to Qianzhan personally or by your friends, and make payment after confirmation. Special statement: Qianzhan is the only and right holder of all the research reports, and has never used a third party to sell any reports, please be aware of the trademark " " when purchasing. Qianzhan is the largest and strongest consultancy, who owns the greatest number of researchers. Here followed "
Nine standards of companies' identificatios
"。
This table of content is original, without written permission of Qianzhan, any unit or individual shall not use, copy, or transfer the reports.
Preface
Table of Content
China underwear industry originated in the 1930s. Since the mid-1990s, China underwear industry, especially lingerie industry has made great progress, and it forms a industrial trend with three pillar regions, which are Guangdong province, representing South China; Shanghai city, representing East China; as well as Beijing, representing North China. Although some differences exist in various shapes of lingerie, under the international standard shape, the lingerie in China can basically meet the domestic demand. On this basis, many well-known lingerie brands with Chinese characteristics have been founded.
After entering the 21st century, China underwear industry gains further development, driven by the steady growth of economy. According to NBS (National Bureau of Statistics), as of the end of 2010, there are 1,244 underwear enterprises above designated size in China. In 2010, the industry realized a total industrial value output of 119.062 billion Yuan, with an increase of 22.94% over the previous year; its sales revenue reached 116.956 billion Yuan, with a increase of 25.48% over the previous year; its total profit is 5.888 billion Yuan, with a increase of 34.01%. In short, the industry scale is steadily expanding and its operational condition is in good situation.
The surveys show that great changes have taken place in purchasing underwear products for Asian women, especially for Chinese women. Today, Chinese women tend to spend 8% of their clothing consumption budget in buying underwears. China has a increasing growth in underwear consumption. According to data from National Commercial Information Center, the domestic average annual sales revenue and sales growth rate of China's underwear, including brassiere, thermal underwear, etc. grow by around 15%, which far higher than the growth rate of GDP.
At present, the annual turnover of China's underwear is above 100 billion Yuan. Among them, the turnover of Triumph and Jiangsu AB Group Co., Ltd. has exceeded 1 billion Yuan and become famous brands in the industry. However, the low doorsill and cost results in fiercer and fiercer competition annually in the industry. However, whether domestic enterprises face strong brand enterprises' competition from developed countries, or low-cost competition from developing countries, they undoubtedly involved into a "battle", which also lead China underwear market to the unprecedented "foreign invasion and domestic trouble" competitive situation.
With the growing competition in underwear industry, acquisition and capital operation among large enterprises becoming more and frequent. More and more domestic excellent underwear industry manufacturing enterprises pay attention to the industry market research, especially indepth researches on the industry development environment and product buyers. Because of this, a large number of excellent underwear brands rise up rapidly, and gradually becomes leading corporations in underwear industry!
In the international market, the underwear industries in US, Germany, France, Russia, Japan, etc are the most competitive ones, moreover, a batch of international underwear giants emerge, such as Schiesser and Triumph in Germany; CK and HANES in US; Chantelle in France, etc. Although China underwear industry is still in its infancy, it's the fastest growth industry among world's underwear industry and its related industries. Thus, this huge market has attracted thousands of international and domestic underwear brands to enter, and China is shifting the role from a largest underwear production country to a marketing power. At the same time, China underwear brands have begun to rise up, besides, some local underwear brands begin to be popular in global market. While the rise of local underwear brands in China is greatly beneficial for China's role shifting to a marketing power. And international brands are also good for the development of China underwear industry. The turnover of many little-known enterprises have surpassed a hundred million Yuan, whose import revenue source is to help foreign brands do processing. Analysts consider that, cooperating with foreign brands can not only fundamentally promote the level of China's clothing brands, but also provide new opportunities to China textile clothing industry.
The most distinctive characteristics of this report is forward-looking and timeliness. This report mainly focuses on China underwear industry's production and development status, current market environment of the industry; market environment and corporations' competitiveness of underwear industry; market demand characteristics of underwear industry; import and export markets of underwear industry; competitive landscape and trend of underwear industry; development status of underwear major market segmentation; leading corporations' operational condition in underwear market; and development trend and prospect forecast of underwear industry. Meanwhile, with comprehensive and specific first-hand market data in 5 years. Forward helps you to grasp the market and development trends of underwear industry, so as to win advantages from competition!
Here, we would like to express our sincere gratitude to State Information Center, Bureau of Statistics of China, China Customs, International Information Research Institute, Chinese Academy of International Trade and Economic Cooperation, Tsinghua University Library, Development Research Center of the State Council and Beijing Essence Forward Research Center, for their great support when we conduct this report!
Notice: All the market data, especially corporations' ranking data in the report, only for business reference. Please do not take the data for enterprise publicity. Thank you! Or Forward shall not take any responsibility for any consequences!
Qianzhan Business Information Co., Ltd. Industry Research Center
Research Team of Underwear Industry
China Underwear Industry Report" related reports »