China Printing Machinery Manufacturing Industry Production & Marketing and Investment Strategy Planning Report, 2013-2017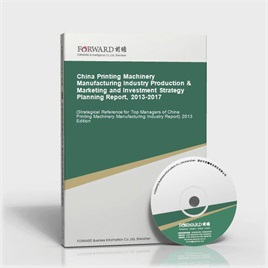 Last Update:2014-05-29
Form of services:Book + (pdf or doc file) + CD
Send method:EMS 2-3 days for delivery
English Service:+86 0755 33220413
Chinese Service:+86 800-8306390 800-8306395
E-mail:service.en@qianzhan.com
Report price:$7900 Print: $7800 CD: $7800
Special statement:
Recently we find there are some sites steal report contents from Qianzhan.com who put those contents on their sites for sale by making a little changes about the contents or remaining the same which deceives buyers(e.g. unable to get full or correct reports, or main body differs from contents that announced on sites).Therefore, we recommend paying a visit to Qianzhan personally or by your friends, and make payment after confirmation. Special statement: Qianzhan is the only and right holder of all the research reports, and has never used a third party to sell any reports, please be aware of the trademark " " when purchasing. Qianzhan is the largest and strongest consultancy, who owns the greatest number of researchers. Here followed "
Nine standards of companies' identificatios
"。
This table of content is original, without written permission of Qianzhan, any unit or individual shall not use, copy, or transfer the reports.
Preface
Table of Content
China printing machinery industry starts very late. Until 1970s, China had mainly depended on letterpress printing technology, and the real modern printing machinery manufacturing industry started in the early days of reform and opening up period, which belongs to an emerging industry. Since the reform and opening up, the fast development of printing industry has driven the demand for printing machinery, which promotes the rapid development of China printing machinery industry.
In 2010, there were 381 enterprises above designated size in China printing machinery industry, which realized the annual sales revenue of 20.350 billion Yuan, with a year-on-year increase of 18.40%; the total profit was 1.265 billion Yuan, and the total profit growth rate exceeded 100%; the sales profit of products was 2.887 billion Yuan, with a year-on-year increase of 22.06%. In 2011, under the good environment of domestic macro economy, the printing machinery industry continues to maintain the good development. In 2011, the sales revenue of printing machinery industry increased by 16.82% over the same period last year; the total profit grew by 37.16% over the same period last year; the sales profit of products was up by 25.26% over the same period last year.
In printing machinery market, Heidelberg (Germany), Manroland (Germany), Koenig & Bauer (Germany), KOMORI (Japan), Mitsubishi (Japan), and Fuji Xerox (Japan) occupy a large number of market shares of global printing machinery market, with strong competitiveness. These multinationals almost monopoly China's high-end printing machinery equipment market, and every year, China needs to spend a large sum of money in bringing in high-end printing equipment production line from overseas. In recent years, with the encouragement of China industry policies, few domestic printing equipment manufacturing enterprises' production technologies have approached to foreign advanced level, by absorbing foreign advanced technologies and self-innovation. The production equipment by these domestic enterprises has met the demand of domestic printing enterprises. The domestic high-end printing equipment accounts for about 25% of market share and the competition subjects of high-end printing machinery market exist in multinationals.
In terms of industry regional distribution, China's printing machinery enterprises mainly concentrate in eastern China. Meanwhile, the industry sales revenue and total asset of eastern China areas rank the top among all regions. Specifically, the printing machinery industries in Shanghai, Guangdong, Shandong, Zhejiang and others develop well, and their sales revenue, total profit, and enterprise quantity are the top of the industry. In terms of development situation of enterprises in the industry, the printing machinery enterprises in the industry gain great development. However, since many foreign enterprises strive for the domestic market and the local enterprises make efforts to develop, the industry becomes fiercer and fiercer.
According to estimation, China printing industry in 2020 will be the third strongest industry in the world. And the sustainable development of printing market will definitely bring the further development of printing machinery manufacturing industry. Thus, China will become an important global printing machinery manufacturing base, and the printing machinery industry will make a great progress in development.
Qianzhan Business Information Co., Ltd. Industry Research Center
Research Team of Printing Machinery Industry
China Printing Machinery Manufacturing Industry Report" related reports »