China Cloud Computing Industry Market Research and Investment Opportunities Report, 2013-2017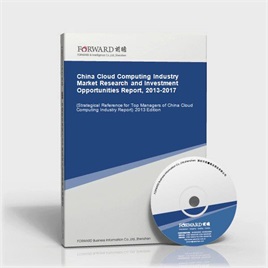 Last Update:2014-04-29
Form of services:Book + (pdf or doc file) + CD
Send method:EMS 2-3 days for delivery
English Service:+86 0755 33220413
Chinese Service:+86 800-8306390 800-8306395
E-mail:service.en@qianzhan.com
Report price:$7900 Print: $7800 CD: $7800
Special statement:
Recently we find there are some sites steal report contents from Qianzhan.com who put those contents on their sites for sale by making a little changes about the contents or remaining the same which deceives buyers(e.g. unable to get full or correct reports, or main body differs from contents that announced on sites).Therefore, we recommend paying a visit to Qianzhan personally or by your friends, and make payment after confirmation. Special statement: Qianzhan is the only and right holder of all the research reports, and has never used a third party to sell any reports, please be aware of the trademark " " when purchasing. Qianzhan is the largest and strongest consultancy, who owns the greatest number of researchers. Here followed "
Nine standards of companies' identificatios
"。
This table of content is original, without written permission of Qianzhan, any unit or individual shall not use, copy, or transfer the reports.
Preface
Table of Content
Cloud Computing Industry is the third wave of IT, following the personnel computer revolution and the Internet change, as well as an important part of China's strategic and emerging industry. By integrating the network computing, storage, software, content and other resources, cloud computing can achieve functions of obtaining information at any time, using according to demand, extension at any time and pay-per use, etc.
At present, cloud computing is in a market lead-in stage, but it develops very fast and shows its astonishing impacts. In 2010, the market of China's cloud computing is 16.73 billion Yuan, with an increase of 81.4% over the previous year. It's predicted that it will increase to 60.68 billion Yuan in 2012; and it will grow to 117.412 billion Yuan in 2013. During the "Twelfth Five-year" period, the industrial chain size of China cloud computing can reach 750 billion Yuan, or even 1 trillion Yuan.
In 2011, the total investment amount in China cloud computing industry surpassed 164 billion Yuan, and almost 50% of it is throw-in type, while 25% of this "50%" spent in cloud operating costs; 10% of it is used in software and brand; moreover, 15% of it is used in hardware investment. According to these data, China cloud computing mode has shifted from policy-driving type to the combination of policy-driving type and operation-driving type.
On October 19th, 2011, NDRC, MIIT and MOF allocated 1.5 billion Yuan as a special fund for cloud computing trial projects of national strategic and emerging industry, which mainly aims at promoting the development of domestic cloud computing industry, and supporting the leading enterprises in cloud computing industry. Some enterprises, like Baidu, Alibaba, and Tencent have become the first batch of cloud computing trail enterprises, gaining capital support. And Baidu won above a hundred million Yuan financial support, which is the highest one among them.
With the support of governmental policies, China cloud computing application market developed rapidly in 2011. Many cloud computing application were set up, such as Chengdu Cloud Computing Center, Shenzhen E-commerce Cloud Computing Application Platform, Beijing Industrial Cloud Platform, Jiangsu Cable Cloud Media TV, Shanghai Healthcare Cloud Computing Service Platform, Asia-pacific Data Port, Wise Online IT Service Cloud, Ordos Disaster Cloud Computing Platform and so on, which marks that China has passed through "marker preparatory stage", and now it's stepping into "adjusting growth stage" and overall integrative stage. In this stage, more and more enterprises enter cloud computing industry, and many application solutions emerge. Besides, there are more and more successful cloud application cases; more and more users learn and recognize cloud computing, so the "golden opportunity stage" of development in cloud industry comes. While, the cloud computing enterprises gain different degrees of benefits.
Under the general and stable economic environment, according to industrial chain profit order, generally speaking, the launching order of cloud computing market is: provider of software/hardware→system integrator→data center operator→provider of cloud computing services. However, the global economy is under the vulnerable environment, the investment in software and hardware can not appear explosive increase of demand. What's more, there is utilization shortage in many China's new cloud computing centers. Most demand for cloud computing data center is based on the improvement of cloud computing structure and the integrating utilization of resources.
It's necessary to take all into consideration, namely, the improvement demand for existing cloud computing data centers and the internal need of cost-effective cloud computing services for terminal users. Forward consider that the data center operational and maintenance operators and cloud computing providers with more mature business mode will gain benefits in advance.
Qianzhan Business Information Co., Ltd. Industry Research Center
Research Team of Computing Industry
China Cloud Computing Industry Report" related reports »