China Pharmacy Education Model Research and Pharmacy Talent Demand Forecast Report, 2013-2017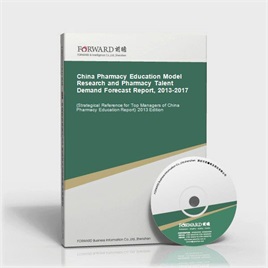 Last Update:2014-04-27
Form of services:Book + (pdf or doc file) + CD
Send method:EMS 2-3 days for delivery
English Service:+86 0755 33220413
Chinese Service:+86 800-8306390 800-8306395
E-mail:service.en@qianzhan.com
Report price:$7900 Print: $7800 CD: $7800
Special statement:
Recently we find there are some sites steal report contents from Qianzhan.com who put those contents on their sites for sale by making a little changes about the contents or remaining the same which deceives buyers(e.g. unable to get full or correct reports, or main body differs from contents that announced on sites).Therefore, we recommend paying a visit to Qianzhan personally or by your friends, and make payment after confirmation. Special statement: Qianzhan is the only and right holder of all the research reports, and has never used a third party to sell any reports, please be aware of the trademark " " when purchasing. Qianzhan is the largest and strongest consultancy, who owns the greatest number of researchers. Here followed "
Nine standards of companies' identificatios
"。
This table of content is original, without written permission of Qianzhan, any unit or individual shall not use, copy, or transfer the reports.
Preface
Table of Content
With the increase of people's living life, the requirements for living quality and health conditions are higher and higher. In the process of new healthcare reform, the difficulty of medical treatment and expensive medical treatment are still prominent social problems. Pharmacy service, as an important link of medical health field, plays an increasing important role. It's an important responsibility for universities to foster comprehensive talents for providing clinic services.
According to the survey of 47 higher pharmacy institutions and 3 medical research institutions at the end of 2010. In 2010, China enrolled 15,743 pharmacy undergraduates, 2,506 junior college students, 13,055 pharmacy correspondence students, 764 traditional Chinese medicine doctors, 3,760 master's degree graduates in China; There were 14,927 pharmacy undergraduates, 2,343 junior college students, 11,212 pharmacy correspondence students, 626 traditional Chinese medicine doctor's degree students, and 2,774 master's degree students graduating from school.
The pharmacy education keeps expanding, at the same time, China pharmacy education model has gone through a transition, shifting from single chemical model to the model of chemical-biological, and pharmacy, and shifting from fostering talents to fostering the realistic type-applied type-innovate type talents. However, China pharmacy model and the pharmacy talent fostering model are still backward, and there is still a gap compared with the developed countries. Moreover, the current pharmacy education model and goal have lagged behind the social demand. Fostering pharmacist-type talents has not been a mainstream for China higher education. Fostering a certain size and number of pharmacy service talents to adapt to the social demand is both the needs of the nation, and conforming to the international pharmacy education dynamics development trend.
On the basis of foreign pharmacy education model, this report analyzes the development history, education model reform, and development situation of major pharmacy education model of China pharmacy education; next, it mainly analyzes the total demand status and prospects forecast of clinic pharmacy talents and research-type pharmacy talents; at last, it analyzes the cases of pharmacy education and enterprises, the pharmacy talent education status and R&D capability of domestic major medical schools and medical research and development institutions, as well as the conditions of national major lab's enterprise R&D capability.
The most distinctive characteristics of this report is forward-looking and timeliness. Through analyzing forward-looking characteristic of abundant first-hand market data, and based on future development tracks and years' practice experience of pharmacy education industry, we conduct prudent analysis and forecast for pharmacy education industry's future development trend. This report helps pharmacy education institutions, pharmacy R&D institutions, medicine manufacturing and R&D enterprises to precisely grasp current latest developments of the industry. Afterwards, they can make wise operating decisions and define enterprises' development directions.
Here, we would like to express our sincere gratitude to Public Health, State Information Center, Bureau of Statistics of China, International Information Research Institute, Chinese Academy of International Trade and Economic Cooperation, Tsinghua University Library, Development Research Center of the State Council and Beijing Essence Forward Research Center, for their great support when we conduct this report!
Qianzhan Business Information Co., Ltd. Industry Research Center
Research Team of Pharmacy Education Model
China Pharmacy Education Report" related reports »