China Digital Publishing Industry Development Prospects and Investment Strategy Report, 2013-2017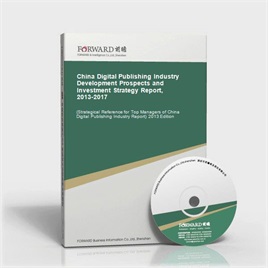 Last Update:2014-05-04
Form of services:Book + (pdf or doc file) + CD
Send method:EMS 2-3 days for delivery
English Service:+86 0755 33220413
Chinese Service:+86 800-8306390 800-8306395
E-mail:service.en@qianzhan.com
Report price:$7900 Print: $7800 CD: $7800
Special statement:
Recently we find there are some sites steal report contents from Qianzhan.com who put those contents on their sites for sale by making a little changes about the contents or remaining the same which deceives buyers(e.g. unable to get full or correct reports, or main body differs from contents that announced on sites).Therefore, we recommend paying a visit to Qianzhan personally or by your friends, and make payment after confirmation. Special statement: Qianzhan is the only and right holder of all the research reports, and has never used a third party to sell any reports, please be aware of the trademark " " when purchasing. Qianzhan is the largest and strongest consultancy, who owns the greatest number of researchers. Here followed "
Nine standards of companies' identificatios
"。
This table of content is original, without written permission of Qianzhan, any unit or individual shall not use, copy, or transfer the reports.
Preface
Table of Content
The fast development of economy, IT technology and internet application continuously changes people's reading habit and reading environment. As the digital era in worldwide range is coming, way of reading has transformed from traditional paper books to new media. The digital publishing like digital books, online reading and mobile books is prospering and booming.
Forms of China digital publishing products during the "eleventh five years" mainly include E-books, digital newspapers, digital journal, original literary, educational publications, network map, digital music, online animation, online games, databases publications, mobile phone publications (Multimedia Messages, ring tones, mobile newspaper, mobile phone journal, mobile novels , mobile games ) and others. Scale of industry is continuously enlarging while total output of digital publishing develops from 21.3 billion Yuan in 2006 to 105.84 billion Yuan in 2010. And the mobile phone publishing, online games and network advertisement have become three giants of digital publishing industry. The digitization promotes the industry integration goes further, that the strict distinguishing industry border is more and more blurred and relationship among content suppliers, technical suppliers and channel operators is closer. The constant development of mass media range has changed the traditional information transmitting way. And the new media transmitting way has rapidly grabbed the market shares while interaction has become the fast development basic for digital publishing industry. Digital technology is used in a wider range of publishing field that it has a close relationship with content edition, processing, print and copy, publish, transmitting and consumption.
Some digital publishing digitalization gaps still exist between China and foreign countries although China digital publishing industry develops quickly. The existing gas as follows: unperfected industrial chain, blurred profit model for all links of industrial chain which is caused by lacking of corresponding standards, technology, content and protection of intellectual property for digital publications. All these become barriers to the construction of industrial chain and development of the whole industry. Therefore, laws and supporting policies are issued by governments for the sake of healthy development of digital publishing industry. According to
The "Twelfth Five Years" Plan on China Digital Publishing digital publishing is regarded as major direction for the strategic new industry of news and publishing industry as well as development of publishing industry, and the important part of national economy and social informationization. It is the significant strategic task to enhance China news and publishing industry by strengthening digital publishing industry. In the meantime, the establishment of related base of digital publishing industry and industry association which enhance the protection of digital publications' intellectual property fasten the standard construction progress of digital publishing industry. It is a trend for the development of digital publishing industry.
Digital publishing is widely known as the development direction for the 21st publishing industry. Current China publishing industry will pay more attention to digital publishing due to the development potential of digital publishing as well as great attention and policy supports from government. What's more, the change of reading environment, reading way and reading demand continuously enlarge the market capacity of digital publishing. Further more, characteristics of network and growth of network technology bring more advantages to digital publishing than to traditional publishing. It breeds a broader prospect.
Here, we'd like to express our sincere gratitude to National Bureau of Statistics of China, International Information Institute, National Institute of the Ministry of Commerce, National Tsing Hua University Library, Institute of Market Economy of the State Council Development Research Center, and Beijing Qinghua Forward Market Research Center, etc. Thank you so much!
Notice: all the market data, especially the corporation list data in this report is only for business reference. Please don't take the data for enterprise publicity. Thank you! Or Forward shall not take any responsibility for any consequences!
Qianzhan Business Information Co., Ltd. Industry Research Center
Research Team of Digital Publishing Industry
China Digital Publishing Industry Report" related reports »