China Factoring Industry Report (2014-2018), Development Trend and Market Segment Strategy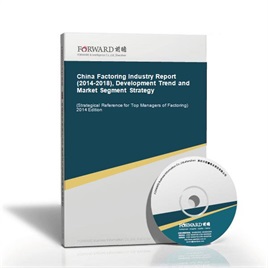 Last Update:2015-10-04
Form of services:Book + (pdf or doc file) + CD
Send method:EMS 2-3 days for delivery
English Service:+86 0755 33220413
Chinese Service:+86 800-8306390 800-8306395
E-mail:service.en@qianzhan.com
Report price:$7900 Print: $7800 CD: $7800
Special statement:
Recently we find there are some sites steal report contents from Qianzhan.com who put those contents on their sites for sale by making a little changes about the contents or remaining the same which deceives buyers(e.g. unable to get full or correct reports, or main body differs from contents that announced on sites).Therefore, we recommend paying a visit to Qianzhan personally or by your friends, and make payment after confirmation. Special statement: Qianzhan is the only and right holder of all the research reports, and has never used a third party to sell any reports, please be aware of the trademark " " when purchasing. Qianzhan is the largest and strongest consultancy, who owns the greatest number of researchers. Here followed "
Nine standards of companies' identificatios
"。
This table of content is original, without written permission of Qianzhan, any unit or individual shall not use, copy, or transfer the reports.
Preface
Table of Content
Domestic financial gradual reform has spawned a variety of financial or financial-class formats up to now. The fact proves that with the gradual liberalization of financial regulation, private capital into the financial sector can not only get substantial return on investment, but also to stimulate the improvement of the structure of their business and enhance service levels of traditional financial organizations. Financial institutions such as finance leasing, third party payment, financing guarantee or closely related industries gradually gain market recognition after experiencing the "hardships" of more than ten years. The next one will be expected to factoring industry. In fact, after the introduction of management approaches of factoring companies in Shanghai and Tianjin, the factoring company will have a clear legal status. But whether it is the buyer or domestic media, financial circle, government, there is a big deviation in understanding of factoring.
Data show that in 2012, the international and domestic factoring business volume of China reaches over 2.85 trillion yuan, representing growth of over 25%. Factoring services offered by banks amounted to 2.83 trillion yuan, accounting for the most important share. Among them, the domestic factoring business volume was 2.24 trillion yuan, up 17.83 percent; international factoring business volume was $ 93.972 billion, an increase of 80.16%; imported double factoring business volume was $ 3.159 billion, an increase of 161%, ranking the world's fourth; export dual-factoring business volume was $ 10.439 billion, an increase of 103% for five consecutive years, ranking first in the world. Commercial factoring companies mainly started operations from 2011 and the factoring business volume will be over 10 billion in 2012.
As of the end of 2013, China has approved 197 commercial factoring companies. Factoring companies reached a total registered capital of 24 billion yuan and the annual volume of business of factoring will exceeded 200 billion yuan. Banks still dominated. In the first half of 2013, domestic factoring business volume of 25 members of the Banking Association amounted to 1.2 trillion yuan, an increase of 115.7%; international factoring business volume was $ 59.43 billion, an increase of 176.1%.
It's not difficult to find that domestic factoring industry is only just starting and there is great development space in the future. But as an industry with business risks, studies in the market emphasizes on "China's factoring business volume ranks first in the world," "substantial growth scale", "huge market potential." This is undoubtedly beautifying the prospect and overlooking the risks of the industry. In general, as long as the 1.5% adverse receivable exists, it will make factoring providers waste the hard work of the whole year. Up to 5% can make factoring companies completely get closed. The scale of receivable accounts of factoring business will inevitably be not real, which includes full of false corporate receivables, uncollectible receivables pool and receivables taken in the future to offset debt. Therefore, in estimating the market scale of the whole factoring industry and market capacity of the industry in the future, we need to be extra careful.
Qianzhan's Industry Research Institute's "China Report of Development Trend and Market Segment Strategy of Factoring Industry(2014-2018)" is divided into twelve parts: first the access conditions of factoring industry and the future development bottlenecks may be encountered; then three important market environments facing the industry; then list important data of factoring industry at home and abroad in recent years to forecast of the industry; then fifteen traditional factoring business areas and dig out the most promising emerging areas of market segments; and specific research of operation and product system of two main participants like banks and factoring companies.
With the continued expansion of factoring pilots, regulators will also lift the control over other types of financial institutions. The report focuses on comparing various domestic provinces and cities, also conducted in-depth regional environment-related research.
The last three sections will be the core part of the report, focusing on management of risks of factoring industry, profit growth potential of the industry, future market capacity of the industry and based on the current and future situation, how to operate the proposed factoring companies, forecast of making objective finance of factoring companies.
Factoring" related reports »