China Coated Abrasives Industry Market Research and Investment Forecast Report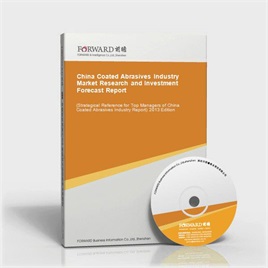 Last Update:2014-05-06
Form of services:Book + (pdf or doc file) + CD
Send method:EMS 2-3 days for delivery
English Service:+86 0755 33220413
Chinese Service:+86 800-8306390 800-8306395
E-mail:service.en@qianzhan.com
Report price:$7900 Print: $7800 CD: $7800
Special statement:
Recently we find there are some sites steal report contents from Qianzhan.com who put those contents on their sites for sale by making a little changes about the contents or remaining the same which deceives buyers(e.g. unable to get full or correct reports, or main body differs from contents that announced on sites).Therefore, we recommend paying a visit to Qianzhan personally or by your friends, and make payment after confirmation. Special statement: Qianzhan is the only and right holder of all the research reports, and has never used a third party to sell any reports, please be aware of the trademark " " when purchasing. Qianzhan is the largest and strongest consultancy, who owns the greatest number of researchers. Here followed "
Nine standards of companies' identificatios
"。
This table of content is original, without written permission of Qianzhan, any unit or individual shall not use, copy, or transfer the reports.
Preface
Table of Content
A coated abrasives is an abrasive grain bonded to a flexible substrate (cloth or paper, etc.) using adhesives, which combines with abrasion wheel, abrasive segment, oilstone, grinding head and abrasive paste, forming 6 kinds of varieties. Coated abrasives for mechanical use and hand use are usually used in grinding, polishing and abrading the non-metal materials, such as metal materials, wood, ceramics, plastics, leather, rubber as well as painting putty. Along with the development of the industry and the increase of coated abrasive products, its service scope becomes wider and wider. The fields of aerospace, automobile, mechanical processing, wood processing, glass, shipping, bicycle stainless steel products, hard metal article products and their parts all need coated abrasives.
According to data released from statistical bureau, in 2010, there were 226 enterprises above designated size in China, with 21,800 employees, 3.646 billion Yuan of total asset, and 5.395 billion Yuan of total sales revenue, up by 49.62% over the previous year; they realized 389 million Yuan, with a year-on-year growth of 61.68%. In a word, the industry develops rapidly.
At the same time, according other related data, in 2010, China coated abrasives industry's total production output reached 40561.43 sqm. For the perspective of output, China has been the world's largest coated abrasive producer. From the level of products, they belong to middle and low-end products, and China's high-end product market has almost been occupied by Europe, Japan, South Korea and so on. In 2010, according to import and export data released by China Customs, the export volume of China coated abrasive products was 50,160 tons, with 171 million US dollars of export value; the import volume was 18,215 tons, with 194 million US dollars of import value; the export unit price just occupies 30% of the import product; China's products mainly export to Southeast Asia, which shows the level of export goods is still low. And there is a gap between Chinese products and foreign products.
At present, coated abrasives industry belongs to resource consumption and environmental pollution industry, which is limited by economic methods of administrative examination and approval, taxation, and pricing. Meanwhile, since some old and well-known enterprises, such as 3M, VSM, Saint-Gobain, SIA, DEER increase the investment in R&D, new technology, and new equipment application develop rapidly. The major task for China coated abrasives industry is to conduct technical innovation, increase development investment, and improve the technical content of the products, in order to ease the gap between China and the world, adjust the product structure, transform the economic growth as well as reduce the resource consumption.
With the fast development of China's economy, coated abrasives industry further strengthen the level of innovation. The innovative products will account for most share market in the future. Meanwhile, due to the distinctive advantages of coated abrasives industry at the later stage of grinding industrial chain, the coated abrasive application in polishing will be greatly promoted. It's predicted China will surpass USA, becoming the world's largest market. According to preliminary estimation, China coated abrasive products will take up 2/3 of the world's value-added demand of abrasive products, while as a major category in abrasive products, coated abrasive product will develop in a relative good development trend.
The good development prospect of the industry brings opportunities to coated abrasive enterprises, many excellent enterprises pay more attention to the industry market research, especially the indepth researches on the industry development environment and product buyers. With Forward's long-term tracking and collecting market data of abrasives industry, we roundly and accurately analyze the industry structure system for you from the view of mastering the whole industry. This report mainly focuses on analyzing China coated abrasives industry's market size, development speed and competitive landscape, depending on macro-properity of current coated abrasives industry and relying on its production and marketing condition as well as the demand trend.
The report mainly analyzes the production and development of China coated abrasives industry; the current market environment and enterprise competitiveness of coated abrasives industry; the major application market and development trend of coated abrasives industry; the leading corporations' operational condition in coated abrasives industry; as well as the development trend and prospect forecast of the coated abrasives industry. Meanwhile, with comprehensive and specific first-hand market data over the past 5 years, Forward helps you to grasp the market and development trends of coated abrasives industry, so as to win advantages from competition!
The most distinctive characteristics of this report is forward-looking and timeliness. Through analyzing forward-looking characteristic of abundant first-hand market data, we deeply and objectively dissect China coated abrasives industry's market capacity, market size, competitive landscape and characteristics of market demand. Furthermore, based on future development tracks and years' practice experience of coated abrasives industry, we conduct prudent analysis and forecast for coated abrasives industry's future development trend. This report helps coated abrasive manufacturing enterprises, R&D institutions, marketing enterprises and investment enterprises to precisely grasp current latest developments of the industry. Afterwards, they can make wise operating decisions and define enterprises' development directions.Moreover, this report is the first and weighty report on analyzing the up and down stream industries of coated abrasives industry and analyzing its leading corporations in an all-round and systematical way.
Here, we would like to express our sincere gratitude to State Information Center, Bureau of Statistics of China, International Information Research Institute, Chinese Academy of International Trade and Economic Cooperation, Tsinghua University Library, Development Research Center of the State Council and Beijing Essence Forward Research Center, for their great support when we conduct this report!
Notice: All the market data, especially corporations' ranking data in the report, only for business reference. Please do not take the data for enterprise publicity. Thank you! Or Forward shall not take any responsibility for any consequences!
Qianzhan Business Information Co., Ltd. Industry Research Center
Research Team of Coated Abrasives Industry
China Coated Abrasives Industry Report" related reports »