China Car Audio Industry Report 2014-2018, Market Forecast and Investment Strategic Planning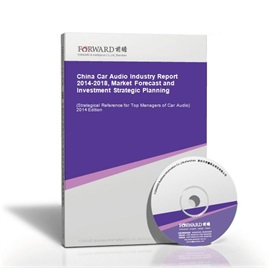 Last Update:2015-10-29
Form of services:Book + (pdf or doc file) + CD
Send method:EMS 2-3 days for delivery
English Service:+86 0755 33220413
Chinese Service:+86 800-8306390 800-8306395
E-mail:service.en@qianzhan.com
Report price:$7900 Print: $7800 CD: $7800
Special statement:
Recently we find there are some sites steal report contents from Qianzhan.com who put those contents on their sites for sale by making a little changes about the contents or remaining the same which deceives buyers(e.g. unable to get full or correct reports, or main body differs from contents that announced on sites).Therefore, we recommend paying a visit to Qianzhan personally or by your friends, and make payment after confirmation. Special statement: Qianzhan is the only and right holder of all the research reports, and has never used a third party to sell any reports, please be aware of the trademark " " when purchasing. Qianzhan is the largest and strongest consultancy, who owns the greatest number of researchers. Here followed "
Nine standards of companies' identificatios
"。
This table of content is original, without written permission of Qianzhan, any unit or individual shall not use, copy, or transfer the reports.
Preface
Table of Content
The rapid development of China's automobile industry, auto parts and spare parts industry also will achieve rapid growth. China's car audio market is currently dominated by foreign brands with 90% share market. In the early 1990s, the first to enter the Chinese car audio market was Philips. Car audio market has developed into a large-scale professional market with annual sales of more than 50 billion and is more than 300 times than 10 years ago. As of the end of 2013, China's car audio market scale is more than 5 billion.
However, in China's car audio market, Japanese brands account for 50% and the European and American brands account for 40% while Chinese domestic brands account for only 10%. Just like the status quo of China's automobile industry, China's car audio industry is lack of independent brands, resulting in a great part of profits of the car audio industry for foreign companies. Of course, during the process of agenting foreign brands, the agents have mastered a considerable part of the technology and formed a number of excellent technical teams and marketing teams who began to operate independently in the market.
While competition in car audio industry is growing, integration and acquisition and capital operation of large enterprises of car audio are becoming more frequent. And more emphasis is focused on market research for excellent domestic manufacturing enterprises of car audio, especially on the industrial development environment and in-depth study of product purchasers.
This report is based on long-term market tracking information by Forward Intelligence on car audio industry. This report starts from the macroeconomic booming situation of car audio industry with production and sales and market demand trend as the basis. It does detailed analysis of the current market capacity, market scale, development pace and competitive trends of China's car audio industry.
This report mainly analyzes production and development of China's car audio industry; current market environment and the competitiveness of enterprises of car audio industry; characteristics of market demand of car audio industry; import and export markets of car audio industry; competitive landscape and competitive trends of car audio industry; development of market of major subdivided car audio equipment; operation of leading companies of car audio industry; development trends and forecast of car audio industry. Meanwhile, based on first-hand market data of the whole industry in the past five years, it can allow you to fully and accurately grasp market trends and development trends of the whole industry.
The greatest feature of this report is forward-looking and timeliness. It does thorough and objective analysis of the overall market capacity, market scale, competitive landscape and characteristics of market demand of China's current car audio industry. Based on the development path and years of practical experience, it makes careful analysis and prediction of the future development trends of car audio industry. It is a rare quality for car audio enterprises, research institutes, marketing companies and investment companies to accurately understand the latest developments of the industry, grasp market opportunities, make the right business decisions and clear corporate directions.
Car Audio" related reports »