China Internet Industry Market Forecast and Investment Strategic Planning Report, 2013-2017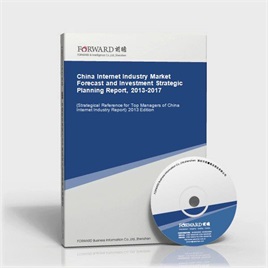 Last Update:2014-04-27
Form of services:Book + (pdf or doc file) + CD
Send method:EMS 2-3 days for delivery
English Service:+86 0755 33220413
Chinese Service:+86 800-8306390 800-8306395
E-mail:service.en@qianzhan.com
Report price:$7900 Print: $7800 CD: $7800
Special statement:
Recently we find there are some sites steal report contents from Qianzhan.com who put those contents on their sites for sale by making a little changes about the contents or remaining the same which deceives buyers(e.g. unable to get full or correct reports, or main body differs from contents that announced on sites).Therefore, we recommend paying a visit to Qianzhan personally or by your friends, and make payment after confirmation. Special statement: Qianzhan is the only and right holder of all the research reports, and has never used a third party to sell any reports, please be aware of the trademark " " when purchasing. Qianzhan is the largest and strongest consultancy, who owns the greatest number of researchers. Here followed "
Nine standards of companies' identificatios
"。
This table of content is original, without written permission of Qianzhan, any unit or individual shall not use, copy, or transfer the reports.
Preface
Table of Content
After ten years of development , China Internet has formed a scale, and its applications have become diverse. The Internet more and more deeply changes the way that people learn, work and live, and even affects the entire social process.As of the end of December 2011 , the number of Internet users in China exceeded 500 million, which is 513 million. And there were more 55.8 million Internet users in China. The Internet popularity rate grew by 4%, reaching 38.3%.
At the same time , the network economy is growing rapidly. According to iResearch statistics , in 2011 the market size of network economy exceeded 230 billion Yuan in 2011, and it will reach 540 billion Yuan by 2013. In the structure of market segmentation, the percentages of mobile Internet and online advertising were slightly improved in 2011, while the percentage of E-commerce still maintained 40% proportion. Among them, the growth of mobile Internet market is mainly due to the rapid expansion of traditional electric and commercial enterprises' services, as well as the rapid advancement of mobile payments; E-commerce market still maintains a stable development situation, mainly due to the continuing growth of online shopping and travel booking market; the main advertising network advertising has continued to increase, boosting the overall online advertising market maintaining in a stable and rising trend; while as to online game market, as online user pay market has nearly saturated, the size growth of the online game market tend to be in a gradually sloping trend.
Under the expectations of China's good development economy, the listing tide of Internet corporations is reappearing. Since 2010, more and more China's Internet corporations have applied to list in overseas market. Among them, US IPO accounts for most, which takes up a quarter of the total number of US IPO application. And this is called the second tide of listing in overseas market, following the first tide happened in 2000, some Internet corporations such as Beijing Sina Information Technology Co., Ltd., Beijing Sohu Information Technology Co., Ltd., Guangzhou NetEase Computer System Co. , Ltd. listed in that year. Similar to the first tide, great majority of corporations succeeded to list. But the aftermarket performance let us down. Although Renren web increased by 30%, it soon fell down in the next day, moreover, the transaction fell below to 14 USD of issue price to each equity.
In experts' opinion, many US investors just think about China's fast economy growth, they don't know any basic information on the enterprises at all, and there is obviously speculation in it. Besides, there are many scandals lingering on, leading China's concept stocks into credit crisis, such as fraud performance, illegal operation and so on. Indeed, some professional insiders boldly predict, the second Internet bubble is not far away. Under the the appearance of Internet prosperity, actually there existing many crisis. So, Internet corporations should attach more importance to concentrate in industry development trend, grasping opportunities as well as withstanding crisis.
Qianzhan Business Information Co., Ltd. Industry Research Center
Research Team of Internet Industry
China Internet Industry Report" related reports »