China Tri-networks Integration Industry Prospects and Investment Opportunities Analysis Report, 2013-2017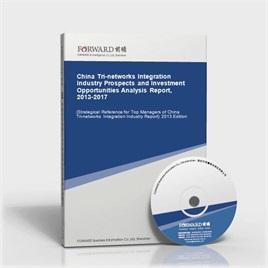 Last Update:2014-05-13
Form of services:Book + (pdf or doc file) + CD
Send method:EMS 2-3 days for delivery
English Service:+86 0755 33220413
Chinese Service:+86 800-8306390 800-8306395
E-mail:service.en@qianzhan.com
Report price:$7900 Print: $7800 CD: $7800
Special statement:
Recently we find there are some sites steal report contents from Qianzhan.com who put those contents on their sites for sale by making a little changes about the contents or remaining the same which deceives buyers(e.g. unable to get full or correct reports, or main body differs from contents that announced on sites).Therefore, we recommend paying a visit to Qianzhan personally or by your friends, and make payment after confirmation. Special statement: Qianzhan is the only and right holder of all the research reports, and has never used a third party to sell any reports, please be aware of the trademark " " when purchasing. Qianzhan is the largest and strongest consultancy, who owns the greatest number of researchers. Here followed "
Nine standards of companies' identificatios
"。
This table of content is original, without written permission of Qianzhan, any unit or individual shall not use, copy, or transfer the reports.
Preface
Table of Content
Nowadays, tri-networks integration has been regarded as kind of national strategy. The technology and knowledge intensive industries that the tri-networks integration covers--broadcasting and TV industry, telecom industry and internet industry--are with good application basic and huge productivity. They are the important parts of China electronic information industry. The promotion of tri-networks integration plays a significant role in industrial structure adjustment and development of electronic information industry.
Industry scale of China tri-networks integration exceeds 160 billion Yuan in 2011. The tri-networks integration gains progress in every aspect of the industry. Three major telecom operators up-grade broadband, promote AON (All Optical Network) and enthusiastically implement the FTTH (Fiber To The Home); meanwhile they also further intensify bi-directional rebuilding renovation and "fiber-replace-copper" internet renovation. Forward Industry Research Center estimates that investments on network renovation for broadcasting and TV operator in 2011 will over 20 billion Yuan. By the end of 2011, the number of bi-directional network user has exceeded 60 million for broadcasting and TV operator.
The General Office of the State Council transmitted the Notice on Tri-network Experimental Regions (Cities) List in the First Batch on 30th June, 2010. All together there are 12 experimental regions (cities) in the list. This document marks the launch of the tri-network experimental unit. There are another 42 regions (cities) join the tri-network experimental unit list according to the Notice on Tri-network Experimental Regions (Cities) List in the Second Batch which issued on 4th January, 2012. Together with the first 12 experimental regions (cities), tri-network integration experimental unit has basically covered the whole China.
Tri-network in China will be divided into two stages according to planning. The first stage is from 2010 to 2012 which focus on bi-directional entry experimental unit of broadcasting and TV business as well as telecom business. While the second stage is from 2013 to 2015 which will have an all-round development of tri-network integration. Obviously, the wide expanse of experimental regions (cities) in China will be the good basic for all-round development of tri-network integration.
The release of experimental cities in the second batch greatly promotes the development of tri-network integration in 2012. It can be predicted that with the experimental unit implementation in 2012 there will be a breakthrough of technology cooperation, business expanding and management model innovation for broadcasting and TV corporation as well as telecom corporation. Thus it will greatly promote the development of related technology R&D and supporting industries. In the meantime, base on ensuring the safety of internet information, there will be a long-term development of integrated business like wire data service, IPTV and mobile TV.
The development of tri-network integration will promote the expanse of nation "broadband strategy". The major work for tri-network integration includes intensifying internet construction and promoting net-surfing business application for multimedia broadcasting, mobile TV and digital TV. For the development of integrated business like IPTV and mobile TV, broadband support is necessary. According to the planning from Ministry of Industry and Information, there will be the following plans: implementing the "broadband China" strategy in 2012; try to get policy and capita supports from central government; fasten the development of 3G and optical broadband internet; widen the covering range.
Notice: all the market data, especially the corporation list data in this report is only for business reference. Please don't take the data for enterprise publicity. Thank you! Or Forward shall not take any responsibility for any consequences!
Qianzhan Business Information Co., Ltd. Industry Research College
Research Team of Tri-network Integration Industry
China Tri-networks Integration Industry Report" related reports »