China Cultural Estate Industry Commercial Model and Regional Investment Opportunity Report, 2013-2020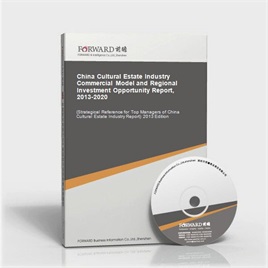 Last Update:2014-04-26
Form of services:Book + (pdf or doc file) + CD
Send method:EMS 2-3 days for delivery
English Service:+86 0755 33220413
Chinese Service:+86 800-8306390 800-8306395
E-mail:service.en@qianzhan.com
Report price:$7900 Print: $7800 CD: $7800
Special statement:
Recently we find there are some sites steal report contents from Qianzhan.com who put those contents on their sites for sale by making a little changes about the contents or remaining the same which deceives buyers(e.g. unable to get full or correct reports, or main body differs from contents that announced on sites).Therefore, we recommend paying a visit to Qianzhan personally or by your friends, and make payment after confirmation. Special statement: Qianzhan is the only and right holder of all the research reports, and has never used a third party to sell any reports, please be aware of the trademark " " when purchasing. Qianzhan is the largest and strongest consultancy, who owns the greatest number of researchers. Here followed "
Nine standards of companies' identificatios
"。
This table of content is original, without written permission of Qianzhan, any unit or individual shall not use, copy, or transfer the reports.
Preface
Table of Content
China's first special plan, The Revitalization Plan for Cultural Industry, for cultural industry released in 2009, which marks that cultural industry has been up to a national strategic industry. What have been released and implemented in succession, such as Outline of the "Twelfth-Five Year" Plan for National Cultural Reform and Development and Cultural Industry Multiplication Plan during "Twelfth Five-year" Industry further push China cultural industry to a new high. The Outline above comes up with a working thought that driving development by key programs, it also points out to make clear 9 major programs and further break them down into 50 key programs, including the National Art Museum of China, Chinese Art Gallery, Publishing Museum, Chinese Learning Research and Communication Center, National Museum of Ethnology, Museum News, etc.
From this point of view, it predicts China cultural industry will usher in a rapid development period during "twelfth-five-year" period, and the physical carrier of cultural industry – cultural estate will also usher in a huge development stage. In addition, with the macro-regulation background, with features of "Limiting Purchasing, Limiting Loan, Limiting Outsiders to Purchase House, and Price Limitation", the current real estate market enters a downturn. Under such a great environment, how to "combine" real estate to culture will be a next direction and goal for real estate industry. Today, a group of enterprises, such as Phoenix Share and Shui On Land, figure out other ways to develop, depending on featured culture to vigorously pursue the construction of cultural estate. The successful experience from those forerunners will provide for companies with good experience.
With Forward's long-term tracking and collecting market data of cultural estate industry, we roundly and accurately analyze the industry structure system for you from the view of mastering the whole industry. This report mainly focuses on analyzing the development environment for China cultural estate industry; the development models in foreign cultural estate industries and their enlightenment; the development status and trend for China cultural estate industry; the commercial model explanation for cultural estate industry; the investment opportunity for segments in China cultural estate industry; the regional investment potential for China cultural estate industry; the operation strategy for benchmark companies in China cultural estate industry; and the development potential and investment suggestion for cultural estate industry. Meanwhile, with comprehensive and specific first-hand market data over nearly past 5 years, Forward helps you to grasp the market and development trends of cultural estate industry, so as to win advantages from competition!
The most distinctive characteristics of this report is forward-looking and timeliness. Based on future development tracks and years' practice experience of cultural estate industry, we conduct prudent analysis and forecast for cultural estate industry's future development trend. This report helps cultural estate developers to precisely grasp current latest developments of the industry. This is not only the first report on cultural estate industry, but also a weighty report on comprehensively and systematically analyzing its leading companies. The report will help cultural estate companies find the opportunity and growth points in the cultural estate market earlier, and take measures for adapting to commercialization of industry in the future.
Here, we would like to express our sincere gratitude to Ministry of State Information Center, Bureau of Statistics of China, International Information Research Institute, Chinese Academy of International Trade and Economic Cooperation, Tsinghua University Library, Development Research Center of the State Council and Beijing Essence Forward Research Center, for their great support when we conduct this report!
Notice: All the market data, especially corporations' ranking data in the report, only for business reference. Please do not take the data for enterprise publicity. Thank you! Or Forward shall not take any responsibility for any consequences!
Special tips: Ignoring some subtle hints in the violent change of external environment, and failure of updating strategic decisions timely will finally lead to the loss of competitive advantage. A true successful company will make scientific researches on external environment consciously or unconsciously, so as to formulate a key scientific operating strategy!
Best wishes for every enterprise with a big dream that can draw up a high-quality operating decision, to effectively avoid the risks and continuously gain the success.
Qianzhan Business Information Co., Ltd. Industry Research Center
Research Team of Cultural Estate Industry
China Cultural Estate Industry Report" related reports »