China Port Equipment Industry Indepth Research and Investment Strategy Report, 2013-2017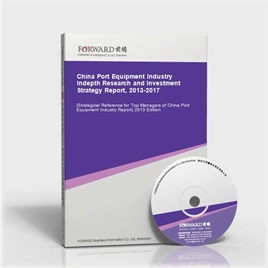 Last Update:2014-05-10
Form of services:Book + (pdf or doc file) + CD
Send method:EMS 2-3 days for delivery
English Service:+86 0755 33220413
Chinese Service:+86 800-8306390 800-8306395
E-mail:service.en@qianzhan.com
Report price:$7900 Print: $7800 CD: $7800
Special statement:
Recently we find there are some sites steal report contents from Qianzhan.com who put those contents on their sites for sale by making a little changes about the contents or remaining the same which deceives buyers(e.g. unable to get full or correct reports, or main body differs from contents that announced on sites).Therefore, we recommend paying a visit to Qianzhan personally or by your friends, and make payment after confirmation. Special statement: Qianzhan is the only and right holder of all the research reports, and has never used a third party to sell any reports, please be aware of the trademark " " when purchasing. Qianzhan is the largest and strongest consultancy, who owns the greatest number of researchers. Here followed "
Nine standards of companies' identificatios
"。
This table of content is original, without written permission of Qianzhan, any unit or individual shall not use, copy, or transfer the reports.
Preface
Table of Content
In the first 11 months of 2011, the total waterway cargo transport volume hit 3.87 billion tons and the cargo turnover was 6,857.4 billion tons/km which growth rates ware 15.1% and 15.8%. Ports of scale handled 8.32 billions ton of cargo with a year-on-year growth of 13.0%. Among which the foreign trade cargo and domestic trade cargo ware 2.53 billion tons and 5.8 billion tons, up 11.6% and 13.7%. Ports of scales handled 149.1 million TEU of containers, up 12.0%. Total fixed asset investment of highway and waterway was 1,294.4 billion Yuan with a year-on-year growth of 11.0% which was 7.8% less than the growth of last year. Total investment for inland river and coastal construction ware 33.5 billion Yuan and 94.1 billion Yuan, up 19.3% and 31.0%.
In January, 2011, the publish of
Notice of State Council on Accelerating Development of Inland Rivers like Yangtze River means the development of inland river transportation has become one of national strategies. In March, 2011, the Implementation on Notice of State Council on Accelerating Development of Inland Rivers like Yangtze River which is issued by Ministry of Transportation proposes that by 2015, there will be 3,000 km more for inland high class waterway comparing with that of the end of the "eleventh five years", 1.3 million tons more for harbor capacity, about 800 tons for average ship tonnage comparing with 450 tons at end of the "eleventh five years". Meanwhile, unit transportation cost will decrease 10% comparing with that of 2010. It is predicted that investment of nationwide inland river transportation construction during the "twelfth five years" will reach 200 billion Yuan which is two times for that of the "eleventh five years". Among which investment from central government is 45 billion Yuan which is 2.7 times for that of the "eleventh five years". In one word, Inland waterway transportation industry will have a bright and booming future.
On 26th May, 2011, the Ministry of Transportation issued
The "Twelfth Five Years" Development Plan for Transportation (Plan for short). The Plan proposes the following significant tasks during the "twelfth five years": in the aspect of coastal ports, continuously and orderly promote the construction of major goods-transportation-system wharf, strengthen public infrastructures such as channels, breakwater piers and public anchorage, perfect structure and distribution of coastal ports, and drive the adjustment of port structure which will focus on enlarging port functions, upgrading supportability and service satisfaction. Detailed targets for this aspect are as follows: modern port system which is in reasonable distribution, powerful supporting, efficient service, safety and environmental protection and advancing management; deep-water berths for coastal ports will reach 2,214 and capability fitness/harbor traffic capacity/actual throughput will reach 1.1. In the aspect of inland river transportation, the Notice of State Council on Accelerating Development of Inland Rivers like Yangtze River will be conscientiously implemented that will govern the primary channel system of Yangtze River, accelerate inland river channel construction which the high class channels will be the major parts, speed up scale and specialization of inland river ports, promote inland ship size standardization, and enhance channel maintenance management. Detailed targets for this aspect are as follows: the condition of inland river channels is obviously perfected; for 19,000 km high class channels in the project "2 horizontals, 1 vertical, 2 networks and 18 lines", 70% will reach the planning standard and mileage of high class channels will reach 13,000 km; there is a further development for inland river transportation and transportation advantages.
90% of the global trade volume is by seaway transportation. Thus, the growth of global economy and trade volume is the significant factor to promote the port development and port capacity construction. Currently, there are about 13,000 container cranes in the world, among which about 4,000 quayside container cranes and 8,000 portside container cranes with the annual updated demand of about 200 and 400. With great attention for inland river transportation and coastal ports from governments and continuous growth of port capacity, there will be a new development for port equipment market.
As the competition of port equipment industry is more and more fierce, the domestic outstanding port equipment manufacturers pay more and more attention to the industry market research, especially the in-depth research of product consumers. Because of this, a large number of excellent domestic port equipment brands rise up rapidly, and gradually become a leader in port equipment industry!
This report mainly analyzes the following aspects: development environment of China port equipment industry; development status of port industry; development status of port equipment industry; development status of port equipment sub-industry; demand status of port equipment market; construction status of part informationization; development status of major port equipment market segmentation; leading corporations' operation status of port equipment market; investment and financing condition of port equipment industry. Meanwhile, together with the comprehensive and detailed market data which is accumulated for 5 years, Forward helps you to grasp the market and development trends of port equipment industry, so as to win advantages from competition!
Major characteristics of this report are forward-looking and timeliness. Base on the forward-looking analysis of massive research data, we further analyze the development scale and competitive landscape of port equipment industry. Along with the industry development route and our practical experience, we analyze and predict the future development prospect of port equipment industry. This report contains a high value for enterprises like port equipment manufacturers, R&D institutions, sales corporations and investment corporations to accurately know the latest industry development trend, obtain market opportunities and determine an insightful operation strategy and development direction.
Here, we'd like to express our sincere gratitude to National Bureau of Statistics of China, International Information Institute, National Institute of the Ministry of Commerce, National Tsing Hua University Library, Institute of Market Economy of the State Council Development Research Center, and Beijing Qinghua Forward Market Research Center, etc. Thank you so much!
Notice: all the market data, especially the corporation list data in this report is only for business reference. Please don't take the data for enterprise publicity. Thank you! Or Forward shall not take any responsibility for any consequences!
Qianzhan Business Information Co., Ltd. Industry Research College
Research Team of Port Equipment Industry
China Port Equipment Industry Report" related reports »