China Blood Products Industry Production & Marketing Demand and Investment Forecast Report, 2013-2017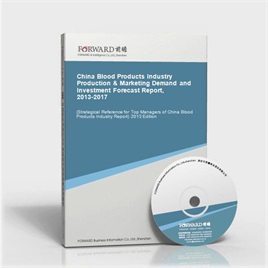 Last Update:2014-05-04
Form of services:Book + (pdf or doc file) + CD
Send method:EMS 2-3 days for delivery
English Service:+86 0755 33220413
Chinese Service:+86 800-8306390 800-8306395
E-mail:service.en@qianzhan.com
Report price:$7900 Print: $7800 CD: $7800
Special statement:
Recently we find there are some sites steal report contents from Qianzhan.com who put those contents on their sites for sale by making a little changes about the contents or remaining the same which deceives buyers(e.g. unable to get full or correct reports, or main body differs from contents that announced on sites).Therefore, we recommend paying a visit to Qianzhan personally or by your friends, and make payment after confirmation. Special statement: Qianzhan is the only and right holder of all the research reports, and has never used a third party to sell any reports, please be aware of the trademark " " when purchasing. Qianzhan is the largest and strongest consultancy, who owns the greatest number of researchers. Here followed "
Nine standards of companies' identificatios
"。
This table of content is original, without written permission of Qianzhan, any unit or individual shall not use, copy, or transfer the reports.
Preface
Table of Content
At present, there are 32 blood products enterprises with production license, among which 20 of them can normally maintain their operational activities, and the industry concentration is relatively high. Benefited from the advancement of economic level and technologies, the acceleration of population growth and population aging, as well as other factors, the blood products industry is now in a preferential development period. Since 2005, the blood products market has shown the high prosperity of demand and supply, while the demand growth speed is faster than that of supply. In recent years, the market size of blood products industry maintains the high-speed growth. During the "eleventh five-year" period, the growth rate of industry sales revenue was generally above 11%, far higher that that of the international blood products industry over the same period. In 2010, the invested blood plasma amount reached around 3,600 tons, and the industry sales revenue reached nearly 9 billion Yuan.
The year of 2011 was the fist year of "twelfth five-year" period. with the support of officially implementation of biology industry regulation and new edition of GMP standard, the blood products will definitely meet a new opportunity. In the long-term, the supply of blood products is not sufficient; the industry maintains high prosperity; and the terminal products demand will be split apart. Albumin and IVIG will rapidly tend to a balance of demand and supply. It's predicted the growth rate will slow down after 2012, and it will enter a steady growth period; while the small products, like the blood clotting factors will continue to grow rapidly, and t he blood clotting factors may completely be a major variety like albumin in the future.
Similar to the development trend of international industry, the concentration of domestic blood products industry keeps improving. Compared to foreign industries, the concentration of China current blood products industry is obviously low. The invested blood amount of domestic first class of enterprises is generally about 300-500 tons, which is far part from the 1200 tons of foreign blood products giants. And there is still vast space for enterprises' merger and consolidation.
At present, China blood products enterprises can be mainly divided into 3 parts: the first part is represented by Hualan Biological, Shanghai RAAS, and Tiantan Biological; the second part is represented by 4-10 blood plasma stations, with simple production line, but they are also the monopolized enterprise in blood plasma source in their regions; and the third part is represented by more than 10 enterprises have neither advantages of production line and blood plasma station. According to the regulation from the Ministry of Public Health, the small and medium-sized enterprise with less than 6 kinds of products can not build blood plasma station, so it's predicted that the first part of enterprises can keep expanding by gaining capital relying on their own scale advantage and from the capital market. However, due to the monopoly of blood plasma station in a region (it's not allowed to build 2 or more blood plasma stations in one region, and it's not allowed to collect blood plasma across regions), there are less and less new blood plasma stations in the undeveloped economic areas of central and western regions. Therefore, once the second and third class of blood products enterprises have blood plasma stations with simple product structure, they will be purchased, and the third class of enterprises with fewer advantages will gradually be cleaned out.
Blood plasma is the lifeline of blood products industry. If the blood products enterprises lack of blood plasma, the enterprises will lose the lifeline what they depend on. Therefore, the standardized management of blood plasma stations will be beneficial for assuring the safety of China blood products. With the increasing of new-built blood plasma stations, the leading enterprises emerge in the industry, such as Hualan Biological, Shanghai RAAS and Yuanda Shuyang Pharmaceutical, which gradually expand their size. The industry level tends to more and more normalized. There will be more and more required products in the market. In addition, the price of blood products is generally more expensive than other medicines. Except for blood clotting factors, the consumption volume of albumin and IVIG will far lower than that of developed countries. With the economy development and the improvement of people's living standard, the healthcare security system keeps to be improved. The blood products have been concluded into the Ssope of medicine reimbursement. With the improving recognition of blood products for doctors and patients, as well as the advancement of clinical treatment methods, China blood products market has vast space for development.
The report mainly analyzes the development overview of China blood products industry; the development situation and import/export market of blood products industry; the competitive landscape of blood products industry; the market analysis of blood products industry; the leading corporations' operational conditions in blood products industry; as well as the investment and development forecast of blood products industry. Meanwhile, with comprehensive and specific first-hand market data over the past 5 years, Forward helps you to grasp the market and development trends of blood products industry, so as to win advantages from competition!
The most distinctive characteristics of this report is forward-looking and timeliness. Through analyzing forward-looking characteristic of abundant first-hand market data, we deeply and objectively dissect China current blood products industry's overall market capacity, market size, competitive landscape and characteristics of market demand. Furthermore, based on future development tracks and years' practice experience of blood products industry, we conduct prudent analysis and forecast for blood products industry's future development trend. This report helps blood products manufacturing enterprises, R&D institutions, marketing enterprises and investment enterprises to precisely grasp current latest developments of the industry. Afterwards, they can make wise operating decisions and define enterprises' development directions.
Here, we would like to express our sincere gratitude to State Information Center, Bureau of Statistics of China, China Customs, International Information Research Institute, Chinese Academy of International Trade and Economic Cooperation, Tsinghua University Library, Development Research Center of the State Council and Beijing Essence Forward Research Center, for their great support when we conduct this report!
Notice: All the market data, especially corporations' ranking data in the report, only for business reference. Please do not take the data for enterprise publicity. Thank you! Or Forward shall not take any responsibility for any consequences!
Qianzhan Business Information Co., Ltd. Industry Research Center
Research Team of Blood Products Industry
China Blood Products Industry Report" related reports »