China Aerotropolis Development Model and Investment Strategy Planning Report, 2013-2017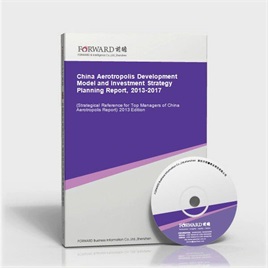 Last Update:2014-05-17
Form of services:Book + (pdf or doc file) + CD
Send method:EMS 2-3 days for delivery
English Service:+86 0755 33220413
Chinese Service:+86 800-8306390 800-8306395
E-mail:service.en@qianzhan.com
Report price:$7900 Print: $7800 CD: $7800
Special statement:
Recently we find there are some sites steal report contents from Qianzhan.com who put those contents on their sites for sale by making a little changes about the contents or remaining the same which deceives buyers(e.g. unable to get full or correct reports, or main body differs from contents that announced on sites).Therefore, we recommend paying a visit to Qianzhan personally or by your friends, and make payment after confirmation. Special statement: Qianzhan is the only and right holder of all the research reports, and has never used a third party to sell any reports, please be aware of the trademark " " when purchasing. Qianzhan is the largest and strongest consultancy, who owns the greatest number of researchers. Here followed "
Nine standards of companies' identificatios
"。
This table of content is original, without written permission of Qianzhan, any unit or individual shall not use, copy, or transfer the reports.
Preface
Table of Content
As to airport industry, under such as stagnant economic environment, the airline companies continue to cut capacity and adjust airlines, so as to reduce the cost. However, as an infrastructure provider, airport can't change the runway or close the airport terminals. How to strive from this economic depression? As of the end of 2011, there were 180 (excluding the airports in Hong Kong, Macao, and Taiwan) civil airports (with certification) in China, among which there were 178 airports with aerial liners, and there were 175 cities with airports. In 2011, the national civil airport completed the passenger throughput of 621 million person-time, up by 10.0% over the previous year.
Airport Passenger throughput records are high again and again, a number of small airports have been built and put into operation, the expansion for large - scale airports is in full swing, local governments have introduced regulations to promote the development airport in succession, and the airport industry has shown a rapid development scene. However, with the constant opening and operation of high-speed rail, the competition between aviation industry and high-speed rail industry intensifies, meanwhile, airport terminals among cities begin to fight for customers. How to maintain an invincible position in fierce competition, and how to actively explore new economic growth points have become the top priorities for the airport operators.
With the rapid development of China airport industry, the airport economy increasingly shows the strength as a regional economic development "engine" and "booster". Breaking through the simple way of developing transportation, and taking airports' characteristics into consideration, combining the airport construction and city development, a development model of "aerotropolis" has been come up with and gradually adopted by many big airports around the world. And it proves the airport model is an effective thinking for airport management and upgrading. Aerotropolis model has been recognized as the future development direction for airports.
Aerotropolis, as an emerging city model, has play a positive role in promoting the growth of passenger and goods volume, stimulating the development of local economy, accelerating the upgrading of industry structure, increasing the governmental tax, attracting talents and promoting jog growth. So far, there are 30 regions with airports release their airport economy plans. All regions having airports with over 10 million person-time of passenger throughput all make airport economy plans, and the airports with planned airport economy account for more than 85% and 95% of national passenger and goods throughput. With Forward's long-term tracking and collecting market data of aerotropolis construction industry, we roundly and accurately analyze the industry structure system for you from the view of mastering the whole industry.
This report mainly focuses on analyzing the development background of China aerotropolis industry; the development model of China aerotropolis industry; the development feasibility of China aerotropolis industry; the development planning of China aerotropolis industry; the development cases of China aerotropolis industry; as well as the investment/financing and inviting business of China aerotropolis industry. Meanwhile, with comprehensive and specific first-hand market data over the past 5 years, Forward helps you to grasp the market and development trends of aerotropolis industry, so as to win advantages from competition!
The most distinctive characteristics of this report is forward-looking and timeliness. Through analyzing forward-looking characteristic of abundant first-hand market data, we deeply and objectively dissect China current aerotropolis industry's development status and development size. Furthermore, based on development tracks of aerotropolis industry, we provide feasible suggestions for the investment/financing and inviting business of aerotropolis industry. This report helps airports enterprises, local governments, and investment enterprises to precisely grasp current latest developments of the industry. Afterwards, they can make wise operating decisions and define enterprises' development directions.
Here, we would like to express our sincere gratitude to Ministry of State Information Center, Bureau of Statistics of China, International Information Research Institute, Chinese Academy of International Trade and Economic Cooperation, Tsinghua University Library, Development Research Center of the State Council and Beijing Essence Forward Research Center, for their great support when we conduct this report!
Notice: All the market data, especially corporations' ranking data in the report, only for business reference. Please do not take the data for enterprise publicity. Thank you! Or Forward shall not take any responsibility for any consequences!
Qianzhan Business Information Co., Ltd. Industry Research Center
Research Team of Aerotropolis Industry
China Aerotropolis Report" related reports »