China Infants and Children's Products Industry Market Research and Investment Forecast Report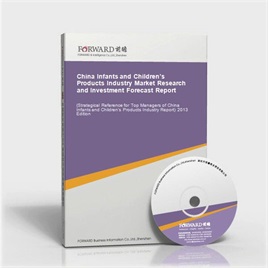 Last Update:2014-05-01
Form of services:Book + (pdf or doc file) + CD
Send method:EMS 2-3 days for delivery
English Service:+86 0755 33220413
Chinese Service:+86 800-8306390 800-8306395
E-mail:service.en@qianzhan.com
Report price:$7900 Print: $7800 CD: $7800
Special statement:
Recently we find there are some sites steal report contents from Qianzhan.com who put those contents on their sites for sale by making a little changes about the contents or remaining the same which deceives buyers(e.g. unable to get full or correct reports, or main body differs from contents that announced on sites).Therefore, we recommend paying a visit to Qianzhan personally or by your friends, and make payment after confirmation. Special statement: Qianzhan is the only and right holder of all the research reports, and has never used a third party to sell any reports, please be aware of the trademark " " when purchasing. Qianzhan is the largest and strongest consultancy, who owns the greatest number of researchers. Here followed "
Nine standards of companies' identificatios
"。
This table of content is original, without written permission of Qianzhan, any unit or individual shall not use, copy, or transfer the reports.
Preface
Table of Content
Since the development trend of population age structure is a huge trend of society, people from different ages have different consumption characteristics. The population change of children and the consumption characteristics of children have been the key points for the research of the development of infants and children industry. In the composition of children consumption expenditure, the expenditure ratio of toys and food decreases while the expenditure ratio of stationery and books increases and the expenditure ratio of cloth and entertainment is basically unchanged, along with the children grow older. In terms of population structure, the children from 0 to 4 has begun to slow down since 2000, while after several years of decline, the population from 0 to 4 years old begins to go up again, and the high peak will appear from 2016 to 2017. However, the population from 5 to 8 years old has been always declining for these 5 years, and the population of primary school age children will keep declining, and this situation will last for some years. At present, the consumption of children from 0 to 4 years old will be a concern for the infants and children industry.
The infants and children industry includes c food (milk powder, rice flour, etc.), infants' and children's products (nursing bottle, teat, diaper, etc.), infants' and children's cloth, as well as toys and teaching tools.
Infant' and children's products industry is known as the sun-rising industry in the 21st century. With the improvement of people's living conditions, China's infant and children market capacity will rapidly enlarge. The whole China's infants' and children's products industry have no enough strength to compete against foreign infants' and children's products industry, and the limitation of the industry is very obviously. But, promoted by some leading brands, such as Beingmate, Goodbaby and OcTmami, and by the governmental policies, it's anticipated to stimulate the domestic demand of "infants and children's economy", and it will becomes a new economic growth spot.
At present, American infants' and children's food market only takes up about 30% of the infants and children market, while that of China occupies as high as 50%, and other industries have relatively huge space for development. In 2012, China will become the world's largest infants and children consumption market. According to estimation, China current 0-2 year-old infants and children market demand is about 1 trillion Yuan at least. By 2015, it may reach as high as 2 trillion Yuan, and the prospective scale of market demand will reach 3 trillion Yuan.
At present, the domestic infants' and children's products market space is still large, but the market is scattered and there are no distinctive enterprise advantageous. In 2011, Guangdong Alpha Animation and Culture Co., Ltd. purchased Fujinoki company. As a leading giant of animation toys in domestic, Alpha Animation company promotes the infants and children business and animation contents and toys to play a greater synergistic effect, via animation image resources and the copyright resources. What a typical case for expanding the market size of enterprise, grasping first-mover advantage and making efforts to grasp the infants and children market is Alpha Animation's successful acquisition, which shows it's an inevitable trend for infants and children products, including infants' and children's cloth to develop in a branding way, which has aroused the integration of all industry segments in the industry. The enterprises in all industry segments will continue to utilize capital resources to further promote the business layout of industrial chain.
The most distinctive characteristics of this report is forward-looking and timeliness. Through analyzing forward-looking characteristic of abundant first-hand market data, we deeply and objectively dissect China current infants' and children's products industry's overall market capacity, market size and competitive landscape. Furthermore, based on future development tracks and years' practice experience of infants' and children's products industry, we conduct prudent analysis and forecast for infants' and children's products industry's future development trend. This report helps infants' and children's products manufacturing enterprises, R&D institutions, marketing enterprises and investment enterprises to precisely grasp current latest developments of the industry. Afterwards, they can make wise operating decisions and define enterprises' development directions.
Here, we would like to express our sincere gratitude to State Information Center, Bureau of Statistics of China, International Information Research Institute, Chinese Academy of International Trade and Economic Cooperation, Tsinghua University Library, Development Research Center of the State Council and Beijing Essence Forward Research Center, for their great support when we conduct this report!
Notice: All the market data, especially corporations' ranking data in the report, only for business reference. Please do not take the data for enterprise publicity. Thank you! Or Forward shall not take any responsibility for any consequences!
Qianzhan Business Information Co., Ltd. Industry Research Center
Research Team of Infants' and Children's Products Industry
China Infants and Children's Products Industry Report" related reports »