China Coal Mining Whole-set Equipment Mode Development Prospect and Competitive Strategy Report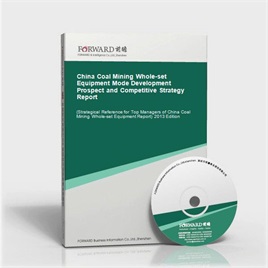 Last Update:2014-05-15
Form of services:Book + (pdf or doc file) + CD
Send method:EMS 2-3 days for delivery
English Service:+86 0755 33220413
Chinese Service:+86 800-8306390 800-8306395
E-mail:service.en@qianzhan.com
Report price:$7900 Print: $7800 CD: $7800
Special statement:
Recently we find there are some sites steal report contents from Qianzhan.com who put those contents on their sites for sale by making a little changes about the contents or remaining the same which deceives buyers(e.g. unable to get full or correct reports, or main body differs from contents that announced on sites).Therefore, we recommend paying a visit to Qianzhan personally or by your friends, and make payment after confirmation. Special statement: Qianzhan is the only and right holder of all the research reports, and has never used a third party to sell any reports, please be aware of the trademark " " when purchasing. Qianzhan is the largest and strongest consultancy, who owns the greatest number of researchers. Here followed "
Nine standards of companies' identificatios
"。
This table of content is original, without written permission of Qianzhan, any unit or individual shall not use, copy, or transfer the reports.
Preface
Table of Content
Coal mining whole-set equipment refers to production supporting facilities of coal mining equipment. In a relative narrow sense, coal mining equipment refers to those equipment which can not only produce entry driving machine, but also produce coal mining machine, scraper machine, hydraulic support, etc. Moreover, there is strong supporting capability among there products. Compared to the general coal mining equipment manufacturing mode, coal mining equipment whole-set equipment possesses comprehensive supporting capability, which can be helpful for providing customer one stop manufacturing supporting services, apart from providing only products. Along with China's coal and mining equipment tends to be large-scale and high-end, the proportion of whole-set equipment in the total coal mining equipment has been increasing, and its development growth is far higher than the fixed investment in coal mining and washing industry.
The increasing growth of China's energy demand contributes to the upgrading of newly increased coal mining capacity and the improvement of stock coal mining equipment mechanism rate, as well as meeting the medium and small-sized coal mining equipment integration as a turning point, which are all beneficial for China coal mining equipment industry ushering into a prosperous period. From the perspective of world's coal mining equipment development history, especially referring to the world's leading giants Joy Global and Germany DBT company's development routines, whole-set production is a inevitable direction. Whole-set production is beneficial for product coordination, improving reliability, and avoiding buckpassing in after-sale service. When the equipment isn't produced in a whole-set production way, the different manufacturers of support, entry driving and transporting machines may probably lead to uncoordinated supporting parameters and unreasonable size, which will lower the reliability and output of the compound mining system. In addition, some buckpassing problems may arise when malfunction appears in the production, resulting in affecting normal production. The whole-set equipment production can greatly improve the quality of after-sale service and is good for winning the bid.
In the future, medium and large-scale coal mining compound whole-set equipment will be the mainstream demand, and the design capability of system coal mining equipment will become the core competitiveness. The improvement of production capacity of domestic coal and mining single well and the priority of coal mining safety definitely require the production of coal mining equipment to develop in a large-scale and high-end way. Whole-set production is a must choice for China coal equipment enterprises occupying high-end market and realizing import substitution. Compared with some manufacturing requirements such as processing accuracy, coal equipment is need of higher requirements in aspects of system stability as well as whole-set equipment coordinate and control system. Therefore, the enterprises, which possess system coal equipment design technology, will have prominent advantages in the future. At present, there are two modes in the development of domestic whole-set production: extensional merger and independence R&D.
In recent years, by a series of capital operation, International Mining Machinery and Tiandi Science & Technology company have basically possessed the production capability of "Three Machines and One support" (entry driving machine, coal mining machine, scraper machine and hydraulic support). However, due to different products come from different manufacturing bases, and there is no good management and coordination among enterprises, the progress of whoe-set production goes slowly. As to the independent R&D whole-set production system, it closely links each department and it's convenient to coordinate. Besides, management cost greatly reduces and the production efficiency has been improved.
According to the development background of coal mining whole-set equipment modes, the report mainly analyzes the development environment of coal mining whole-set equipment, the strategic framework, the leading enterprises, the external and internal strategic construction as well as choices. Meanwhile, depending all the analysis mentioned above, Forward summarizes to put forward the difficulties and future development direction for China coal mining equipment enterprise in developing whole-set production mode. In addition, combing with the development prospects of coal mining equipment, Forward makes a summary for the future development prospects of whole-set production mode, in a purpose of offering experiential learning and thinking to coal equipment enterprises which develop the mode of coal equipment whole-set production. This report helps coal mining equipment enterprises, R&D institutions and investment enterprises to precisely grasp current latest developments of the industry. Afterwards, they can make wise operating decisions and define enterprises' development directions.
Here, we would like to express our sincere gratitude to State Information Center, Bureau of Statistics of China, International Information Research Institute, Chinese Academy of International Trade and Economic Cooperation, Tsinghua University Library, Development Research Center of the State Council and Beijing Essence Forward Research Center, for their great support when we conduct this report!
Notice: All the market data, especially corporations' ranking data in the report, only for business reference. Please do not take the data for enterprise publicity. Thank you! Or Forward shall not take any responsibility for any consequences!
Qianzhan Business Information Co., Ltd. Industry Research Center
Research Team of Coal Mining Equipment Whole-set Production Mode Industry
China Coal Mining Whole-set Equipment Report" related reports »