China Sheet Metal Processing Industry Development Prospects and Transformation & Upgrading Report, 2013-2017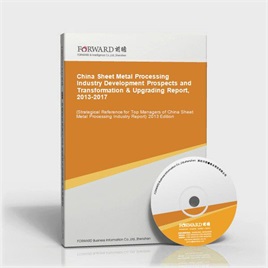 Last Update:2014-04-22
Form of services:Book + (pdf or doc file) + CD
Send method:EMS 2-3 days for delivery
English Service:+86 0755 33220413
Chinese Service:+86 800-8306390 800-8306395
E-mail:service.en@qianzhan.com
Report price:$7900 Print: $7800 CD: $7800
Special statement:
Recently we find there are some sites steal report contents from Qianzhan.com who put those contents on their sites for sale by making a little changes about the contents or remaining the same which deceives buyers(e.g. unable to get full or correct reports, or main body differs from contents that announced on sites).Therefore, we recommend paying a visit to Qianzhan personally or by your friends, and make payment after confirmation. Special statement: Qianzhan is the only and right holder of all the research reports, and has never used a third party to sell any reports, please be aware of the trademark " " when purchasing. Qianzhan is the largest and strongest consultancy, who owns the greatest number of researchers. Here followed "
Nine standards of companies' identificatios
"。
This table of content is original, without written permission of Qianzhan, any unit or individual shall not use, copy, or transfer the reports.
Preface
Table of Content
Sheet metal processing refers to a kind of comprehensive cold processing technique for thin and plate pieces below 6mm, including shearing, washing, cutting, compositing, folding, welding, riveting, stitching, molding, etc. what a distinctive characteristic is the same thickness with its parts. Sheet metal processing is closely related to people's daily life. Although the sheet metal processing just takes up 20% to 30% of the whole proportion of metal processing, all manufacturing industries relate to sheet metal processing. According to statistics, there are more than 30,000 enterprises in China current sheet metal processing industry, with more than 1.8 million employees and the sales amount of 55 million Yuan.
As to promote the development of domestic machinery manufacturing industry, communication electronic industry, auto and shipping industries, the sheet metal processing industry plays an important role in it. The uprising of these industries in domestic also promotes the rapid development of sheet metal processing industry. At present, sheet metal industry clusters appear in domestic regions with relatively developed economy and areas with developed manufacturing industry. There are decades of or more than one hundred industry clusters gathering in Shenzhen (locating in Pearl River Delta), Suzhou (Yangtze River Delta), Cangzhou (Circum-Bohai Sea Economic Zone), etc, and industrial chains have been formed in local regions. The appearance of sheet metal industry is helpful for international and domestic machinery manufacturing enterprises to do supporting sheet metal processing, and the international and domestic machinery enterprises foster the sheet metal processing industry. Otherwise, the sheet metal processing industry promotes the rapid development of machinery manufacturing enterprises.
As a world's processing manufacturing center, China attracts a large group of international and domestic capital investment. Due to the wide application of sheet metal processing, some excellent international sheet metal enterprises enter China's market, such as AMADA Co., Ltd. and MURATEC Co., Ltd. in Japan, McGuffie and Sanmina-SCI Group in US, TRUMPF Group and WEINIG in Germany, etc. All these companies with great technology and capital advantages, and occupy the high market shares in domestic. Compared with international advantageous enterprises, domestic enterprises are still lagged behind. At present, the general sheet metal enterprises in domestic adopt domestic equipment, then the utilization rate of equipment is not high, with low efficiency, and there is a bottleneck in its processing, thus the industry is in the low-end position. After years of development, China foster a batch of good enterprises with good development prospects, such as Foxcunn Group, Ming Sheng Group, Jinfeng Co., Ltd. and Coxon Group in Taiwan; Sun East Electronic Equipment Company Limited in Hong Kong; Dongshan Precision Manufacturing Co., Ltd., Conghua Precision Metal Processing Co., Ltd., RenDa group, ZET Holdings, and Haili Metal Company in mainland China, and so on. With the increasing expanding of China sheet metal processing market, the industry enterprises will be popularized in the future, The weak enterprises will be out of the market due to the fierce competition, and some advantageous brand enterprises will further develop.
At present, China sheet metal processing technology develops very rapidly, belonging to a technical-intensive, capital-intensive and labor-intensive industry. As a domestic basic industry, sheet metal processing industry will be uprising with the continuing development of economy. Nowadays, China manufacturing industry is in a transition period for structural adjustment and industry promotion. The domestic manual sheet metal enterprises will gradually out of the market, instead of, the stamping metal and digital-control metal will be well developed. Since the international well-known manufacturing multinationals enter China's market in succession, with the continuing development of technology and economic development, the demand for metal processing structural parts is increasing in all fields. In the next 5 years, the industry size will maintains a growth of 10%-15%, and the industry has great prospects for development.
With the growing competition in sheet metal processing industry and With Forward's long-term tracking and collecting market data of sheet metal processing industry, we roundly and accurately analyze the industry structure system for you from the view of mastering the whole industry. This report mainly focuses on analyzing China sheet metal processing industry's market status, development speed and competitive situation, depending on macro-prosperity of current sheet metal processing industry and relying on its production and marketing conditions as well as the demand trend.
The report pay more attention to analyze the development environment of China sheet metal processing industry; the development general overview of upstream and downstream industries of sheet metal processing; the development status of major segmentation of sheet metal processing industry; the international competitiveness analysis of sheet metal processing industry; the key regional analysis of sheet metal processing industry; the leading corporations' operational conditions in sheet metal processing industry; the application market demand and forecast of sheet metal processing industry; as well as the investment opportunities and risk analysis of sheet metal processing industry.
The most distinctive characteristics of this report is forward-looking and timeliness. Through analyzing forward-looking characteristic of abundant first-hand market data, we deeply and objectively dissect China current sheet metal processing industry's development status. Furthermore, based on future development tracks and years' practice experience of sheet metal processing industry, we conduct prudent analysis and forecast for sheet metal processing industry's future development trend. This report helps sheet metal processing enterprises to precisely grasp current latest developments of the industry. Afterwards, they can make wise operating decisions and define enterprises' development directions. Moreover, this report is the first and weighty report on analyzing the sheet metal processing industry and analyzing its leading corporations in an all-round and systematical way.
Here, we would like to express our sincere gratitude to State Information Center, Bureau of Statistics of China, International Information Research Institute, Chinese Academy of International Trade and Economic Cooperation, Tsinghua University Library, Development Research Center of the State Council and Beijing Essence Forward Research Center, for their great support when we conduct this report!
Notice: All the market data, especially corporations' ranking data in the report, only for business reference. Please do not take the data for enterprise publicity. Thank you! Or Forward shall not take any responsibility for any consequences!
Qianzhan Business Information Co., Ltd. Industry Research Center
Research Team of Sheet Metal Processing Industry
China Sheet Metal Processing Industry Report" related reports »