China Coal Chemical Industry Market Monitoring Monthly Report, April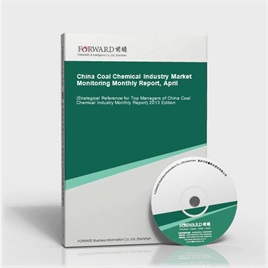 Last Update:2014-06-07
Form of services:Book + (pdf or doc file) + CD
Send method:EMS 2-3 days for delivery
English Service:+86 0755 33220413
Chinese Service:+86 800-8306390 800-8306395
E-mail:service.en@qianzhan.com
Report price:$26000 Print: $25800 CD: $25900
Special statement:
Recently we find there are some sites steal report contents from Qianzhan.com who put those contents on their sites for sale by making a little changes about the contents or remaining the same which deceives buyers(e.g. unable to get full or correct reports, or main body differs from contents that announced on sites).Therefore, we recommend paying a visit to Qianzhan personally or by your friends, and make payment after confirmation. Special statement: Qianzhan is the only and right holder of all the research reports, and has never used a third party to sell any reports, please be aware of the trademark " " when purchasing. Qianzhan is the largest and strongest consultancy, who owns the greatest number of researchers. Here followed "
Nine standards of companies' identificatios
"。
This table of content is original, without written permission of Qianzhan, any unit or individual shall not use, copy, or transfer the reports.
Preface
Table of Content
China is the largest coal chemical producer in the world, which with abundant coal chemical categories and large production scale. The output of coal synthetic ammonia, coal methanol, calcium carbide and coke has ranked first in the world. Besides, China is also the only country which producing PVC by calcium carbide in large scale. In current China the coal chemical industry develops in a high pace. However, the fast development bring many problems, such as blind construction of coal chemical projects that results in numerous repeated constructions and enhancing industry risks; the blind construction and over development of coal chemical strengthen the imbalance between coal supply and demand, and affect the reasonable controlling of energy consumption amount; as most coal chemical products are highly water-consuming products, the disordered development of the industry will lead to the imbalance of regional water supply and demand.
In the beginning of 2012, the Plan on Benchmark Projects of Coal Further Processing (Plan for short) which proposed by NEB has finished the edit. It indicates that the "twelfth five years" development policy of coal chemical industry has been initially formed. The Plan proposes that a joint production of various clean fuels, chemical raw materials, thermal power, and power electricity by processing and transforming coal into the coupling and integration of varied single technologies; launch the benchmark projects of coal further processing and upgrading orderly to improve the overall transforming ratio and realize a efficient, clean and comprehensive utilization. Beside, the Plan also proposes that under the precondition of reasonable controlling of total energy consumption amount, energy saving and emission reduction, a butch of benchmark projects which mainly concentrated in coal production areas and provinces will be selected during the "twelfth five years". By overall planning, systematic design, step-by-step implementation, and upgrading benchmark projects to ensure China's coal chemical industry become a strategic industry which with international competitiveness.
Timely strategy adjustment according to latest coal chemical industry trend is especially important in current market. The traditional annual strategy and strategy adjustment can hardly meet the current development. Consequently, many large-scale new energy managers, especially foreign managers pay more and more attention to the timely strategy and strategy adjustment which base on latest industry development.
This report mainly focuses on seven respects as follows: firstly, by analysis on industry economic environment, social environment, policy environment and investment environment to provide enterprises managers with impacts on the industry in time which bring by current significant financial events, and help managers to accurately and fast handle the macro environment; secondly, emphasize analysis on up/down-stream industrial chain, price changes of raw materials and cost, downstream market demand, and market consumption trend; thirdly, an indepth analysis on industry trend (including operational data analysis, and handling of project progress); fourthly, industry competitive landscape which covers from oversea market competitive trend to analysis of alternative products, and competitive trend of regional markets in China; fifthly, a detailed analysis on traditional and new coal chemical market to provide enterprises with corresponding guiding strategies; sixthly, management status, project construction and investment condition, and relevant mergers of well-known coal chemical enterprises at home and abroad; seventh, basing on mass industry data, we provide some practical management strategies and suggestions for coal chemical enterprises.
This report aims to constantly provide corporations with strategic references objectively by monitoring and analyzing a large sum of firsthand market data. It will enable corporations to fully handle the latest industry information, judge the market competitive environment, and adjust management and strategies in time according to monthly latest trend.
Here, we'd like to express our sincere gratitude to China Coking Industry Association, China Petroleum & Petrochemical Equipment Industry Association, State Economic Information Center, National Statistics Bureau of China, International Information Institute, National Institute of the Ministry of Commerce, National Tsing Hua University Library, Institute of Market Economy of the State Council Development Research Center, and Beijing Qinghua Forward Market Research Center, etc. Thank you so much!
Qianzhan Business Information Co., Ltd. Industry Research College
Monitoring Analysis Team of Coal Chemical Industry
China Coal Chemical Industry Monthly Report" related reports »