China Architectural Design Industry Indepth Research and Investment Strategy Planning Report, 2013-2017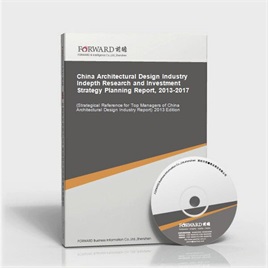 Last Update:2014-05-12
Form of services:Book + (pdf or doc file) + CD
Send method:EMS 2-3 days for delivery
English Service:+86 0755 33220413
Chinese Service:+86 800-8306390 800-8306395
E-mail:service.en@qianzhan.com
Report price:$7900 Print: $7800 CD: $7800
Special statement:
Recently we find there are some sites steal report contents from Qianzhan.com who put those contents on their sites for sale by making a little changes about the contents or remaining the same which deceives buyers(e.g. unable to get full or correct reports, or main body differs from contents that announced on sites).Therefore, we recommend paying a visit to Qianzhan personally or by your friends, and make payment after confirmation. Special statement: Qianzhan is the only and right holder of all the research reports, and has never used a third party to sell any reports, please be aware of the trademark " " when purchasing. Qianzhan is the largest and strongest consultancy, who owns the greatest number of researchers. Here followed "
Nine standards of companies' identificatios
"。
This table of content is original, without written permission of Qianzhan, any unit or individual shall not use, copy, or transfer the reports.
Preface
Table of Content
In recent years, China architectural industry develops rapidly, no matter enterprise size, employment size, operation size, management level or economic benefits gain great development. The industry accomplishes a massive of capital investment project of architectural design work, creates a quantity of excellent and brand-known works, which make a contribution to and play a great important role in urbanization construction and livelihood engineering projects construction. It has become one of important industries in China national economy, and an important component of national economy construction.
The global financial crisis triggered by US real estate sub-prime crisis is inevitably affecting the development of China's economy. In order to withstand the global crisis, the State increase efforts to invest in infrastructure construction and pull the domestic demand, which promote China architectural design industry ushers in a better development period. As the investment of domestic infrastructure construction tends to be steady and rational, the growth rate of architectural design industry slows down, due to the influence of shrinking of downstream industries' markets. However, after entering 2011, with the frequent introduction of national regional planning, there are many plans during the intensive period, and their influences are unprecedented intensive.
In terms of regional distribution, coastal areas continue to take most advantages; meanwhile, the middle, western and northern eastern areas form a region with coordinated development, jointly generating the splendid prosperity atmosphere. A large quantity of introduction of regional plans will definitely bring a new tide of infrastructure construction, which means unlimited business opportunities for architectural design industry.
China local architectural design enterprises should positively focus on self-development, create enterprise brand images, cultivate enterprise core competitiveness and grasp more development opportunities in the new round of investment construction. Architecture contains a wide range of category, such as cultural and sports architecture, office building architecture, residential architecture, medical architecture, etc. Facing increasing competitive market competition, every type of architectural enterprises should make efforts in some special fields, for expanding market shares of segments, completing technology accumulation, cultivating the talents and technology advantages in the fields and regions, forming their own core competitiveness and developing in a professional road.
Due to the versatility of the technology, there are technical barriers in architectural design industry for protecting the industry effectively. As to each major architecture project biding, it tends to be the competition among each kind of design enterprise, so the diversification of competition subjects will be an inevitable trend in the development of the industry. Restricted by qualification, it's impossible for architectural design enterprises expand and penetrate into other architectural design industries, while it's very common that design enterprises of other industries enter architectural design industry. In addition, after China joints in WTO, the architectural design market open to the outside world in full swing. It's easy for architectural design enterprises in Europe, USA, Japan, Hong Kong, Taiwan and other regions to enter Chinese domestic architectural design market basically without any limitations. Facing fierce market competition, it's very urgent and necessary for Chinese architectural design enterprises to dissect the market development status, and accelerate their own strategy transformation via comparing development experience, market strategies, employment size and management rules of foreign excellent architectural studios.
With Forward's long-term tracking and collecting market data of architectural design industry, we roundly and accurately analyze the industry structure system for you from the view of mastering the whole industry. This report mainly focuses on analyzing the overall environment of domestic architectural design industry; the development experience of foreign architectural design industry; the development status, market development strategy, development strategies for major market segments, and regional market investment opportunities of architectural design industry; the leading corporations' operational conditions in architectural design industry; as well as the development prospects and opportunities of architectural design industry. Meanwhile, with comprehensive and specific first-hand market data over the past several years, Forward helps you to grasp the market and development trends of architectural design industry, so as to win advantages from competition!
The most distinctive characteristics of this report is forward-looking and timeliness. Through analyzing forward-looking characteristic of abundant first-hand market data, we deeply and objectively dissect China current architectural design industry's market operational situation, competitive situation, industry development environment and existing problems Furthermore, based on future development tracks and years' practice experience of architectural design industry, we conduct prudent analysis and forecast for architectural design industry's future development trend. This report helps architectural design investment and construction enterprises to precisely grasp current latest developments of the small architectural design industry. Afterwards, they can make wise operating decisions and define enterprises' development directions.
Here, we would like to express our sincere gratitude to State Information Center, Bureau of Statistics of China, International Information Research Institute, Chinese Academy of International Trade and Economic Cooperation, Tsinghua University Library, Development Research Center of the State Council and Beijing Essence Forward Research Center, for their great support when we conduct this report!
Notice: All the market data, especially corporations' ranking data in the report, only for business reference. Please do not take the data for enterprise publicity. Thank you! Or Forward shall not take any responsibility for any consequences!
Qianzhan Business Information Co., Ltd. Industry Research Center
Research Team of Architectural Design Industry
China Architectural Design Industry Report" related reports »