China Water Conservancy Industry Market Foresight and Investment Strategy Report, 2013-2017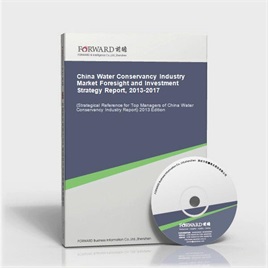 Last Update:2014-05-24
Form of services:Book + (pdf or doc file) + CD
Send method:EMS 2-3 days for delivery
English Service:+86 0755 33220413
Chinese Service:+86 800-8306390 800-8306395
E-mail:service.en@qianzhan.com
Report price:$7900 Print: $7800 CD: $7800
Special statement:
Recently we find there are some sites steal report contents from Qianzhan.com who put those contents on their sites for sale by making a little changes about the contents or remaining the same which deceives buyers(e.g. unable to get full or correct reports, or main body differs from contents that announced on sites).Therefore, we recommend paying a visit to Qianzhan personally or by your friends, and make payment after confirmation. Special statement: Qianzhan is the only and right holder of all the research reports, and has never used a third party to sell any reports, please be aware of the trademark " " when purchasing. Qianzhan is the largest and strongest consultancy, who owns the greatest number of researchers. Here followed "
Nine standards of companies' identificatios
"。
This table of content is original, without written permission of Qianzhan, any unit or individual shall not use, copy, or transfer the reports.
Preface
Table of Content
China's per-capita water resource is not rich and the spatial and temporal distribution is uneven. It determines that China is a country with frequent and severe floods and drought. The direct economic loss causing by floods and drought accounts about 60% of the total economic loss causing by various natural disasters. Since 1990 the annual loss causing by floods and drought is about 110 billion Yuan, which is about 2% of the GDP over the same period of years. The ratio may as high as 3-4% in the years of basin severe flood. The water conservancy industry highly depends on government investment. The long-term backward investment will result in unsatisfied disaster mitigation. The proportion of water conservancy to FAI and GDP constantly decreased during 2002 to 2008, and slightly increased to 0.56% of GDP in 2009 due to the investment of 4 trillion Yuan. The investment to water conservancy construction in 2010 was 232.8 billion Yuan, which accounted for 0.58% of the GDP. Still, it kept a low growth that can hardly meet the fast economic development. It is predicted that the water conservancy will speed up in full range.
The Comprehensive Plan on National Water Resource which is proved by State Council in November 2010 forms the major direction for water resource's comprehensive development, utilization, saving and protection. The water resource has been regarded as one of national resource strategies. Due to the inflation and food safety, the rural water conservancy is extremely important. And in order to realize the target of energy saving and emission reduction, the hydropower construction may constantly speed up. The whole industry has stepped into fast development stage since 2009 and the increasing trend has been formed. Forward predicts that the investment to water conservancy construction in the "twelfth five years" will reach 2.11 trillion Yuan, up 183.85% comparing with that in the "eleventh five years".
With Forward's the long-term tracking and collecting market data of water conservancy industry, we roundly and accurately analyze the structure system for you from the view of mastering the whole industry. This report mainly analyzes the following aspects: development background of water conservancy industry; management system of water conservancy; investment and development condition of water conservancy industry; investment and construction condition of flood protection projects; investment and construction condition of water resource projects; investment and construction condition of water and soil conservation as well as ecological construction projects; investment and construction condition of rural hydropower projects; investment and construction condition of other water conservancy projects; investment and construction condition of water conservancy industry in major regions; major industry corporations' operational condition; investment and financing of water conservancy industry. Meanwhile, together with the comprehensive and detailed market data which is accumulated for 5 years, Forward helps you to grasp the market and development trends of water conservancy industry, so as to win advantages from competition! This report is of a high value for water conservancy (survey and design, construction, management and consulting service) corporations, supporting facilities manufactures, and investment corporations to accurately know the latest industry development trend, and obtain market opportunities and determine an insightful operation strategy and development direction.
Here, we'd like to express our sincere gratitude to State Economic Information Center, National Statistics Bureau of China, International Information Institute, National Institute of the Ministry of Commerce, National Tsing Hua University Library, Institute of Market Economy of the State Council Development Research Center, and Beijing Qinghua Forward Market Research Center, etc. Thank you so much!
Notice: all the market data, especially the corporation list data in this report is only for business reference. Please don't take the data for enterprise publicity. Thank you! Or Forward shall not take any responsibility for any consequences!
Qianzhan Business Information Co., Ltd. Industry Research Center
Research Team of Water Conservancy Industry
China Water Conservancy Industry Report" related reports »