China AC Motor Manufacturing Industry Production & Marketing Demand and Investment Forecast Report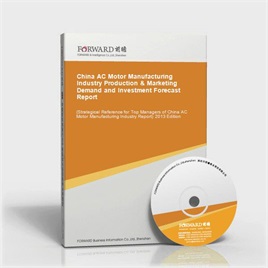 Last Update:2014-05-02
Form of services:Book + (pdf or doc file) + CD
Send method:EMS 2-3 days for delivery
English Service:+86 0755 33220413
Chinese Service:+86 800-8306390 800-8306395
E-mail:service.en@qianzhan.com
Report price:$7900 Print: $7800 CD: $7800
Special statement:
Recently we find there are some sites steal report contents from Qianzhan.com who put those contents on their sites for sale by making a little changes about the contents or remaining the same which deceives buyers(e.g. unable to get full or correct reports, or main body differs from contents that announced on sites).Therefore, we recommend paying a visit to Qianzhan personally or by your friends, and make payment after confirmation. Special statement: Qianzhan is the only and right holder of all the research reports, and has never used a third party to sell any reports, please be aware of the trademark " " when purchasing. Qianzhan is the largest and strongest consultancy, who owns the greatest number of researchers. Here followed "
Nine standards of companies' identificatios
"。
This table of content is original, without written permission of Qianzhan, any unit or individual shall not use, copy, or transfer the reports.
Preface
Table of Content
After more than 30 years of development since reform and opening up, especially the development in current decade, China's AC motor manufacturing industry gains a considerable achievement. The output of China's AC motor hovered around 40 million kilowatts in the 1980s while it was about 400 million kilowatts from 1988 to 1997. Due to the fast development of national economy in current years, the industry with significant development space and the output of AC motor increasingly grows that it is only 52.5 million kilowatts in 1998 while it is 187.1017 million kilowatts in 2009, and 232.1291 million kilowatts in 2010 which with a year-on-year growth of 24.07%.
Experiencing from the financial crisis, China's AC motor manufacturing industry speeded up the development pace in 2010. Data released by State Statistics Bureau shows that there are 179 industry corporations of scale; the total sales revenue is 43.844 billion Yuan, with a year-on-year growth of 20.05%; the gross profit is 2.626 billion Yuan, with a year-on-year growth of 25.33%; the total asset is 38.765 billion Yuan, with a year-on-year growth of 18.25%.
The AC motor market in China is in fierce competition. The private corporations and three-capital enterprises with stronger competitiveness and bigger market shares. In 2010 the proportion of sales revenue to the total industry sales revenue for private corporations was 63.10% while that for three-capital enterprises was 24.36%. With the development of China's AC motor manufacturing industry, many large and middle-sized corporations of strength are emerging, such as Wolong Holding Group, Xiangtan Electric Manufacturing Group, Shanghai Electric Machinery, and Nanyang Explosion Protection Group, etc. And many transitional enterprises invest and establish factories in China, such as Sweden ABB Company, Emerson Motor Company, Fuji Motor Group, Converteam France and so on. The entry of foreign corporations makes the market competition fiercer.
Along with the growth of national economy and improvement of people's living standard, demand of AC motor downstream application field, such as power electricity, metallurgy and petrochemical, will further increase. Then the market demand of AC motor will be promoted. It is predicted that the industry sales revenue will exceed 80 billion Yuan and with a significant growth by 2015. The energy consumption proposes a higher requirement to industries' environmental protection and energy saving. In order to meet the demand of national economic development, China widely popularizes high-efficient and energy-saving motors. The high-efficient and energy-saving motors become the new and popular products to government policy and market. And the products with optimistic prospects. In the meantime, according to the requirement of The "Twelfth Five Years" Plan for Motor Industry, China will improve the overall industry competitiveness by adjusting industry structure, optimizing industry technological and organizing structures, and fastening the elimination of backward technology.
With Forward's the long-term tracking and collecting market data of AC motor manufacturing industry, we roundly and accurately analyze the structure system for you from the view of mastering the whole industry. This report will base on the macro condition of current AC motor manufacturing industry, production and marketing condition, industry demand trend of auto industry, then detailed analyzes the current market capability, market scale, development speed and competitive landscape of China AC motor manufacturing industry.
Major characteristics of this report are forward-looking and timeliness. Base on the forward-looking analysis of massive research data, we further analyze the development scale and competitive landscape of AC motor manufacturing industry. Along with the industry development route and our practical experience, we analyze and predict the future development prospect of AC motor manufacturing industry. This report is of a high value for AC motor manufacturers, R&D institutes, sales corporations, and investment corporations to accurately know the latest industry development trend, and obtain market opportunities and determine an insightful operation strategy and development direction. In the meantime, it is the first heavy weight report to analyze the up/down-stream industry chain and industry leading corporations of AC motor manufacturing industry in an overall and systemic way.
Here, we'd like to express our sincere gratitude to State Economic Information Center, National Statistics Bureau of China, International Information Institute, General Administration of Customs, National Institute of the Ministry of Commerce, National Tsing Hua University Library, Institute of Market Economy of the State Council Development Research Center, and Beijing Qinghua Forward Market Research Center, etc. Thank you so much!
Notice: all the market data, especially the corporation list data in this report is only for business reference. Please don't take the data for enterprise publicity. Thank you! Or Forward shall not take any responsibility for any consequences!
Qianzhan Business Information Co., Ltd. Industry Research Center
Research Team of AC Motor Manufacturing Industry
China AC Motor Manufacturing Industry Report" related reports »